There's been a call from readers of the DTVC for more Bosworth films, so here goes. I picked this out of a couple Boz movies I had on Netflix's Watch Instantly because the cover looked the best. Now I understand why wineries spend more money on designing the lable for their bottles than they do on the actual wine that goes into it.
The Operative
has the Boz as a CIA agent who's captured by the Soviets in 1989. He spends the next eleven years in an insane asylum over there despite the fall of the Iron Curtain. The KGB interrogator who captured him frees him so he can steal a painting in Boston. That's when things get crazy. There's a shootout, a stand-off at the bank, a Texas billionaire who looks like the Boz (because he's played by the Boz), and a bunch of other crap. Who can the Boz trust? Do we care?
Zzzzzzzzzzzz... forget Tylenol PM,
The Operative
will put anyone to sleep. This film was so boring I had to watch it over three days because I kept falling asleep. I'm not kidding. The film starts nice, with the Boz firing his gun at cars and then escaping the insane asylum. Then all action ceases, and we just get a series of scenes where the Boz makes a stand, then gets hit in the back of the head with the butt of a pistol. This must be made abundantly clear: no one watches Brian Bosworth in a movie to see him act. We want him to kick ass, we want shit blown up, and we want cheesy one-liners before anything happens. Some dumb attempt at a slick, stylish, everyone's got ulterior motives movie is simply a waste of everyone's time.
And what a shame that is. The Boz, God damn it! Kick ass and take names. Instead he's constantly being taken out by lesser foes with the butt-end of a pistol to the brain stem. Are you kidding me? I'm supposed to root for that? Why not just get Treat Williams? Amp up the heavy metal, line up a bunch of stuntmen with ponytails in black blazers, and just have him run through them. It's not like we're calculating the volume of a sphere using a triple integral, it's a pretty simple equation.
The movie takes place in Boston, and the Red Sox come up a few times. In 2000, not only had the Sox not won yet, but the Patriots were still a year or so away from their first Super Bowl, which was really the one that broke the Buckner Curse. When I was out in Seattle recently I was surprised at the volume of Red Sox stuff available. It was equal to what they had for the Yankees, which was a little scary. I feel like I shouldn't apologize for the recent success of Boston teams, because they were so bad for so long, but I can't blame anyone for hating them.
I had said before that I couldn't review the Bosworth classic
Stone Cold
here on the DTVC because it ran in the theater. As I've made exceptions for a few other films recently, and the fact that it didn't make that much money when it was in the theater, I think it's time to get it up here. That'll be the next Boz film we do.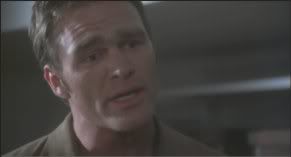 I couldn't think of anything to write here for the seventh paragraph, so I thought I'd mention my experience yesterday helping my roommate change the headlight in her car. It's not that exciting, so I'll spare you the details, but I think the makers of this film would've found the process exciting. Compared to
The Operative
, changing that light bulb was riveting, heart-stopping, edge-of-the-seat action. When a neighbor, coming home from work, commented: "Will the patient make it?", it was a much needed moment of levity that cut the tension like a knife. Were we going to pull it off? Could we change that headlight in time, or was she going to have to drive to the airport to pick up her friend with a p'diddle (sp?)? The suspense is probably killing you.
Skip this fucker like the plague. That's unless you really have to be up in the morning for something, and you're having trouble sleeping. Then, by all means, pick this up. I was definitely not sleep deprived after watching it.
For more info: http://www.imdb.com/title/tt0258862/