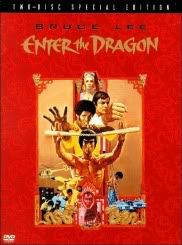 When I first started the DTVC, I had no idea I would be still writing it two years later, or that I'd be writing my 300th post. When I look at the archives, I see films like
Bad Taste
, that were DTV, that would've probably been a better choice for number 300, but because I was trying to get as many films up as possible in the early going, have already been covered. I tried to think of what would really fit a milestone post, and I came up with this. Even if it isn't DTV, it's had a such a huge impact on so many DTV films, that it deserves a place here on the blog.
Enter the Dragon
has Bruce Lee working for the British in Hong Kong. He's sent to infiltrate this guy Han's stronghold by way of entering in a fighting tournament Han hosts. Also in the tournament are John Saxon and Jim Kelly. Lee has to do his thing in the tournament by day, and then sneak around the compound by night looking for incriminating evidence so the Brits can call in their forces. The whole thing ends in a huge melee.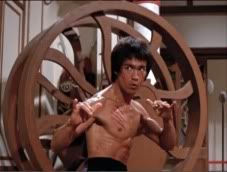 I think you know what I'm going to say, otherwise this wouldn't be post 300. This is obviously a classic. I might go out on a limb here for a second, though, and say this isn't necessarily a great film on its own: the plot is pretty uninspired, there's plenty of ridiculousness, like Jim Kelly beating up two cops and driving off in their cop car-- what I'm saying is there isn't much to separate this film from others in the genre.
There isn't much, but the one huge factor this does have that the others don't is Bruce Lee. He's what turns the whole film into a classic. He's so powerful a presence that he can steal a scene just through one look. You almost feel robbed with every second he's not on the screen. It's like watching a bad Film Noir from the 40s with Humphrey Bogart in it. Some actors just have the ability to transform ordinary crap into brilliance. The shame is that this would be the last film of his released while he was alive, because he died the same year, in 1973.
I'm sure I don't need to tell anyone reading this about how huge
Enter the Dragon
's impact has been in the movie industry.
Mortal Kombat
was almost a straight remake. What about
Bloodfist 2
? Just think of all the martial arts films that involve some kind of tournament run by an evil crime lord. All because one man elevated a mediocre movie into something truly amazing, and a generation of film makers saw him and said "I want to make a movie with
him
", and a generation of actors said "I want to
be
him".
After Bruce Lee, the next big name in the film is John Saxon, who plays a smooth talking fighter with a compulsive gambling problem. Most of us are familiar with Saxon either through his work in the MST3K hit
Mitchell
, or his role in
Nightmare on Elm Street
. I think it's a no brainer that this character in
Enter the Dragon
is his best. He's cool, funny, flawed, yet at heart a good guy. We wonder at the end if he chooses not to fight Lee because he knows he can't win, or because he really has altruistic motives, but it's immaterial, because he still makes the right decision.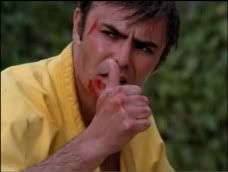 I mentioned above Jim Kelly is in this. He's pretty sweet, as always. When I was in high school, one of my friends wanted to have an MST3K style party where we each rented a bad movie to make fun of. I thought I was a shoo in for the movie of the night with
Black Belt Jones 2
aka
The Tattoo Connection
. It was great, and it had Bolo Yeung. I would be undone, though, by my friend's selection of
Bad Taste
. "Look Poirier", he said "
so great your VCR will cry out for windshield wipers
. We have to get it!". That film would go on to be the biggest movie among my group of friends, with us watching it literally hundreds of times; and with it's director, Peter Jackson going on to win an Oscar; while I haven't seen
The Tattoo Connection
since.
We all love Bolo Yeung here at the DTVC. Wanna guess how old he is? 70. I am not fucking with you. 70 years young. I haven't seen him in anything recently, so I don't know if he looks good for his age or not, but he was 50 when
Bloodsport
came out, and I thought he looked pretty good for 50 then, considering I had no idea he was even close to FIFTY! According to imdb he swam from China to Hong Kong in the '60s to escape Communism. How is he not the greatest man that's ever lived?
I know in my last post I ripped
Wanted
for being a sack of asscrack, and I think I'm going to do it some more, though not just
Wanted
, but most new movies in general. There's a scene in this film where fruit is thrown in the air, and people throw daggers into them. All we see is the fruit going up, someone throwing a dagger off screen, and then the fruit falling with a dagger in it. I bring this up, because if this had been made today, the whole thing would've been done with CGIs, and the film makers would've been extremely proud of themselves, like in
Wanted
when they had bullets flying into each other. Why do they think we need that? It worked fine in
Enter the Dragon
without that crap, in fact it worked better, because it looked much more realistic.
If you haven't seen this, what are you waiting for? This is a must watch if there ever was one. If you haven't seen it in a while you probably should catch it again too. This is really what's about. So much has come from this one film, and I'm sure so much will come from it in the future. A true masterpiece with a true master of the craft in Bruce Lee.
For more info: http://www.imdb.com/title/tt0070034/