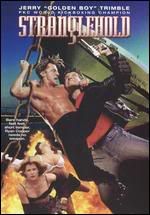 I saw a trailer for this while watching another Jerry Trimble film. I can't remember which one it was, but I'm not sure how much that matters. With
Live by the Fist
and
One Man Army
being so awesome, I was geared up for another Trimble action-fest.
Stranglehold
is about some chemical manufacturing plant in Malaysia run by an American corporation that's taken hostage by a huge Australian man and his cronies while an American congresswoman is visiting. The congresswoman's dad has a former CIA operative, Jerry Trimble, tag along for protection, and boy did they need him. Now Trimble's gotta get the congresswoman out alive, while stopping the Australian from escaping with some nerve gas.
This was a huge waste. Jerry Trimble, amazing kickboxer, and the director has him running around with an assault rifle the whole time. Trimble tried valiantly to pull it off, but that's not how he gets down. He looked like a fish out of water. Now, with Trimble in an extremely limited martial arts capacity, we're stuck with a low-rent
Die Hard
ripoff. For a film with a 70-minute running time, it felt like I was watching it for three hours.
The director of this film was Cirio H. Santiago, and he's done five other films reviewed here on the DTVC, including the amazing
Live by the Fist
and
One Man Army
. That makes this movie all the more inexcusable. What was this guy thinking? Did he not know the masterpiece he made with
Live by the Fist
? How could he not have? Sure, this had some great explosions, and there was plenty of shooting, but when I see Jerry Trimble's name on the cover, I expect
Live by the Fist
caliber fighting too.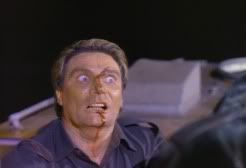 In the few scenes where Trimble actually did have to do some hand-to-hand combat, he excelled, as one would expect. In the trailer for the film, all these martial arts magazines are credited with saying how great the film was, and after watching it, I'm wondering why, because there was almost no martial arts action. Was it out of respect to Trimble? Even the tagline says "Bare Hands. Fast Feet. Short Temper. Ryan Cooper needs no weapon." Sure, he needs no weapon, if an assault rifle doesn't count as a weapon. I can see him using the gun sometimes for the good of the story. I'm just looking for an 80/20 or 70/30 split, with the emphasis being on the hand-to-hand stuff, and this film was more like 90/10, all machine gun.
This had a great Australian actor named Vernon Wells, not to be confused with the Blue Jays center fielder. This guy was great, and his fight at the end with Trimble was reminiscent of Joe Don Baker and Merlin Olson in
Mitchell
. According to imdb, this cat has been in tons of great DTV stuff, and it's strange that he's never had a film reviewed here before. We'll see if he comes up in the future.
That's that, baby. Not much going on here. A waste of 70 minutes of your life. When I go in expecting Trimble, I want Trimble, not a misguided director's attempt to make him into a Schwarzenegger wannabe.
For more info: http://www.imdb.com/title/tt0111300/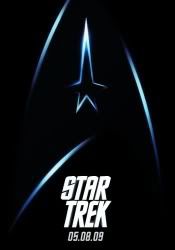 But while I have an extra paragraph to play with, I figured I'd mention the new
Star Trek
movie. It was pretty sweet. The new actors were all faithful to the characters they'd played-- except for one. Sulu was played by the guy from Harold and Kumar that wasn't Kumar, and for whatever reason, he didn't have a deep voice. What? I'm not saying it needed to be Takei deep, but come on, throw me a bone here. Everything else was good, though. For those who don't like Star Trek, I think you'll enjoy it anyway, because it works well as a sci-fi film outside of the milieu of the rest of the series; but for those die hards, it has enough inside jokes to keep you happy too. Just that lack of a good Sulu voice kills me. "Wang!"
For more info: http://www.imdb.com/title/tt0796366/