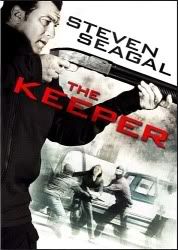 This movie was supposed to have come out in 2009, which explains the release date, despite it coming out today. That means it's been a while since the last
Seagal
film was released,
Driven to Kill,
and that was pretty good. Can he keep it up?
The Keeper
has
Seagal
as former cop who's forced into retirement after injuries sustained when his partner tried to kill him for some drug money. Of course,
Seagal
being
Seagal
, those injuries really weren't that bad, it was just bureaucracy that cost him his job, but it also meant he had some time on his hands, so when an old friend from San Antonio needs him to be a bodyguard for his daughter,
Seagal
is available. When he gets there, he finds out things aren't what they seem (they never are), but it's
Seagal
, he's seen it all before. There's nothing he can't handle.
This wasn't horrible, but it wasn't great either. It had its moments, especially when
Seagal
first gets to San Antonio and he takes out two goons giving his limo driver's cousin a hard time. But then it falls into lull periods, and spends more time exploring a useless relationship between
Seagal
and the girl he's supposed to protect. That's too bad, because at the end, when
Seagal
dispatches the main baddie's hatchet man by taking his open hand and shoving it through the guy's carotid artery, I wonder why there wasn't more of that in the movie.
Seagal
in a cowboy hat was pretty good, though. I'm not sure why he's affected this bad Southern accent. I think it's bad Louisiana, right? Dude, you're from Detroit, the Motor City needs you right now, stop pretending you're from some place else. I mean, I've never heard Iggy Pop talk with a silly Southern accent. There was definitely some of
Seagal's
patented "Slap-Chop" fighting technique (you're gonna love his nuts), but the director used that horrible
Bourne Identity
shaky camera thing with the jump cuts. It's like, I wait all movie for
Seagal
to tear it up, and then I can't see what's going on.
Driven to Kill
may have had some of that, but not as much, and it also had very few lull periods, so if
Seagal
wasn't Slap-Chopping, he was at least blowing shit up. We have another film called
A Dangerous Man
coming out on February 9 (one week after the new
Universal Soldier
), so maybe that will be a better one.
The friend's daughter is played by Liezl Carstens, and as you can tell, she's pretty hot. She was also in the
Seagal
film
Urban Justice
, I believe as the person renting him the apartment. Anyway, I can't figure out how old she is in real life, but it was really weird seeing her fall for
Seagal
. They never hooked up, but she was digging it. I know it's one of the perquisites of being the star of the movie, and I guess we can be happy some restraint was shown in not having the plot go to them having sex, but this was just weird. And they tried to cover the same ground as
The Bodyguard
, but in a poorly written Cliff's Notes version that didn't play well at all. Maybe it was that more than the May-December element of it, because the May-December thing's been around since
Bronson
.
The whole premise of this film is based on the idea that a contract entered into through means of extortion is still a legally binding document, ie,
Seagal's
friend owns land, and the baddie wants it, so he thinks by kidnapping the friend's daughter, he can force the friend to sign over his land, and then he can do with it what he wants. I know it's a movie, so I should suspend some belief, but that's pretty outrageous. Not only that, but the guy demanded five million in cash and diamonds. How does that look in the city records department? "It says here the guy not only gave away this extremely valuable land, but he actually paid this man in five million dollars in cash and diamonds to take it. That doesn't look suspicious at all." I guess in the world of action movies, where cars explode in relatively minor accidents and glass can be run through as easily as the tape at the end of a marathon, it's not that inconceivable that land transactions can be made legally through extortion.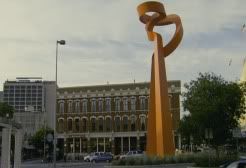 This movie marks a major milestone here at the DTVC: it's the first movie I've ever seen to feature a McDonald's that I've actually been to. You can't see it on that smaller picture there, but if you click on it for the bigger version, you can see it towards the bottom center-left. I'm not sure where this movie was supposed to take place, but that right there is San Antonio. They also had a shot of The Alamo and the Riverwalk. According to imdb, the film was shot in Santa Fe, NM, and they don't mention San Antonio at all. Maybe it was filmed there, set in San Antonio, and the shots were just from something else. Anyway, it was just cool to see a McDonald's that I have eaten at in a
Seagal
film.
This had it's moments, and might be fun in a group, but I don't know. I guess you need to ask yourself "are a few moments worth it?" The best way to put it is, if in other
Seagal
films, when he's tailing someone, he'd probably end up being cornered by some thugs, and he'd take them out. In this film, he tails someone, and then goes home and talks about it in a bad Southern accent.
For more info: http://www.imdb.com/title/tt1296869/