Universal Soldier: Regeneration
is set to be released on February 2nd, but thanks to RepoGenetic, one of our readers, we have an early screening, so I can give you my review before it's released. This is a first at the DTVC.
Universal Soldier: Regeneration
is about a Russian separatist group that uses a Universal Soldier, played by Andrei "The Pit Bull" Arlovski, to kidnap the Prime Minister's kids. When the US government sends some of their own and they fail, they realize they have to call in the best,
Van Damme
. This is a bit of an issue, because a psychiatrist in Switzerland is trying to make him a normal member of society. It's only an issue to pad out the film, of course, and he eventually saves the day. Oh, and
Dolph Lundgren's
in this for the last 30 minutes.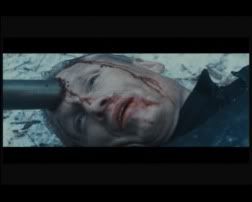 If this wasn't billed as a
Van Damme
Dolph Lundgren
flick, it wouldn't have been that bad. Problem is, it was, and was only able to deliver on a
Dolph
and
Van Damme
bait-and-switch. This was supposed to be a big deal for the Muscles from Brussels, and he's maybe in it for half the film, and of that, much of it is spent in a lab or doing Rorschach tests. The lack of
Dolph
hurt more, because his two or three scenes were great. I could see
Van Damme
being afraid that
Dolph
would show him up, but it was even worse because
Dolph
had only a fraction of the screen time he did, and he still delivered a more entertaining performance.
I'm not sure if you've seen the trailer, but you can check it out
here
. It gives the impression that a good chunk of the film is
Van Damme
fighting both
Dolph
and Arlovski. The truth is that's only the last 15 minutes or so. It's like they took everything that made the first one great, and replaced it with a lot of blah, and hoped that last fifteen would be enough. It was like buying a bag of Doritos and finding out most of the bag was filled with foam packing peanuts. It's amazing how if that happened at the store, we'd be up in arms and demand our money back, but when a movie does it we have no recourse. I'm not saying those few Doritos at the bottom weren't great as always, I'm just saying if I paid for what I think is a full bag of Doritos, and if the bag tells me there's a full bag of Doritos in there, if most of the bag is packing peanuts, I'm pissed.
If in
my top ten DTV films of the 2000s
I said
Dolph
answered the challenge of
Steven Seagal's
entry into the world of DTV action and retained his throne,
Dolph
started off 2010 showing
Van Damme
what's up too. At the 30 minute mark, when he makes his first appearance, it's like a dad going outside to show the neighborhood kids how to really play football. "You kids are cute trying to make your little DTV actioner, but let Daddy show you how it's really done." It's hard for me, because I've never had to deal with a
Dolph
bait-and-switch before, so I don't know how to feel. I mean, I guess with all the films he's done recently, something had to give-- one of them had to have less of him than the others-- it's just the dishonesty that irks me. Say in the trailer and on the cover "And a special appearance by
Dolph Lundgren
". I mean, that's all it was, not a starring role by any stretch.
And
Van Damme
wasn't in it much more than
Dolph
. Like
Dolph
, his only good scenes come at the very end too. He has one early where he beats up the mob boss from
Direct Contact
, but that's just him beating on a defenseless bar owner. His fight scenes with
Dolph
and Arlovski were good, but kind of muted because the guys were all wearing bulky army suits. See
Jean-Claude
, fight scenes aren't shot with shirtless actors in order to show off their pecs to the ladies, they're also shot that way to make it easier for the actors to move, which makes the action better. They might as well have been fighting in Godzilla suits here.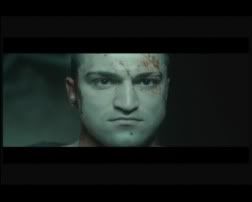 Now don't get me wrong, this had plenty of bright spots. The fight between
Dolph
and
Van Damme
had an amazing ending that I won't give away. Arlovski's fighting translated very well on-screen from it's UFC roots. I actually saw him in real life at Mohegan Sun in 2005 when he fought at UFC 55 and defended his title in 15 seconds against Paul Buentello. He ate at the same restaurant me and my buddy ate at. Anyway, the story itself and direction wasn't that bad for a DTV actioner. Had they been a little more honest with how they were going to use
Dolph Lundgren
, I might not have been as hard on it. Sure, it was plenty silly and unrealistic, but that stuff's okay. One other thing that wasn't, though: this tool bag army dude who gets killed by Arlovski seems like the guy
Dolph
and
Van Damme
were supposed to be passing the torch to for any future Universal Soldier films, as he's shown in the Universal Soldier program at the end. Not only that, but this tool bag was in the film more than
Dolph
and
Van Damme
, which hurt my sensibilities. (I want to make clear, I don't think the actor personally was a tool bag, just the character.)
Final verdict: as a DTV actioner on its own, you could do a lot worse; but as a
Van Damme
or
Dolph
film, it sucked hardcore. I've been around this DTV block plenty of times, as have a lot of our readers, and lying to them about who's in the film and for how long is a bad move. It's one thing to pull a
Rutger Hauer
or
Gary Busey
bait-and-switch, but to do it with
Dolph
is just evil. Not only that, but it wrecks any credibility you might have with a movie that wasn't that bad.
For more info: http://www.imdb.com/title/tt1288403/