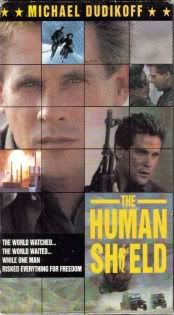 I got my hands on a few movies, this being one of them, and I decided to review it first, because I thought I hadn't done any
Michael Dudikoff
in a while. Then I went back and looked, and saw
Counter Measures aka Crash Dive 2
about five posts ago. Oops, my bad. Of course, can you ever really have too much Dudikoff?
The Human Shield
is a play on the Saddam Hussein strategy in the first Gulf War, when he took a bunch of Western hostages and used them to keep himself safe from Allied bombing. In the movie, Dudikoff has a bad past with an Iraqi general with a bad Middle Eastern accent. For revenge, the general detains his brother as he tries to board a plane, and holds him as bait to lure Dudikoff into his trap. Dudikoff has to sneak into the country, and rely on help from an old flame-- who married the general while Duds was away-- and an old Iraqi military buddy, as he dodges bullets and Iraqi military dirt bikes. Will he succeed?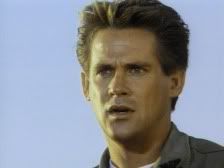 Man, I don't know where to go with this one. A good chunk of it played out like a bad Lifetime movie rip-off of
Not Without My Daughter
. But when it had action, it was equal parts silly and awesome, the best being the final fight with the general, which I included as a video clip at the bottom of the
image page
for this review. You also had some great shoot-outs, explosions, and the aforementioned Iraqi military assaulting our hero on dirt bikes. The issue is, does it have enough to warrant a recommendation? I think it does, but a cautious one. If you and your buddies love Dudikoff, and you're good enough at mocking your movies that you can make entertaining parts that might otherwise be boring, you'll be rewarded with some solid early 90s action cheese.
I think it's good to get a couple Dudikoff films in quick succession, especially considering we went from March to July without reviewing anything by him. This post will put him into a tie with
Steven Seagal
for third all time, behind
Dolph Lundgren
and
Lorenzo Lamas
-- though that's slightly misleading because we reviewed
American Ninja 2
twice. I think that's about right, though, because I think if I were to rank DTV action stars-- just my own personal list-- I'd have Dudikoff number two behind Dolph, even above respected denizens like Seagal and
Jean-Claude Van Damme
. Other than Dolph, no one does early 90s DTV action like Dudikoff. Though this might not be his best effort, not by a long shot, it still had it moments, and perhaps more importantly, gets us that much closer to having his complete DTV catalog reviewed on here.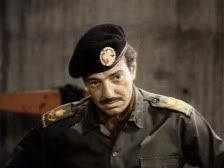 The general was played by a dude named Steve Inwood. He's a great baddie, but a God awful Arab. He's the most egregious example of this film's use of any olive-skinned man with a moustache tacked onto his upper lip as an Arab. I can't blame the film makers for that, though, considering it was shot in Israel. I'm sure they'd have a great time convincing Arabs from either Gaza or the West Bank to come to Israel and act in their movie about Iraq.
The Human Shield
is a Cannon film, but not a
Golan-Globus
film. That's because this is in that 1990-1993 span after Golan left to form the 21st Century Film Corporation. I know it might be confusing, and I think I still have
American Ninja 4
erroneously tagged as Golan-Globus, when it technically isn't-- something I'll fix after I publish this post. You can read the
Wikipedia article on Cannon
to find out more, especially what led to their eventual downfall. I think even if Cannon had survived further into the 90s, the hangover that affected the entire genre probably still would've hit them as much as it hit everyone else, but one has to wonder what they could've done with guys like Seagal and Van Damme when they fell down to the DTV ranks.
This set made for a great final act, and it makes me wonder why they didn't just shoot the whole film here. I mean, the plot pretty much devolved into a
Die Hard
in Baghdad, why not make it a
Die Hard
in this too sweet building instead? They could've also removed a lot of the Lifetime movie elements, and just made it a straight ahead actioner. Even the dirt bike scene would've worked in those long corridors. The mere thought is too awesome for words.
This is only available on VHS, so with that in mind and what you might have to go through to see it, I'd leave it for the Dudikoff completist, which is probably the main reason why we're reviewing it here. A great bad movie night pick if you and your buddies are big Dudikoff fans, otherwise, I'd lay off it.
For more info:
http://www.imdb.com/title/tt0102072/