I've been warned to avoid this one for some time, and I totally understand why, because it's a pretty bad deal. The thing is, though, it just doesn't feel right not having the third of the three
Ninja
movies up here, even if the first two had nothing to do with this one, or each other. The other thing is, we at the DTVC feel it's as important to warn people off about the bad ones as much as celebrate the great ones. So with that being said, here's
Ninja III: Domination
.
Ninja III
is about a bad ninja almost killed by the cops after he assassinates a scientist enjoying 18 holes at his local muni. Before he goes, though, a Solid Gold dancer making extra cash as a technician for the electric company happens to see him struggle and tries to help, only to find herself bewitched by his evil spirit. We don't know which is worse, that or the stalker cop who she suddenly falls for and has lick V-8 Juice off her neck, but regardless, she's now blacking out and committing murders dressed as a ninja, and only
Shô Kosugi
knows what the deal is, and only he can stop her. Throw in
James Hong
again acting as an ethnicity not his own, and you've got
Ninja III
.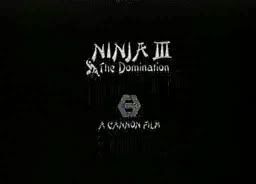 This starts off amazing, with the bad ninja kicking ass and taking names. Helicopters are exploding, golf balls are being crushed, and stuntmen are dying all over the local muni. I was even cool with the girl being possessed, because it was so funny. But the hairy stalker cop turned hero was just too much, and just too creepy. I also get that they were trying a
Kwaidan
Japanese ghost story type deal, but the execution was just ten kinds of wrong, with a lot of bad
Poltergeist
rip-offs and so forth, and the movie ended up being all over the place.
The stalker cop was probably the most irresponsible thing in the film, even more than James Hong as a Japanese man. To me it was actually kind of scary, our heroine meets this cop while she's telling the police about the dead ninja, and the cop hits on her, even after she tells him no multiple times. Then he calls her (how did he get her number? illegal police procedure probably), and after being rebuffed again, follows her to the aerobics class she teaches. As if that's not enough, when she's accosted by some bodybuilders in an alley outside the gym, he doesn't help, makes her fend for herself, then takes her away under the pretense that she's been arrested for assaulting them. What is that? And what recourse does she have if she doesn't fall in love with him and invite him back to her place to lick V-8 Juice off her neck? What, she reports him to the same police department he works for? Yeah, I bet that'd go over great, considering you're giving the report to the guy's friends. Now her report gets "lost", and he's suddenly "patrolling" in her neighbor hood 24-7. Police officers are entrusted with a very great responsibility, and to have a cop hero condoned and even vindicated in his stalking practices is simply appalling.
Shô Kosugi isn't in this anywhere near as much as he should be. When he's there, he's great, but what the hell does that even mean, right? He's always great when he's there, it's always just a matter of how much there there is, right? Go to
Revenge of the Ninja
or
Pray for Death
for the good Kosugi.
Is there anything hotter than a chick in a leotard playing a classic arcade game? In this case, unfortunately, the game is
Bouncer
, one that was still in development and didn't make it big, instead of something truly awesome, like
Galaga
. Women, if you've got a guy in mind you want to impress, this is the way to his heart. You don't exactly have to go the leotard route, especially since classic arcade games can be pricey, and you may have to play outside of your home, but you take a guy to the arcade and you start killing it on
Pac-Man
or something, he'll be yours forever.
Did I mention the cop guy was hairy? Like gross hairy, all over the back and shoulders, and in one scene he's rocking a tank top. Part of me wants to say "hey, more power to you", but no, that's just disgusting. You need to have more consideration for the people around you, and as a director, Sam Firstenbirg needed to step in and put some sleeves on him.
This isn't out on DVD, and perhaps that's a good thing. Sautéed in wrong sauce doesn't begin to describe what's going here. It's like they took all the awesomeness from
Revenge of the Ninja
, and decided give us ten minutes at the beginning to remind us of what they were capable of, knowing full well they were going to hit us with a hairy stalker cop and bad
Poltergeist
rip-off graphics.
For more info:
http://www.imdb.com/title/tt0087805/