If you hadn't already heard, Stars Play chose not to renew their agreement with Netflix to stream their films on Watch Instantly, meaning on February 29, 2012, hundreds of movies got the ax. That left me with a mad scramble to watch and capture images for no less than 11 flicks that I didn't want to miss out on so I could review them here at the DTVC. This is the first of those. I'm going to tag them with "Stars Play 11", to give them a unique distinction in the archives. So without further ado,
The Big Bang
.
The Big Bang
stars Antonio Banderas as a PI in Vegas, called in to find a stripper for a former Russian boxer that just got out of jail. As he peels back the layers, though, things aren't what they seem-- when are they ever?--, and he finds he may have bitten off more than he can chew. But for a real hard boiled private dick, there's no case too tough to crack-- and end up with the dame in the process.
This was pretty fun. Don't get me wrong, it had a flashback exposition style that was tedious and intrusive at first, but got better as it went; and it suffered from those moments of self-indulgence that seem to plague so many Film Noir efforts made after the mid-90s. Overall though, the pros outweighed the cons. The cast was pretty good; the story, when it was allowed to be told without breaks, worked; Banderas was perfect as the lead; and it had this unique inclusion of physics references mixed in. I also really liked the use of color, some of the shots were really striking. Definitely worth checking out.
Most of my Antonio Banderas experience comes in his Pedro Almodovar flicks, which are all fantastic, and which he's is great in all of. He was much younger in those of course (except the recent
The Skin I Live In
), and the roles are much more off-beat than what he did here in the States, where he was much more of a traditional leading man. What I liked about his performance in
The Big Bang
, was that he was able to marry both aspects, the off-beat with the more conventional, to give us a great hard boiled Noir detective in a film like this that's a little out there. Without his performance, I don't think any of this works.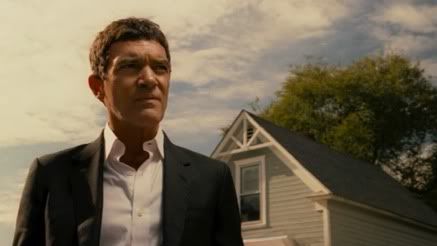 There are a whole host of other stars in
The Big Bang
.
Snoop Dogg
plays a porn director, which, is what it is-- one of those moments of self-indulgence I'd say, I mean, I don't see how him playing a porn director is any different from him performing on a Katy Perry track or appearing in a soft drink commercial. Two of my favorite That Guys, Delroy Lindo and William Fichtner, play police detectives putting the squeeze on Banderas. How do you not love those guys? Our Noir dames are Sienna Guillory and Autumn Reeser, both sufficiently hot and mysterious. Jimmi Simpson plays a young physicist prodigy working for Sam Elliott-- who we'll get into next. Finally, James Van Der Beek plays a crazy actor in a small part at the beginning. Cue the
I don't wanna wait...
I don't know about you, but I've had it with this sententious, sanctimonious Sam Elliott voice-over work in bad commercials that we're constantly subjected to. It wasn't so bad with "Beef, it's what's for dinner", but now it's as if the shite he's peddling is somehow superior just because he says it's so; that instead of being a corporate shill, he's waxing poetic about some mythical blue collar way of life that's just dripping hypocrisy considering the big business source. Anyway, it was good that his character in this was totally full of shit. It was as if the character was based on the real him-- here's this pompous ass spouting off this "better than thou" BS, and in the end is revealed for who he is. Whatever happened to the legendary bouncer mentor from
Road House
? Maybe when "it was tails", it killed more than just his character, it killed his tact too.
I took physics as an undergrad when I started out as an electrical engineering major. The final didn't have partial credit, and as a freshman, I was living off of partial credit, so that sunk me, and I ended up with a D+, my only grade that poor out of my entire college career. It also meant when I switched majors, I was the only anthropology major with Calc-based physics as his science gen-ed. Anyway, I guess what I'm saying is, physics isn't an entirely foreign subject to me, but not one I'm totally comfortable with. I was able to get a lot of the references though, like "Schrodinger's" painted on the side of the movie studio building, or the cafe named "Planck's Constant". As long as you're not making me write out page-long equations to find one value with no partial credit, I'm good.
I imagine this is pretty readily available on DVD, and I think it's worth checking out. Anchored by a fantastic Antonio Banderas performance, with an off-beat story, a nice supporting cast, and some sharp visuals, this is better than your usual DTV Noir. Plus you get the physics without being graded on it, which ain't bad either.
For more info:
http://www.imdb.com/title/tt1307873/