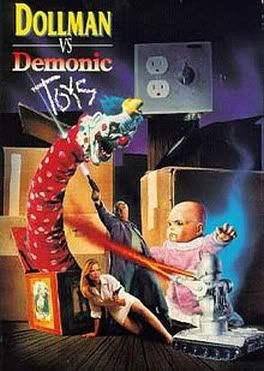 This is another one that I'd been planning to do for some time, and when Emily of
Deadly Doll's House of Horror Nonsense
came to me for posts featuring miniature baddies for her Vertically Challenged Villains Month, I figured I'd bump this one up and do it now too, like I did with
Puppet Master II
. I should point out, it's been a long, long time since I've seen
Demonic Toys
and
Bad Channels
, two of the three films that this is a sequel of, the third being
Dollman
, which we did sometime ago. It might mean I missed some things I'd have picked up on if those other two were fresher in my mind.
Dollman vs. Demonic Toys
is like a comic book crossover of Full Moon projects, featuring Dollman Brick Bardo (played again by
Tim Thomerson
), who, after beings stranded on Earth, goes out to California to find Nurse Ginger (Melissa Behr), who herself was shrunk and left shrunk at the end of
Bad Channels
(actually, in
Bad Channels
it was Bunny, not Nurse Ginger who was left shrunk, but does it matter?). He makes it to her house and they form a romance, hoping to live happily ever after. Not so fast cowboy. Enter Tracy Scoggins, who has been hunting the Demonic Toys. She hears about Ginger and Brick, and thinks Brick would be perfect to take down the Demonic Toys due to his size. His big gun doesn't hurt either. The Demonic Toys won't know what hit them.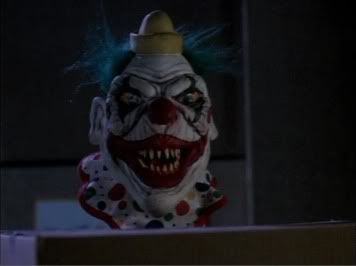 This is exactly as I described it, a comic book crossover in movie form. That's what it felt like, a cool one-off. Even the length, just over an hour, fits that vibe. As someone that grew up with comics and loved it when one-off issues were released with characters from different books put together, to see something like this that captures that vibe is really cool. Tim Thomerson is his usual awesome self reprising his role as Brick Bardo, and the showdown between him and the Demonic Toys is everything I could've asked for. Scoggins and Behr were also great, as was Phil Fondacaro, who had a small part as a security guard (no pun in tended). Add to that Quiet Riot in the film's soundtrack, and you can't lose. Even though a chunk of the film gives you enough backstory that you can watch this without seeing the previous films first, you should at least take advantage of
Dollman
and
Demonic Toys
on Watch Instantly beforehand, because it'll make this one a little more fun.
I guess we start with Tim Thomerson, right? He's so deep into his Brick Bardo character that there's no question about anything being silly with him fighting an over-sized baby doll or duking it out with a Conan O'Brien action figure. He plays it so straight, yet so cool, that it all works and makes it that much better for all of us. In fact, the entire cast plays it pretty straight, which makes all the difference in films like this. Thomerson also has an interesting distinction here at the DTVC: he's one of the few non-Hall of Famers to have more tags than some of the inductees. The question is how to rectify that: get more films for those Hall of Famers, induct Thomerson this fall, or both?
I want to stay with this shot of Thomerson here, because it's archive footage from
Dollman
, which was directed by
Albert Pyun
. I wasn't sure if I should the tag Pyun, because it is his footage that's being used. I mean, I've tagged actors for smaller appearances than the amount of footage from
Dollman
that we had in this. I wonder how that works as far as Pyun goes for money, or if Band owns the rights. Same with the actors, like
Michael Halsey
,
Vincent Klyn
, and Jackie Earle Haley. I don't believe they're credited either. Should I tag them or not too? There's also the character name "Brick Bardo", which Pyun has used a lot. Was there any dispute about who owned the rights to it after the fact? Another interesting Pyun connection here was Anthony Riparetti, who worked on the music. He's worked on a lot of Pyun's films, usually credited as "Tony" Riparetti.
I loved the Conan O'Brien action figure. How is that not awesome? He of course predates Conan's run on
Late Night
by about a year, but still. It's too bad Conan doesn't have the rights to all his characters, because you could have a great crossover with them and the Demonic Toys. Imagine Triumph the Insult Comic Dog, the Reverend Otis K. Dribbles, the Masturbating Bear, Pimp Bot, maybe even the Ear of Corn, all fighting the Demonic Toys, or maybe the Puppets from the
Puppet Master
series. A guy can dream, right?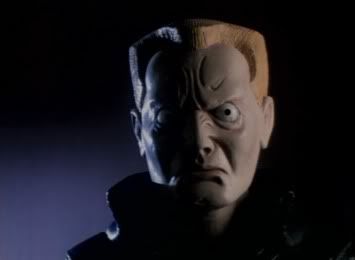 As I mentioned above, this film clocks in at a cool 64 minutes, which isn't much. I always hear the term "feature length" tossed around, and wanted to find out exactly what it was, so I did what anyone would do, I went to
Wikipedia
(link is to the article). According to them, there are multiple definitions for feature length, some as short as 40 minutes, but the rough standard for an adult feature is 80 to 210 minutes. Do I think this one at 64 minutes should've been longer? No, 64 worked, and I imagine, if Band were forced to make it 80, he'd just add five more minutes of archive footage from each of the three original films, and one more minute of credits, and he'd have his 80. Give me shorter with less padding every time. I always say, anything after 88 minutes is borrowed time and better be damn good.
We are two-for-two this week on Full Moon flicks, the other being
Puppet Master II
. I daresay I like this one even more. If you like Full Moon, you like Thomerson, and you like the old comic one-off with tons of different characters, this is your flick. Right now it's on Watch Instantly. I can't think of a 64 minutes better spent. (Okay, maybe I can think of a few ways, but not many.)
For more info:
http://www.imdb.com/title/tt0106743/