When thinking of what four films to post for a Patrick Swayze week, first
Road House
came to mind, and then
Point Break
. It's just another Swayze classic. Plus, this one has a DTVC Hall of Famer in Gary Busey. I also think, and I'll have to check on this, that this is first film I've featured with a woman director-- not only that, but a director who was on the jury of the Berlin and Venice film festivals.
Point Break
has Keanu Reeves as a former college football player, Johnny Utah, who is an FBI agent just out of the academy. He pairs up with Gary Busey to investigate a series of bank robberies by some dudes in US President masks. At the same time, while going undercover to catch them, Reeves meets Swayze and his gang of surfers. They become friends. But things are going on with Swayze, and Reeves gets suspicious. As the evidence points to Swayze, Reeves has to figure out if he's too far gone to arrest him.
All right, I'm going to come clean here. I don't just like this movie, I actually think it's good. Like good, good. I know, I know, Keanu Reeves goes to law school on a football scholarship. I know, I know, Vincent Klyn's character is named Warchild. I know, there's the overly dramatic scene when Reeves sees Swayze's eyes through the Reagan mask and discharges his gun in the air whilst yelling in pain. I know all this, and I'm not sure exactly what I can point to and say "that's quality"-- but for whatever reason, it just is to me. Maybe I'm just crazy.
Swayze's character is named Bodhi. He's pretty much full of shit, and you get the sense that if Swayze ever met Bodhi in real life, he'd see through his bullshit. So would legendary bouncer Dalton. I think it just speaks to Swayze's range. Bodi and Dalton are both Swayze, and he pulls them both off, but they're so different. Very few actors can be such convincing heroes and baddies, and I think the only reason why Swayze never received more credit for his ability to do so was that
Road House
and
Point Break
were considered such cheesefests.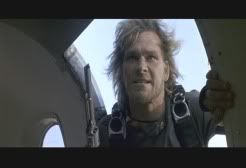 I've never reviewed a Keanu Reeves film on here, so this gives me a unique opportunity to discuss an actor whose films are usually outside my pay grade. In 1991, Reeves was two years removed from
Bill and Ted's Excellent Adventure

,
which made him one of the biggest things in Hollywood at that time. As the nineties moved on, he did more
Johnny Mnemonic
s and
Speeds
and
Chain Reaction
s, and that star faded. Now, ten years after the first
Matrix
, Reeves is again making big time box office blockbusters like
The Day the Earth Stopped
. I guess my question is, why was there ever an up and down? Do you see any difference in the Special Agent Johnny Utah now and then? I liked him in this,
My Own Private Idaho
, and
Dangerous Liaisons
. I didn't get him in the
Matrix Trilogy
. The whole Utah as Neo thing was weird. If anything, Paul Walker should be wondering why it didn't work as well for him.
Speaking of Walker, we all know
The Fast and the Furious
was a remake of
Point Break
. When I was in college in 2002, as a senior, some freshmen were watching
The Fast and the Furious
, and they didn't know what I was talking about when I told them it was a remake. "What's
Point Break
?" Amazing that in only ten years someone can repackage a basic paradigm and release it to a new group of kids who have no idea that it ripped off another movie that was made when they were 8. The one thing that
The Fast and the Furious
lacked that
Point Break
had (other than Swayze and Busey), was Kathryn Bigelow's artistic direction. The script of
Point Break
may have been cheesy, but it had the best foot chase in the history of film, among other great scenes. Also, I wonder if Bigelow, being a women, dialed down the tool factor considerably, which was a major sticking point in
The Fast and the Furious
.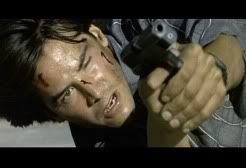 In 1991, I never considered the ramifications of having Tom Seizemore and Gary Busey in the same film. The volume of drug use must have been astounding. Swayze doesn't have any scenes with Seizemore, which is a disappointment. I'd love to have seen Swayze as Bodhi trying to make sense of Seizemore (in a moment that was probably art imitating life) pouring beer over his cereal. I actually tried that myself once. Disgusting. Busey is pure Busey as Reeves' partner. This role is what the Abusive scale was made from-- it is the control, the basis upon which every other Busey role is measured.
Any Swayze fest should include this classic. With Kathryn Bigelow's
The Hurt Locker
gaining buzz in theaters,
Point Break
is being recognized again for entirely different reasons. Whether you like it for Swayze, Bigelow, or both, this is a must for any collection.
For more info: http://www.imdb.com/title/tt0102685/