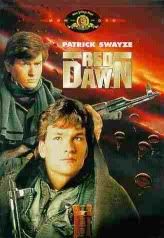 This is probably, of the Swayze threesome, the hardest for me to stomach. Even when I was ten, and I first saw it on VHS, I was like "this is ridiculously stupid." Ten-year-olds shouldn't have a better a understanding of international relations theory, script and story writing, and the realities of surviving a brutal winter in the American Rockies than adults who have union cards to the screenwriters' and directors' guilds.
Red Dawn
takes place in the early 80s. The USSR is strapped for resources, so they invade the United States with the help of Cuba and Nicaragua. Europe is run by liberal governments, so they want no part of coming to the US's aid, and for whatever reason NATO no longer exists. The Soviets, perhaps because they got an erroneously marked map, invaded a small town in the northern Rockies and take it over. Some high school kids escape and hide out in the woods. They stockpile arms and form an insurgent group that they name the Wolverines. They give the Soviet occupiers a hard time, much the way Hezbollah did to the Israelis. Eventually, the Soviets prevail, but the Wolverines' fight inspires all Americans to stand up to the Godless commies.
Let's forget about the Right Wing propaganda and the silliness of some of the leaps of faith in IR theory and US military defense they want us to make. Someone on imdb tried to make the case that this was well made, and that we focus too much on the other two factors, and miss the quality of the cinema. The dude even had the audacity to evoke Arthur Koestler's amazing novel
Darkness at Noon
. Okay, give me a second to regain my bearings. This guy watched the Jennifer Grey death scene-- "I'm so cold... just give me a grenade... pull the pin... I'm so cold...", to which a sobbing Swayze hands her the grenade-- and he thought that was quality cinema? He brought up the imagery in the occupied small town. What, a paltry copy of
Doctor Zhivago
? What about all the dialog that sounded like a series of non sequiturs?
Chronicles of Riddick
had a better script. And how do you explain the month of October that was 230 days long? That's the only way to explain how these high school kids have the ability to dig four deep holes in the ground, four hatches to cover them seamlessly, and then plan an ambush on a Soviet convoy stopping at a roadside gas station. This was not well made or artistically done.
The fact that this was poorly made made it funny, though. It's funny to watch it with friends, and when someone says something that makes no sense given the context, to say "Um... I think you missed a line." Also funny were the leaps of faith in what is possible as far as an invasion of the US. No National Guard, no NATO, no nuclear capability ("we wouldn't use them on ourselves" Powers Boothe explains. No shit, Sherlock! We'd use them on the Soviets. Moscow would be a parking lot if they invaded us!). That's what it would take for us to have a small town in the northwest Rockies invaded and occupied, and they gave paltry explanations for why there's no NATO or nukes, and no explanation for why there's no National Guard. There's a reason why we aren't invaded: countries like the USSR are afraid of us. And the logistics based on out terrain and location are absurd. Our military is huge, are nukes are nasty, and our resources and terrain work in our favor. The fact that none of that was considered is insane.
I promised some of my friends I wouldn't make this about the Right Wing Propaganda aspect, so I'm only devoting one paragraph to it. This movie is pretty much made for the people who go to Obama public appearances packing heat. There's a reason why we're invaded by Commies and Latinos. Fear of Godless Socialists and illegal immigrants. There's a reason why the people in town with guns are rounded up. Just look at the scene when Charlie Sheen asks Swayze what makes the Wolverines different from the Soviets, to which Swayze replies "Because we live here!" It sums up the sentiment of the film. Everything is being taken away by outsiders. Probably most indicative of the conservative sentiment is the idea that October is 230 days long. They would probably think if they extended the month, the weather they like at that time of year would be extended too. In the spirit of fairness, if liberals had control of the calendar, they'd make October 30 days instead of 31 so it wouldn't have more than any other month. I want to make clear that if this was a liberal propaganda fest, I'd feel the same way about it.
Swayze isn't able to save this film. It lacks the fun factor of
Road House
and
Point Break
. He's swept under the current of ridiculosity (I know it's not a word, but what better way to describe the movie). What's ironic is if the makers of this film had the America they wanted, you'd get the small Missouri town run by Garrett that Swayze has to save. I don't know how to explain it, but in
Road House
and
Point Break
he transcends the silliness, while here, he's enveloped by it. Just the same, I included this because people in the bad action community (including myself) see it as a classically bad movie. When you think Swayze, you think
Road House
,
Point Break
, and
Red Dawn
. Despite the annoying Right Wing propaganda, I still have a fun time with my buddies watching this and making fun of it.
Ron O'Neal turns in one of the few bright performances. It's a sad fact that this film boasts now two victims of pancreatic cancer, with O'Neal passing away from the horrible disease five years ago. I looked him up on imdb, because I've always wondered why he was associated with this sack of asscrack. Turns out he was never offered that many roles after
Super Fly
. That's too bad, because as an actor he had a solid pedigree, and he deserved better roles than a Nicaraguan officer in the ludicrously conceived invasion of the US.
This is a movie that, when I watch alone, I find myself at times laughing out loud, at others shaking my head, and at others being so bored I'm doing something else. With friends, it's transformed into a hilarious jokefest. There are moments when there's too much material, and my brain's overloaded with what to make fun of next. It's a little too pretentious and self-righteous to be as much fun as
Road House
and
Point Break
, but it's so silly that it's worth watching and mocking.
For more info: http://www.imdb.com/title/tt0087985/