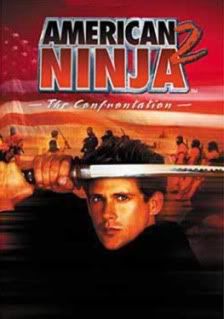 I rented
American Ninja 3
from Netflix, and it came packaged with
American Ninja

2
. I realized then that it had been almost 15 years since I last saw it, so I watched it again. I came to the conclusion that my original post, on
May 6, 2007
, though a good one, should be revisited. I hate the idea of Lucasing the older ones with new information, so I'm letting that one stand, unaltered, and just adding this one to the archive.
American Ninja 2
takes place a few years after the first one. Marines working for the US Embassy on a small Caribbean island are disappearing, and the Pentagon suspects foul play, but instead of sending more Marines, they send two Army Rangers: Dudikoff and Steve James. What they find is a small neighboring island that is cloning a new race of super ninjas, and Dudikoff and James are the only ones who can stop them.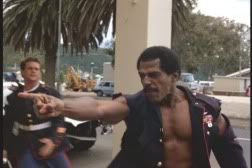 Is it possible that the 30 year-old me appreciates this more than the 16-year-old me? Also, there were many reasons why I dug this back then that I had forgotten about over all this time. Steve James yelling "I want fresh meat!" at a group of thugs chasing after them. We rewound that scene over and over at the time, and I have no idea how I didn't remember that when I wrote the first blog. The tongue and cheek factor was completely lost on me then. As far as I could tell, they were dead serious about everything they were doing, and now I see that that's impossible. They had to be kidding about a lot of it, especially James' scenes. My overall opinion hasn't changed though, this is must watch material.
In May of 2007, I had just started this blog, and I wanted to get as many reviews up as possible. Then, more so than now, my goal at the DTVC was to have an archive of as many DTV films as I could get my hands on. I didn't have the structure I have now of 8 paragraphs and three pictures, and I didn't have any software to capture images from the movies, so I was often at the mercy of the Internet. I didn't even have a Netflix account. Just the same, in looking at some of these old posts, I see some ways in which they were better. They were often funnier than they are now, because I was pulling them from memory, so there was always some funny anecdote that made me want to cover them. I do think I did myself a disservice, though, by posting reviews about films I hadn't seen, in some cases, in more than a decade, so no matter how funny they might have been, my new policy of watching a movie right before I review it is probably the best improvement I've made over the last two and a half years.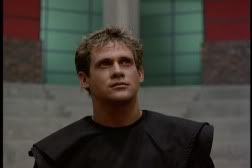 I'm going to announce my new Hall of Fame inductees next week. Michael Dudikoff is part of the inaugural class, and when I wrote the original post, there was some concern about his inclusion. I can see it in my conclusion when I say he's a bona fide Hall of Famer. I think now, with 14 films reviewed, and so many more to go before we're done, any questions surrounding him are answered. And having explored (and in some cases re-explored) his filmography over the past two-plus years, I'm still convinced that the three
American Ninja
films that he's starred in are his best, and the perfect starting place for anyone wanting to delve into his oeuvre.
Maybe the biggest difference between 1995 and 2009 is my appreciation for Steve James. He's amazing here, and I'd say less Dudikoff's sidekick, and more his partner. He's not mailing it in like he did in
American Ninja 3
, he's actually in full glory. He has some of the best fight scenes in the film, and I can't imagine anyone not enjoying watching him. There was a reason why we replayed the "I want fresh meat!" over and over again: because it was so awesome!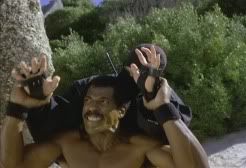 Another big thing I forgot over fourteen years was the use of Guns N' Roses' "Move to the City", off the
Lies
EP. We seldom see songs we recognize, let alone bought the CD (tape) for at the time. 1987 was a different time for Guns. They were ushering in a new movement in rock, pushing out the old guard of hairbands, and had it not been for Nirvana and grunge, the rest of the hairbands may have had an opportunity to evolve. Instead, Guns were able to survive the post grunge purge, only to be felled by the megalomania of their lead singer. I bet Axel looks back on their song being in
American Ninja 2
as being a bad thing, but the bad thing was how thoroughly he killed something so good.
Next week we'll go back to the box office bomb segment of the blog, but it was cool to return and look at a film I covered a while ago and hadn't seen in some time. If I learned anything, it's that these films, no matter how silly, deserve a rewatch, especially when they were so awesome! If you haven't seen
American Ninja 2
in a while, I urge to to give it another look. You'll be happy.
For more info: http://www.imdb.com/title/tt0092548/