My plan this week was to review Val Kilmer's new film,
Hardwired
, which was released the same day as
Command Performance
, but unfortunately Netflix didn't have enough copies of it, so I have to wait. Maybe by Friday. Anyway, since I had this other Val Kilmer film in the can, I figured I'd review it now, and if I get
Hardwired
soon, I'll just review that too.
Columbus Day
has Kilmer as a con man who pulls off a huge heist of drugs, and is now waiting to find someone he can sell them to. The only catch, it's Columbus Day, and all the banks are closed, meaning the only guy with enough cash to buy the drugs is the guy from whom he stole them. So he spends the day in the city park, talking to a boy whose mom is at work while he has the day off from school. He's also trying to patch things up with his estranged wife and daughter, and the plan is to take this drug money down to Florida so he can be with both of them. The question is, will he survive?
I don't know what to say about this one. If it didn't have the cast it did, with Kilmer, Marg Helgenberger, and Bobb'e J. Thompson (who played Ronnie in
Role Models
), I can't see myself liking it. But it did have those people, and that gave it a flavor it otherwise wouldn't have had. All three of them were better actors than the material, which, in the end, was your run-of-the-mill heist/scam/twist suspense yarn with a not-so-nice protagonist seeking redemption for the mess he's made of his life. There wasn't much to make fun of in it either, so really, you're only going into this for its quality, and on that score it was only mediocre.
My friend at Movies in the Attic (whose site is temporarily down after the recent dismantling of Geocities) is of the opinion that Kilmer deserves better than the fate he's currently been given as a DTV actor. I agree with him so far as one can tell from the beginning that he is well beyond the quality of the material he's working with here; but where does one see Kilmer fitting in in mainstream Hollywood? Certainly not a leading man. He was great in
The Door

s
, but playing Jim Morrison requires a unique set of talents that very few other leading roles ask for. I personally didn't like
The Saint
or
Batman Forever
, but thought he was amazing in
Wonderland
. I guess what I'm saying is, in order for him to be a leading man, he may need to go the DTV route for the most part, and take his Jim Morrisons and John Holmeses when they come.
I liked
Role Models
, and a big reason why was Bobb'e J. Thompson. Sure, the name doesn't make much sense (do you need the apostrophe? I hope that's just a SAG thing), but the kid was probably the best actor in that whole movie, and here was third to Marg Helgenberger and Val Kilmer. I imagine after
Role Models
, we won't see him again in DTV films for a while, unless he goes the Todd Bridges path. Let's hope for his sake he doesn't.
This film also featured Wilmer Valderama. If Bobb'e is a silly name, Wilmer is even worse. I guess they can both feel better knowing their name isn't D'Brickishaw or Knowshawn, right? Anyway, like Dustin Diamond and Jaleel White, Valderama is cursed with the reputation of playing a geeky gross guy on a teen sitcom. Unlike Diamond and White, he's done better for himself after by owning popular LA restaurants and dating starlets like Lindsey Lohan. Even though I still thought of him as Fez when I watched this movie, and I don't know if Fez or Wilmer is the better name, I definitely believed him here as the guy trying to link Kilmer with a buyer. If anything, he learned from the mistakes of Diamond and White, et al, and he's gotten right out in front of this TV reputation thing.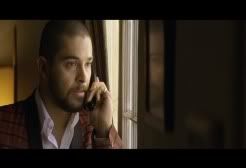 I used to write freewrite blogs on MySpace to get my creative juices flowing while I worked on my novel, and one of the blogs was about a fictitious movie trilogy called the
Columbus Day Blowout
. I did it in response to a commercial for the
Santa Clause
movies calling them the "greatest holiday trilogy of all time." In hindsight,
The Labor Day Blowout
would've been a more apt film, because the weather in Vermont in Rocktober can be a little chilly. Anyway, I didn't actually think that anyone would make a movie based on
Columbus Day
, and though this one is about something entirely different from the one I came up with, it's still kind of a cool concept to base a film on a holiday that we don't usually think of. Maybe the next one will be
The Grandparents Day Massacre
.
You're not going to be hurting yourself by skipping this. Maybe if you're a huge Kilmer fan you'll want to give it a try, and he's good here, but otherwise it's not so hot. Also, there's very little action, and very little to make fun of, so on that score it's not worth it either. I'm not saying it's a horrible movie, and if it's on TV you could do a lot worse by watching it, I just thought it was pretty unremarkable, and am not sure it's worth a spot on your Netflix queue.
For more info: http://www.imdb.com/title/tt1015976/