In this edition of the box office bomb, we're going with one that was more of a critical bomb than a financial one, though it didn't make back its budget at the gate. It's also a fascinating case, because I'm not reviewing just the original, but the new "renegade" edition, which is supposed to have cured the ills of its predecessor.
Highlander 2
takes place a lot of years after the first one, and Connor is an old dude. The ozone layer had become depleted to such a degree that MacLeod has created a shield to protect us from the UV rays. We also find out that immortals are people from the distant past who are sent to the future for their crimes and forced to fight it out. Connor was sent because he staged a rebellion against Michael Ironside, and on some technicality, Connor could come back to the past and kill him, so Ironside comes to the future. Then Connor calls Connery's name, and he comes back to life. Now they're converging on the shield to take it down, and Ironside and the shield's CEO, John C. McGinley, are there to oppose them.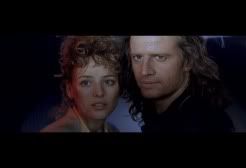 Let's be frank, the only way to redeem the previous film would be to Lucas Reno Raines and Bobby Sixkiller into it and make it a real
Renegade
version. I know a lot of
Highlander
fanboys and girls out there would think Lamas has no chance against Connor MacLeod, but I beg to differ. He doesn't have to kill him, just incapacitate him and take him to jail for the money. Does this all sound ridiculous, a
Highlander
movie that's essentially a long
Renegade
episode? Well, let's delve into the actual film and see what we think.
The original
Highlander 2
told us the immortals came from a planet called Zeist. That was ridiculous, yes? That means the new version must be somehow less ridiculous, otherwise why make the film, right? So instead of being from a distant planet, they're from a past that's really more like a future, where humans have great bomb making technology, but no guns. This is my improvement? Sean Connery has no concept of modern technology, but Michael Ironside, also from the distant past, is fully familiar with how the subway system works, down to its specific lingo. To be quite frank, the original actually worked better.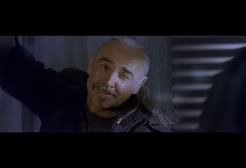 The biggest issue was the first
Highlander
painted the series into a box with its finality. They had to get crazy with it to include Connery, and it only got worse from there. I really felt, as I was watching this, that there was no way they were serious. Think of the scene where Connery, Lambert, and Virginia Madsen are in that room where the fan is coming down on them. When Connery tells them to leave, and then the bagpipes start in-- how can that be serious? So I watched that part with the commentary, hoping Russell Mulcahy would tell us how silly it was, and all I got were crickets. Nothing. They not only made that scene on purpose, they were serious about it!
I just love the idea that had Mulcahy had his way, this is what he would've done, considering he didn't want to have his name associated with the original. Why would he have his name associated with this either? The truth is, the TV series had some two-part story arcs that were much more entertaining. I agree that everyone had every right to trash the original version of this movie, but if you're the director and trashing it, that means you need to have something better that you would've done, and you definitely didn't.
This wasn't all bad, of course. There was plenty to make fun of from start to finish, just because of the basic premise. Then, there were the amazing hairdos. Michael Ironsides sports such an amazing set of lettuce that it makes every misstep Mulcahy made worth it. Not only that, but his scenes with McGinley were nothing short of cinematic gold. And you can never discount what it means to have Connery in another bad film. Just because this was a bad movie, doesn't mean it's not a fun one too.
And here we are, paragraph 8, and I forgot to mention the film's one DTVC Hall of Famer, Christoher Lambert. What is there to say, really? He was as funny as everyone else trying to make sense of this thing. And that's what makes it great for us the viewer too: the fun we have trying and failing to make sense of it all. I'll never forget the review Siskel and Ebert did when this was in the theater, because it was the first time they killed a movie that I really agreed with them on. At 12, I was becoming better aware of what was around me, and as such, less willing to accept as good something that was in actuality utter crap.
For more info: http://www.imdb.com/title/tt0102034/