Many people think I'm doing this series on Hong Kong films due to overwhelming support brought on by Mr. Kenner's (
Movies in the Attic
) impassioned pleas for it over the other potential genres. Though that's partially true, another big reason for it is to review this film-- which I guess I could've done on its own anyway, but whatever, and he should probably get some credit for that too, because he mentioned it among all the others he suggested I do. Quickest way to my heart? Mention one of the best fucking action films of all time.
Police Story
has Chan as a cop who arrests a drug lord only to see the guy almost walk. He has to protect the guy's secretary so she can testify against him, but things go wrong when she's uncooperative. Does any of this really matter?
Nope. In the interview with Chan that comes with the Dragon Dynasty version, we find out that he made this film after the debacle that was
The Protector
. He felt like it was Hollywood's fault that turned it out like such a sack-of-asscrack, so he said "here's what happens when you let me write
my
script, direct
my
movie, do
my
stunts, and choreograph
my
fights." Yeah, here's what happens: you get one of the best fucking action movies of all time. Jackie brings it on all levels, from the slapstick comedy, to the balls to the wall stunts, to the non-wire routine fights. His being pissed about the way he was treated by Hollywood was our gain. Boy was it our gain.
He said this film was made on a budget of only $2 million. What that means is that too sweet shantytown chase that transitions into the hanging off the bus scene-- yeah, that is done in one take, and everyone involved is literally risking their lives. Like, one of the dudes in the shantytown chase was critically inured. Like, when the bus stops and the guys fall out onto the street, they really do that, and it really hurts, and it happened because they couldn't rehearse it, and no one considered the air brakes in the bus would pull everyone back, so the guys jumping through the windows couldn't propel themselves onto the car they which was the original landing point. If you want to know why Chan does his
The Tuxedo
or the new
Karate Kid
, it's because his salary for that almost pays for something as awesome as this.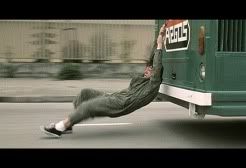 Like the
Tai Chi Master
Dragon Dynasty DVD, this one comes with an interview by Bret Ratner (it also has commentary by him, but I may not have the time to watch it before I send this back to Netflix), and the number one thing he mentioned was how all of
Police Story
is so believable. If we look at all the other films we've reviewed, only the Bruce Lee ones have the level of realism this one has, and even they have Lee beating up tons of guys without getting a scratch on him. In Chan's fights, he takes hits, and uses everything around him to even the odds. Also, he seldom takes on more than a couple guys at once. I'm not saying something like
Fist of Legend
or
Tai Chi Master
or even
Master of the Flying Guillotine
aren't awesome, even if people are flying and standing on ceilings and taking out ten guys at once. There all awesome, I'm just pointing out that Chan's approach here is different.
Here we are, six paragraphs in, I haven't even mentioned the best part of the movie. That's right, the mall fight. We've seen great mall action sequences before:
Invasion USA
,
Rage
, and
Commando
.
Police Story
, though, has the best of the bunch, culminating in the crazy 70 foot slide down the pole into electrically charged wires and light bulbs. He burned his hands so much the skin was coming off them after. There's a reason why guys like
Schwarzenegger
and Stallone think Jackie Chan is the bee knees: because he has the fucking balls to get after it.
After the mall scene, when you're thinking this can't get any better, Jackie Chan sings the song that plays during the closing credits. I thought about uploading it here, but then I was like, fuck that, if you want to listen to it, watch the whole fucking movie first.
Does it sounds like I'm swearing more than usual? I just don't know how to make the motherfucking kick ass energy
Police Story
has translate onto this page. This movie is beyond awesome, and if you haven't seen it, get that Dragon Dynasty version into your Netflix queue with the quickness.
For more info:
http://www.imdb.com/title/tt0089374/