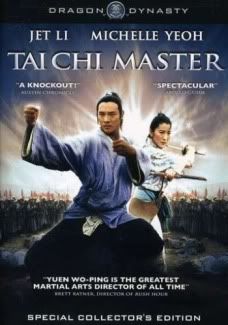 We continue our DTVC Wild Card look at Hong Kong cinema with
Tai Chi Master
, a film featuring Jet Li and Michelle Yeoh, and directed by the legendary fight choreographer Woo-ping Yuen. You may see it listed with the title
Twin Warriors
, but the Dragon Dynasty version, which is probably on most shelves and the version Netflix offers, has the title we're using here.
Tai Chi Master
is about two Shaolin monks in training, Jet Li and Siu-hou Chin, who leave their school to strike out on their own. They wander into a nearby town, run by a tyrant of a governor. Jet Li decides his lot is with the rebels looking to oust the tyrant, while Siu-hou Chin leaves his friend and joins up with the army, using his Shaolin training to take what he can and gain as much wealth and power as possible. Eventually this brings them at odds, and Jet Li must figure out how he can defeat his childhood friend, a foe he knows is more powerful than him.
Woo-ping and Jet Li. I really don't have to say anything else, do I? The only thing I didn't like was a part in the middle where Jet Li had gone crazy, which went on much longer than it should've. It just kept us from getting to the end that we knew was coming, and the slapstick that came from him losing his mind got old quick. But you're talking like fifteen minutes of an otherwise stellar film. Woo-ping's directing and fight choreography is amazing, Jet Li, Michelle Yeoh, and Siu-hou Chin are all excellent; just a killer film.
Jet Li's kind of that third in line as far as Hong Kong action stars goes, after
Bruce Lee
and Jackie Chan. You could make a case for Chow Yun Fat, but I think he's a different ball game. What I love about Jet Li is how he seems rather diminutive, until he gets his stare on. That one stare, and you know, you're in trouble. I'm curious to see what he's like in
The Expendables
, or rather, how well he's used. What we know for sure is, if anyone knows how to use Jet Li, it's Woo-ping.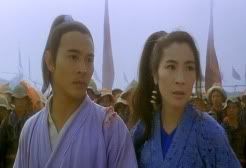 Along with the DVD came two featurettes where Bret Ratner and film critic Elvis Mitchell discuss Woo-ping Yuen and the pairing of Jet Li and Michelle Yeoh. Mitchell summed up the latter by referring to Yeoh as the "Ginger Rogers to [Li's] Fred Astaire." I don't know that there's a better way to put it. As I've always said, for action fans, our
Steel Magnolias
is
Commando;
and you could go one step further and say Hong Kong action is our musical. Kicking ass and taking names. Also, this is the second Yeoh film we've done here, the first being
Silver Hawk
, which was one of our first reviews ever, and also starred
Michael Jai White
.
Another thing Ratner and Mitchell got into was why Woo-ping hasn't made a film over here, and they brought up the same issues we did about John Woo not having made the masterpieces here that he did there. Producers, insurance, agents, SAG-- all issues Hong Kong directors don't have to worry about. These actors in Woo-ping's films really get put through the wringer, but they know going in what's expected of them, and they want to do it to make the kind of magic on screen that we've become accustomed to. There are some benefits to making movies in Hollywood, just like there are benefits to making films in Hong Kong or elsewhere. What we need to understand is that just because Hollywood is the biggest and brightest, doesn't mean it's the best.
Finally, something about this image struck me. It looks like 1988-92 more than from a period piece. The background isn't automatically a tent from this close in, and her make-up and hair are much more After School Special than historical Chinese shopkeeper. Of course, what happens next in the film is not After School Special at all. Scott Baio wouldn't approve.
The Dragon Dynasty version of this is great, so it's worth checking out. I didn't get too into specific scenes and images, because if you haven't seen it, it's worth going in cold. The one thing you should do, though, as you watch it, is ask yourself "how did he shoot that without big budget special effects?"
For more info:
http://www.imdb.com/title/tt0108281/