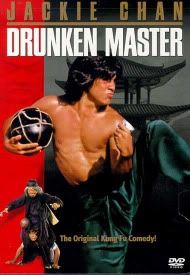 I picked this film to review on our Hong Kong movie series for two reasons. First, it's a collaboration between director Woo-ping and Jackie Chan; and second, while most Hong Kong cinema has pockets of comedy among serious action, this film has pockets of action among tons of comedy.
Drunken Master
has Chan as a petulant youth whose father sends him to his great uncle so he can learn some discipline and Kung Fu. It's a hard road, but his uncle finally shows him his Drunken Style, which he needs to take down Thunderleg, an assassin sent to kill his father.
This movie could've been a little shorter and some of the comedy routines were a little repetitive, but overall it's a fun time. Woo-ping's choreography combined with Chan's skill and comedic timing are a perfect combination. Even if much of the film is supposed to be funny, everyone takes the fight scenes as seriously as they would in any other action film. I think that's the key. If the fights were lackluster, even if they were funny, this wouldn't have worked. That's the thing with Hong Kong cinema and guys like Woo-ping and Jackie Chan: they don't know how to do things half-assed.
Compared to
Police Story
, this is a totally different ballgame. Here Chan is doing much more traditional Kung Fu in a period piece, as opposed to a modern action film with fighting that's more street brawling than exquisitely choreographed martial arts. Still, both have a large amount of that comedic element, which I think is great.
Bruce Lee
might be the greatest Hong Kong star ever, but Jackie Chan was the one who put them back on the map after Lee died.
The other Woo-ping film we've done during this series is
Tai Chi Master
, which came about 15 years after
Drunken Master
, and is a film on a completely different scale. Huge fight scenes with tons of people doing amazing things. The one drawback in that one was the drawn out Jet Li crazy segment that was supposed to be funny, but just didn't work that well. Here, Chan allows Woo-ping to exercise his funny side in a way that works.
Chan's drunken style reminds me of Lei from
Tekken
, which is who I think he was based on. My buddy used to use him and Xiaoyu to try and combat my King/Armor King combination in
Tekken Tag
. If you're not aware, the Kings are by far the best characters, which I didn't know when I first started using them when my buddies and I played in college. I just loved their throws, especially the Giant Swing. Anyway, we'd get a bunch of people from our dorm in, and the rule was I'd have to beat someone twice while they only had to beat me once in order to stay on. I had win streaks into the 40s and 50s, and I thought I was the man-- until I found a guidebook on the game and read that the Kings were so good it was unfair. Anyway, seeing Chan look like Lei brought me back to those days of dominance.
The Netflix Watch Instantly version I watched was dubbed, not subtitled, and Jackie's voice sounded like it had an English accent. It's always an interesting discussion, to subtitle or not to subtitle. Usually I'd say only people who can't read quick enough need subtitles, but with 70s Hong Kong cinema, part of the charm for some is in the dubbing. For me it's not a debate: subtitles no matter what-- you don't want to read movies? Go watch
National Treasure
. If it's good enough for Godard, it's good enough for Woo-ping or Jimmy Wu Yang.
You can get this both on Netflix Watch Instantly or on Crackle.com, making it one of the easier films in the Hong Kong series to get a hold of. Definitely worth checking out if you haven't already. Woo-ping and Jackie Chan? What more do you need?
For more info:
http://www.imdb.com/title/tt0080179/