When word first surfaced that a director's cut of
Cyborg
had been found, I was pretty excited to see what this was all about. Then, when
Albert Pyun
offered to send me a copy so I could review it, I was even more excited. This is a very unique experience because, unlike most director's cuts which are a totally finished product, and often meant to replace the original cut in the market, this is a very rough version, not cleaned up, and intended for us as fans of the original to look at and see what we think of it. So without further ado...
Slinger
, or the
Cyborg Director's Cut
, has some very distinct differences in story from the version we're familiar with. First off, there's no plague.
Van Damme
is chasing
Vincent Klyn
more out of revenge than to save a cyborg. As far as the cyborg goes, she's carrying data that will help get the electrical grids up and running-- or so she says, because we discover rather quickly that she and the people she works for have secret ulterior motives. And then there's Klyn, who has a different raison d'etre as well: he's like a conqueror or killer in the name of Satan, almost like a take on the medieval crusader. He feels like this world is meant to be, and wants to stop the cyborg from fixing it, so he's recruiting forces from other gangs and planning to invade Atlanta.
We're going to start with what I liked. The new story plugs some of the holes the old one had, like, first and foremost, why the cyborg would be in New York getting key information to cure the plague. It made no sense, but this makes more sense, that there'd be info on an old computer she needed to get at. Also, this version handles the length of time to get from New York to Atlanta much better. On a technical aspect, the DC introduces the musical score that was intended to go with the movie, and which is definitely superior. There were a couple moments when it was a little heavy handed-- best example was when Prophet reveals herself to be a cyborg, and there's a "bom-bom-bom", which was a bit much-- but that was rare, and more often, it fit the mood and the shots better. The music from the theatrical version was really just filler, while here it was a part of the film. (More on the music later.)
I think the what I didn't like was very minimal, but I figured I'd put it in here anyway. The voice effects on the flashback sequences, especially the echo, was kind of cheesy. I did like the flashback sequences here better overall though. I also liked better in the theatrical version (from here "TV") that we didn't learn the full extent of what Klyn and his gang did to Van Damme and the family until he was crucified. In the DC we learn about it earlier, but I think it had more punch by waiting. On the other hand, the crucifixion scene makes much more sense in the DC with Klyn as a twisted religious figure. I also liked the end fight between Klyn and Van Damme in the TV better. In the DC it's cut down a little more.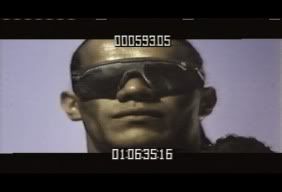 Overall, I think the DC fits more with what Albert Pyun was going for, with the Spaghetti Western aspect and the samurai films. The TV had elements of that, but it became more low-budget actioner-- which was fun too, don't get me wrong. I'm left trying to imagine if
Cyborg
would be as much of a cult favorite had the DC version been the one we got originally, which is hard because the actual video is so rough. I actually watched the theatrical one right before the DC so I could compare the two better, and I really think that there wouldn't have been a drop off in the film's following had the DC been released, and when you combine that with the fact that the pluses of the DC outweigh those of the TV, I would have to say the DC wins. Between the superior music and the story that made just a little more sense, I'm left wondering what the
Cyborg
property could've been beyond the first one had the DC been the one released in 1989.
I went back to my review of the TV, and in it I said that it was maybe Pyun's best film, so to find out that the project had been taken from him was intriguing to say the least. I wasn't sure what I would think going in, because
Cyborg
is such an iconic film that so many from my generation saw at a young age (perhaps too young) and it was part of what sparked our interest in the action and sci-fi genres. Now that we're 20+ years after the film's initial release, I'm not sure we can do like Lucas did with
Star Wars
and try to erase the original from existence; but there's definitely a place for this director's cut to coexist with the version that we grew up with, and I'd like to see it as a finished product, with the images cleaned up and maybe even a director's commentary or introduction or interview-- if that's possible, I don't know. If not, this on it's own is still pretty cool.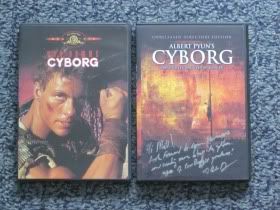 The soundtrack by Tony Riparetti and Jim Saad will be available in April 2011 on CD from Howlin' Wolf Records (www.howlinwolfrecords.com). When the editing process was taken away from Pyun and this score was axed, I have to imagine they went with some stock music from a previous film or something, because that's really what it sounds like, and before this, I'd never noticed the music in
Cyborg
. I don't know what the thinking in cutting it was either, if it was too married to the original edit that it didn't fit, or if it was too intrusive and they wanted the music to be merely filler. It's one of those crazy realities of working in movies, that people can put all this effort into making the music for a feature length film, only to have it all axed. At least now all that hard work is finally coming to light.
I guess that leaves us with only one more thing: is this worth buying? First off, if you're interested in purchasing it, you need to first send an e-mail to curnanpictures@gmail.com with Cyborg Director's Cut in the subject line, and let them know that you're interested. From there they'll send you an e-mail letting you know what you'll get, and what the cost is. For $25-- US, it's a little more for Canada and Europe-- you get the Cyborg Director's Cut, Pyun's feature film
Bulletface
, plus his autograph and personal message on the cover. You can see some of my cover shots I included in this post, which will also give you an idea of the new cover art, which is pretty sweet too. In the e-mail you get back before you buy you'll also be given a link to a video clip just so you see what it will look like (
http://vimeo.com/20715387
). They make no bones about it, this is for die hard fans and collectors, and if you don't count yourself as either, this might not be for you-- you're looking at a very rough cut. On the other hand, to get a sense of what Albert Pyun really wanted to do with the film that he might be most famous for is definitely worth checking out.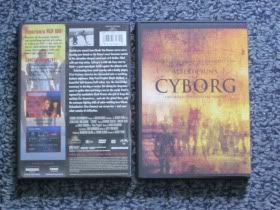 Final verdicts: now that we're nearly 20 years on with the theatrical version, I don't know that I can say I'd rather the DC in it's place, but I also don't know that I can say I wouldn't have been as enamored with the DC as I've been with the TV had the DC been the one that was released back then, so I don't know why the project was taken from Pyun. I've always thought that
Cyborg
was a wasted property, and watching both versions today brought that sense back again. This wasn't just something that more could've been done with linearly-- as in with better sequels-- but horizontally as well, with things like novels and mid-late 90s syndicated TV shows that took place in the same time but in different locations with different characters. It might be too late for all of that now-- although, while the syndicated TV market may be dead, a series of YA sci-fi books might still work-- but the Cyborg saga under this DC storyline may not be over yet, if the end credits are any indication. There's mention of a
Cyborg Legacy: The Rise of the Slingers
. We'll have to wait and see, but that could be really cool.
Also, one quick mention before I wrap this up: the voice overs sounded like Thom Mathews. I'm not sure if it's him or not, just saying it sounds like him. Imagine him in a
Cyborg
spin-off as a Slinger...
For more info:
http://www.imdb.com/title/tt0097138/
and curnanpictures@gmail.com