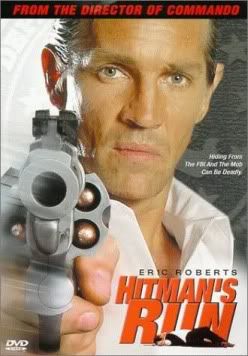 I saw this one on Netflix Watch Instantly, and with the cast it had, figured it would be a good one for the week of
Eric Roberts's
birthday. This is also a great time to bring up the blog
Eric Roberts - His Movies
, which is a site dedicated to looking at Eric Roberts flicks, from the popular to the rare. Check it out.
Hitman's Run
has Roberts as a mob hitman who lets an old friend go that he was supposed to kill, which gets him into hot water with the mob, so he goes into witness protection. Two years later though, some kid hacks into the FBI database and gets the names of everyone in witness protection, and wants to exchange the disc for info on his dad. The mob takes it, and targets Roberts's family. Now he has to get the disc himself, and take out the mobsters.
This had some flaws, major and minor, which proved to be its ultimate downfall. It started with a chase scene that went on way too long, especially with nothing happening in it. There's only so many shots of cars skidding through sharp turns and close-ups of guys gritting their teeth while doing the wax-on wax-off steering technique that I need to see. Of course, the only thing worse than one bad chase is two, which is what we got here. Then they introduced the annoying quirky sidekick, complete with bad jokes and obnoxious behavior. I've never gotten that move, but it happens so often, and has felled many a mightier flick. Finally, and this was the biggest one, when you've got someone like Eric Roberts in the heroic lead, someone who is usually a great baddie, he has to be a really likable character. A mob hitman who rats on his employers instead of facing them? I mean, really, who should we be rooting for, Roberts, or Robert Miano? All of this could've been saved by some solid action, but that didn't exactly happen either-- a lot of shootouts that seemed mailed in. It's kind of disappointing when you consider this was directed by Mark L. Lester, the man who helmed
Commando
and
Showdown in Little Tokyo
. I guess you can't be good all the time.
This should in no way be looked at as an indictment of Eric Roberts, because he was still as good as could be expected with what he was given. I think we said the same thing about him in
Border Blues
. It wasn't his fault that the basic premise of his character was so blah. What he should've been was an undercover cop who makes a huge bust and goes into witness protection. Make him genuinely likable. I get that they wanted some kind of redemptive aspect, but it didn't work, and as a result, took the film down with it.
Yep, that's
C. Thomas Howell
. He plays an FBI agent, and though I think his character was supposed to have survived an attack by the mob through the use of a bulletproof vest, after the attack, we never see him again, so I guess he dies. I really liked his FBI agent character though, so the lack of him in the movie was another missed opportunity. He had this like ADD quality that made the character very dynamic-- literally.
And there's Brent Huff. He's in the film even less than Howell. I figured I'd give him a mention, because I know there are some readers who are familiar with his work, especially in Filipino low-budget imports. He's actually still doing a lot of work, including an appearance on
Mad Men
. Good for you Brent Huff, get after it. I know this won't be the last we see of you on here.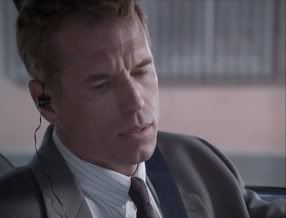 Finally, I wanted to discuss the casting decision for the part of Robert Miano's son, because it was totally sautéed in wrong sauce. Seriously, was David Charvet unavailable? No Bryan Austin Green? The guy looked so ridiculous when he tried the whole mean mugging routine and the whole tough gangster face. That's a part that needs someone who works in it, otherwise we can't take his ability to threaten anyone seriously-- and it's his ability to threaten upon which the film hinges. I mean what, Ed Cavanaugh was busy?
This is available on Hulu and Netflix Watch Instantly as of this posting. I'm not so sure it matters. Look at the cover (which is what I should've done!). If that sells you, maybe you'll like this; but if you're like "wow, Roberts looks kinda like a tool there, I bet this movie sucks", then you should trust your gut and stay away.
For more info:
http://www.imdb.com/title/tt0174741/