A while back, our friend Kenner over at
Movies in the Attic
sent us this, along with a bunch of others. He's learning the hard way that it often takes me a little while to get to all my submissions, especially if it's something without any Hall of Famers to make it a priority. He's reviewed this one as well, a part of his
Jeff Speakman Binge
post, and you can click on that link to see what he thought.
The Expert
has
Jeff Speakman
as a former special forces dude working as a consultant to the police department whose sister is murdered by a serial killer. The guy goes to jail, and then some such silliness occurs and it's not exactly certain whether or not he'll get the chair, or the classic cinematic ploy, the insanity defense, will rear it's ugly head and the guy will get away with murder (we'll get into this cinematic device later). After much foot dragging, in the final fifteen minutes Speakman decides to get his military gear together and go to the prison to exact his own justice, and not a moment too soon, because his sister's killer is planning a prison break.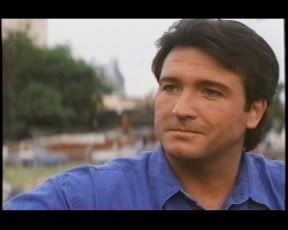 This was bad on two levels. First, because we're the DTVC, and we're looking at a Jeff Speakman flick, let's look at the action-- or lack thereof. And the thing is, the film promises some. Right at the beginning, we see, either Speakman or a stuntdouble, doing a forward facing repel. As an occasional ice climber and rock climber, I know how crazy that is. He looks like he's taking out some SWAT team guys, but we find out he's just training them. End scene, and end action for 45 minutes. Then we get another great scene, then we're done for another 20 minutes, then a small scene, and then the end, which really wasn't that good either. So bad on the action. But second, it was bad on the Lifetime movie front as well. It pretty much spends its nickel right away when it kills the sister off, but then takes forever to use what it spent. Either don't kill the sister off, have Speakman save her in the nick of time, and make the film a cat and mouse game as the killer gets out of jail and tries to kill her to get his revenge; or, kill the sister off as planned, but get right into Speakman's revenge. Why wait the entire film? All of this stuff that comprised the bulk of the film could be done in five minutes of dialog, then you can have Speakman get his stuff and kick some ass. Instead, nothing happens in the interim, and that's kind of the point of a movie, things need to happen.
And what this means, unfortunately, is that Speakman is wasted. He has a few really nice scenes, but by the end, it just wasn't working. Also, a lot of the fights had him wearing big coats, which made them harder to watch. Had this been a better Lifetime movie, the lack of fight scenes would've worked. I can think of two films off the top of my head that utilized the "psycho is trying to kill the girl hero must protect her" paradigm really well:
Blackjack
and
Blackbelt
. Then you could have Speakman constantly working. Maybe the better play would've been to get rid of the sister all together, and have the psycho target Elizabeth Gracen's character.
That's right, I mentioned the beautiful Elizabeth Gracen, who actually celebrated her birthday recently, on April 3rd. I had no idea that she and I had birthdays so close. She plays a reporter in this, but her character is pretty much wasted by the complete lack of plot. She's like his love interest, but not, or kind of, and she gets a few more scenes as a reporter talking to James Brolin at his jail and stuff. In the paragraph above I mentioned her maybe playing the psycho's target, and Speakman protecting her, but based on how great she was in
Highlander: The Series
, a simple damsel in distress role probably wouldn't have suited her. Still, it would've been better than what we ended up with.
Yes, I said James Brolin. He plays the warden at the prison. He's also on the cover. Other great cameos include Ted Raimi, and the late Jim Varney. How do you not love Jim Varney in anything, right? His one great scene was one of the few shining moments of the film. Brolin was great too, he was just wasted, like everyone else, by the motionless plot. His tough-as-nails warden could've been great if they went with a
Death Warrant
theme with Speakman infiltrating the prison for an extended period to get his sister's killer, but with the way they went, it barely meant anything. Raimi has one scene, where he's trying to fix a copier, and the killer comes by and offers to help, which causes Raimi to leave, ending his contribution to the film.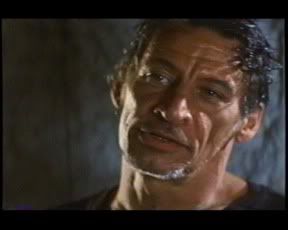 Above I mentioned the classic "insanity defense as a cinematic device". You know what I'm talking about, the portrayal in the movies of this binary system in our courts, where it's either someone is guilty of murder, and he or she goes to jail, or someone is guilty by reason of insanity, which means he or she spends six months in a mental hospital, deemed cured, and is then allowed back into society none the worse for wear. Who in the hell came up with that? The problem is, people believe these myths because they have no other basis of information to refute such asinine concepts, then they hear the insanity defense in real life, and immediately think someone is getting away with something.
All right, before I hop on my soapbox, it's time to wrap this up. You can get this through Amazon-- and clicking on the Amazon link through imdb gets you some great "how to" sex movie results mixed in-- but I'm not sure you'd want to. It's just a big ol' pile o' blah.
For more info:
http://www.imdb.com/title/tt0109760/