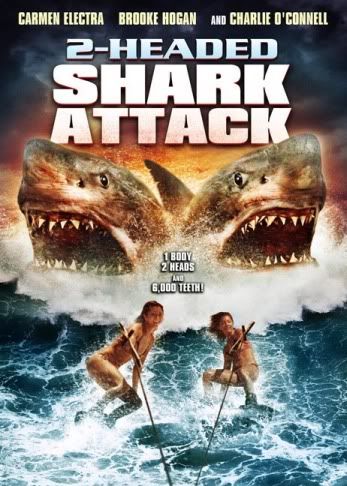 I'd been hearing a lot of great things about this one, and couldn't wait to make it happen. Then Netflix Watch Instantly aided in the process, and I had no more excuses, the time was now. Before we get into my take, three of our buddies have hit this as well: Mr. Gable at
Mr. Gable's Reality
, Tromeric at
Guts and Grog Reviews
, and Mitch at
The Video Vacuum
. Go see what those guys are up to, you won't be disappointed.
2-Headed Shark Attack
is about some semester-at-sea program that looks like it came from one of those "universities" that advertises medical assistant programs during
Maury
and
Jerry Springer
episodes. As you can imagine, with something that well run, there wouldn't be any problem with a bunch of college kids out on a yacht in the middle of the Atlantic-- er Pacific-- Ocean, especially with a 2-headed shark lurking in the water. That's right, one shark, twice the killing power, and a whole smorgasbord of co-eds served up by professor Charlie O'Connell, who doesn't know his head from his ass. But hey, if you survive the semester, you get to wear scrubs and work in a doctor's office!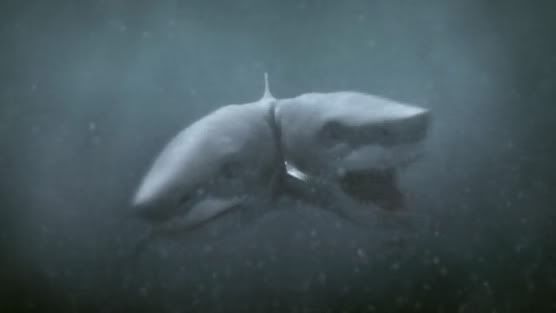 I don't know where to go on this one. Loved the last 30 minutes. Didn't care for a good chunk of the first hour. Useless scenes of bad, poorly acted dialog, that got us nowhere, and, most importantly, left us severely bereft of any 2-headed shark attacks. Also, this film starred Carmen Electra, and she was woefully underused. How did you drop the ball on that one
Asylum
? That last half-hour though, that was what I came for. Where were you all my life? I loved the camp aspects, the bad
Jaws
rip-offs, the CG and rubber sharks, all of that worked, I just wish there was more of that and less of college kids reciting bad dialog poorly. I was looking for something to rival
Shark Attack
,
Shark Attack III
, or
Cruel Jaws
, and unfortunately, I didn't get that.
That lack of Carmen Electra might be one of the most egregious mistakes this film made. Come on Asylum, you do a great job with Tiffany and Debbie "Deborah" Gibson, but all you do with Carmen Electra was give her one sunbathing scene, and a few other lines? This should've been her show. She should've been the professor, not Charlie O'Connell. Seriously, Charlie O'Connell? What, were Don Swayze and Frank Stallone busy? But I do see that you had no qualms about making Carmen Electra top billed despite the fact that you gave her smaller part. After how amazing last year's
Mega Python vs. Gatoroid
was, I was looking at something in that ballpark. While this wasn't horrible, it wasn't that great either.
In any shark attack film, it's important to discuss the main villain, and I think this 2-headed variety wasn't half bad. The problem for me, is that this shark film, unlike the ones I enjoyed, is that this one went away from what made it great for a good chunk of time-- the shark. In those other films, we had a scientist (O'Connell's character loosely qualifies) on a beach location, called into confront a problem, and trying all the tricks in his scientist toolbox to save the day; all the while, on a pretty steady clip, people are being eaten. The way this started off, I thought we were in for the same thing. But, because they had this silly semester-at-sea construct, we were stuck on the boat for an inordinate amount of time, then stuck on the island after the boat's hull was breached. Sometimes, just keeping it on the beach is the best way to do it.
I'm not sure I've watched a movie for this blog that was harder to capture images for.
Fred Olen Ray's
son, Christopher, directed this, and it looks like it was all shot on a handi-cam. Either the camera is moving at all times, or the actors are. Hey, I'm all for dynamic shots, but there's a point where you need to cut back on the Red Bull. Leave the jumpcuts and constant motion for the attack scenes, and let me relax my eyes for a second the rest of the time. Hey, people have blogs to write and images need to be captured in the process. Can you help us out a little?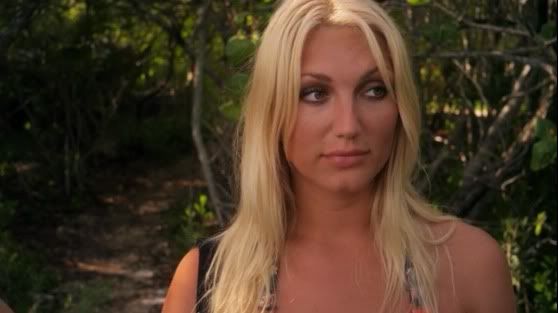 I wanted to quickly mention Brooke Hogan's character, because I like what they did with it here. Normally her part would've been played by a guy: the total dick who's also kind of heroic and can save the day. I liked that they gave it to Brooke Hogan, and I think she did pretty well with it. It would've been much better though if her character wasn't the one this hinged upon. We needed Carmen Electra as the scientist and shark expert. And we needed this on a beach. And we needed Electra to want to close the beaches. And we needed mayor M. Emmett Walsh to tell her that's not possible during the peak tourist season.
Okay, so we've seen a lot worse from The Asylum, but we've seen a lot better too. Netflix Watch Instantly is the best place for this, because, at 87 minutes, it's not the longest investment, and if you can stream it, all you're investing is time. It's quite possible that the good in that first hour will outweigh the bad for you, but it didn't for me; on the other hand, there is a very solid finish, and that might be enough to get you to the church on time.
For more info:
http://www.imdb.com/title/tt2043757/