We're starting to get to the end of our
Stars Play 11
, this being the tenth. I went with this one because, though I'd never seen it before, I remembered seeing it on the video store shelves, and while it did make about $4 mill at the box office, that still puts it safely under my $10 million maximum for qualification. Which will this be, 90s cult horror classic, or total swing and miss?
Popcorn
follows the struggling film department at a small university that decides to clean up an old local theater and host a classic horror triple bill in order to make some much needed cash. In their clean up, though, they come across an old film reel, which reveals some creepy footage-- creepiest of all to our heroine Maggie, because the film is exactly like the bad dreams she's been having. Turns out her dad ran a cult, and he made that movie, with the plan that he'd kill her and her mom before the final act. He got her mom, but obviously not her, and when, during the night of the shows, her fellow classmates start dropping, she suspects old dad might be back to finish his final act.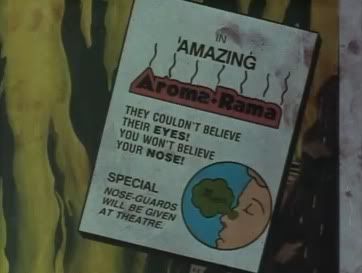 I don't know what this was supposed to be. Camp horror comedy? Maybe, but then why is the baddie out for revenge because he was badly burned at the showing of the creepy film however many years before? That was pretty dark, getting into details about how horrible his childhood was after having his face disfigured. You gotta give us one or the other. It's either camp or dark, and when you get dark like that, you lose all the camp; but when that same dark baddie is killed by an enormous mosquito puppet, you've lost me. A lot of the film was like that too: really dark here, really campy there. A film needs one solid identity, otherwise we as an audience are lost.
The thing is, this didn't even need to be a horror film. This would've been great as a fun feel good movie about a struggling film department and what they went through to put on this show. That was the interesting part. And when the show actually happened, all the cool horror fans that attended made it even more fun. Plus the throwback horror films they made bits and pieces of for the movie were great too. Those were things that this should've leaned on more, and then developed some of the really cool characters in the students and faculty that now can be developed because they don't need to be killed off so quickly. It could've been like
Summer School
, only for a college film studies program.
Jill Shoelen plays Maggie, the heroine, and I bring her up, because she's in another horror flick that came out in theaters four years earlier, didn't do as well at the gate, but lived onto cult status after while this one dropped off into obscurity. The film I'm talking about is
The Stepfather
. I think what makes
The Stepfather
so superior to this, is that one, it has a clear and consistent identity, and 2, it has a real memorable baddie that is well developed throughout. So the question is, $2 million more at the box office, or cult status and a remake over 20 years later?
Other stars in this include Dee Wallace-Stone (now just Wallace) as Maggie's aunt, Tony Roberts as the film department head, and Ray Walston as some kind of Hollywood memorabilia honk who helps renovate the theater, then disappears from the film. All of these have minor parts and are really there to sell the film by having their faces splashed across the cover. Another name I thought I'd mention is Kelly Jo Minter, who plays one of the students. You may remember her from
Summer School
,
Nightmare on Elm Street 5
, or
The Lost Boys
. Personally, I remember her from
House Party
, where she told Play "I don't even appreciate how you're treating me right now." and Play replied "Ooh, but I do appreciate how you look in that dress."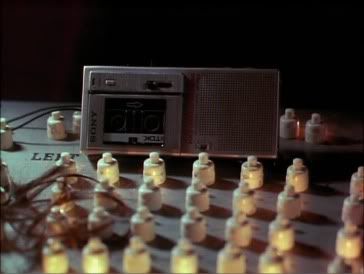 Finally, I loved seeing that TDK cassette tape there. They were the ones with the ad where the guy gets blown away in his seat, right? The old mix tape, once the hallmark of any a music listening experience, now an extinct dinosaur, only to appear in 80s and 90s films. I had a buddy who as recently as ten years ago still made mix tapes. He used to get these clear dark blue ones that looked like they were made out of Clearly Canadian bottles-- Christ, even Clearly Canadian is dated, isn't it?
Before I start feeling too old, I better wrap this up. Not enough nostalgia, not sure if it wants to be camp or dark, and ultimately a miss for me. I'd get your 80s/90s trip down memory lane fix somewhere else, because this one didn't do it for me. Try the original
Stepfather
instead.
For more info:
http://www.imdb.com/title/tt0102690/