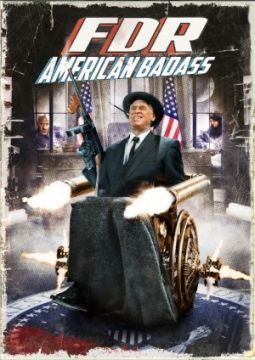 After the 90-minute awesomefest that was
Poolboy: Drowning out the Fury
, this was highly anticipated. It had a short theatrical run in the fall, and then was released on Netflix Instant, where I eventually put it down. I was ready for Barry Bostwick as FDR to destroy me with his wheelchair of death.
FDR: American Badass!
has Bostwick as one of our greatest presidents ever, FDR, who is bitten in the leg by a werewolf and contracts polio, which confines him to a wheelchair. He then wins the presidency, only to discover that the dictators Hitler, Mussolini, and Hirohito, are plotting to spread werewolf-ism throughout the globe, and they know FDR is the only man that's badass enough to stop them. The question is, can he do it?
Is there any question? This movie is what you want from a
Ross Patterson
flick. It has all the dirty jokes and bad action spoofs we loved in
Poolboy
, only it's frickin' FDR doing this stuff. And the idea of werewolves as the Axis Powers is genius. If I'm comparing the two, I'd give the edge to
Poolboy
, but it's not
FDR
's fault
Poolboy
was the greatest film since
Citizen Kane
.
FDR
still has plenty of laugh-out-loud moments and more than gives you your money's worth. This is American history done right.
The key to this film is how well the actors play it straight, especially with Barry Bostwick in the lead. Yes, he's definitely having fun, but he also never betrays his part and always plays it seriously, even when he's delivering some absolutely ridiculous lines. He buys into what
FDR
is all about, and by doing that, he gives us the movie we want when we see that title. And from there, it's as if everyone else follows his lead and does the same thing, which makes this whole thing work. They create a world where the silliness of
FDR
makes sense to them, which makes it all the funnier to us.
Keven Sorbo
should be up for a best supporting actor nod for his cameo as Abe Lincoln. He's so fantastic, and I love seeing him in Patterson's films. Speaking of Patterson, he plays a senator from Georgia, and his accent makes everything he says funny. I have no idea how anyone can act opposite him and give a good take, because I know I couldn't keep a straight face. Bruce McGill, who played Dalton in
MacGyver
, is essentially Bostwick's straightman as Louis, FDR's personal bodyguard, and he's great in that role. Eleanor was played by Lin Shaye, and what was funny about her, was she was the only one who wasn't an anachronism. It was almost as if she was taken from the 30s and dumped into the 2010s. I loved veteran character actor Paul Ben-Victor as the Mussolini werewolf, he's always great to see. Finally, Patterson's character's wife was played by Keri Lynn Pratt, who, according to her imdb bio, is from Concord, NH. Nice to see the Granite State get some shine in
FDR: American Badass!
I left Ray Wise as Douglas MacArthur for this paragraph, because I've noticed that
Twin Peaks
is really popular on Tumblr, at least among the blogs I follow. And this isn't people my age or older who remember when
Twin Peaks
first aired, these are kids who were barely alive and have found it on Netflix or DVD. Yes, I was only 12 when it first came out, so it's not like I could've been a good judge of what would still be relevant 20 years later, but out of everything that was on TV then,
Twin Peaks
would've been at the bottom of the list. Anyway, the question now is, who is more likely to bring the Tumblr kids in to watch
FDR
: Bostwick and his
Rocky Horror
fame, or Ray Wise and his
Twin Peaks
fame? And why can't it be Sorbo and his
Hercules
fame.
Last summer, I visited the JFK Presidential Library in Boston. It was a really cool experience, and made me want to visit some of the others. The next closest to where I live of course would be FDR's in Hyde Park, NY. After seeing this movie though, I feel like maybe we should organize a DTVC field trip down there-- or up there, depending on where you're from. I don't want to sound like Mitchell, but does anyone living in New York have a sofa I could stretch out on?
All right, before we go way off the tracks, let's wrap this up. If you haven't seen
Poolboy
yet, stop reading this immediately and go watch it. Then, finish this review, and go check out
FDR: American Badass!
Ross Patterson/Saint James St. James strikes again. If history had been this cool in high school, I might have actually wanted to get up in the morning and go.
For more info: http://www.imdb.com/title/tt1811315/