Like any huge
Dolph Lundgren
fan, when I first got word that this flick was on the horizon, I got stoked. Dolph and
Cuba Gooding Jr.
? It just sounds fantastic, right? But how many times have we been burned before? How many times have we thought we had a sure thing, something even the worst DTV film maker couldn't screw up, only to have said DTV film maker screw it up. All we can do is cross our fingers, and hope this lived up to its billing.
One in the Chamber
stars Gooding as Ray Carver, one of the greatest short story writers-- oh wait, sorry, wrong Ray Carver, this one is a mob assassin working in Prague. He tries to off Russian mobster Louis Mandylor, but the bastard uses a woman as a human shield and escapes. Now it's on, there's an all-out mob war, and competing Russian assassin Dolph Lundgren is called in to clean up the job Gooding left unfinished, while Gooding is killing his old employers for Mandylor. If it sounds like a collision course to wackiness, it is, plus there's a subplot about a cute cafe owner who inevitably finds herself a damsel in distress.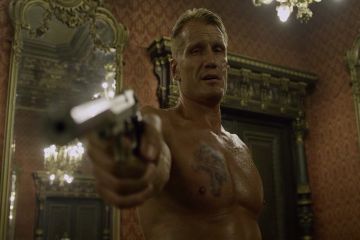 This is what I was looking for. Gooding was solid, and Dolph was fantastic. The plot was pretty run-of-the-mill Eastern European schlock-fest, but it never tried too hard to force its way out of that, which I appreciated. We've seen too many try too hard for credibility, and go off the rails with a gross torture scene, or too much character exposition. Beyond a few scenes with the mob bosses that didn't have either Gooding or Dolph that I could've done without, this kept a pretty decent pace and gave us DTV action fans what we wanted. An all around great time. Like I said the Dolph in here is fantastic. It's as if this guy knows what we like from him, and knows how to deliver, and he's only gotten better as he's gone along. He plays this fantastic character called "The Wolf"-- a name which he of course doesn't like because he thinks it's cliche-- who wears bad Hawaiian shirts and listens to Frank Sinatra music. His first scene is so amazing, and it just gets better as he goes along. So many times when an actor gives us the wink-wink nudge-nudge, he ruins the part because he's too in on the joke. Not true here. Dolph tells us he's having as much fun playing this part as we are watching him, and it makes it all the more enjoyable. A definite add to your next Dolph Fest.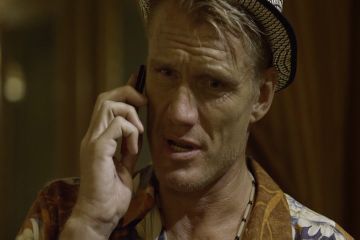 I must confess I have fallen a bit behind on Mr. Gooding Jr.'s DTV oeuvre, so I can't say for sure if this is his best DTV effort, but it feels like it. He fits in the role well, there's nothing about it that feels forced or fatuous, and while that gives me less here to make fun of, it's a lot of fun to watch. And while he and Dolph don't have many scenes on-screen together, the ones they do have are great. While in the past we joked about Cuba Gooding Jr.'s stay in the DTV Hotel, I'm beginning to think this might be the best place for him to be the actor he wants to be. Hey,
Daddy Day Camp
and
Snow Dogs
were released in the theater, and I can't imagine he's prouder of those than he is this here, or some of his other recent DTV work. Rounding out the cast, we had the aforementioned Mandylor, affecting a funny Russian accent. I think if we're talking Mandylor brothers, I'm more of a Costas guy, but really, who's counting? Cuba's assassin handler was played by veteran Brit actor Billy Murray, and he's plenty sleazy with a nice ponytail to boot. The female lead was played by Claudia Bassols, who has had the pleasure of playing Rob Schneider's wife in his short-lived eponymous sitcom. I wonder why that one didn't work, wasn't there room for another bad comedy about a gross guy and his hot wife? I didn't think we had enough of those.
I have recently entered into the world of the smartphone. I know, welcome to the 21st century Matt. This film takes great advantage of the smartphone, where our characters have apps on their phones that allow them to set off car bombs and look through surveillance cameras they set up in betting houses they planned to hit. At the same time though, they went low-tech with Gooding's apartment, with some vintage accoutrements, like an old radio. Being a set designer for a one of these Eastern European flicks must be a lot of fun, with the great combination of old and new around-- though I'm sure there's a lot of emphasis on getting things done quick and cheap, so maybe it sucks.
What doesn't suck is
One in the Chamber
. It's fantastic, and well worth your time. As of this posting, it isn't available on Netflix Instant, but you can rent it, or, if you're a huge Dolph fan like me, I'd buy it. This is definitely that one that lived up to its billing, and you'll want in your collection.
For more info: http://www.imdb.com/title/tt1881024/