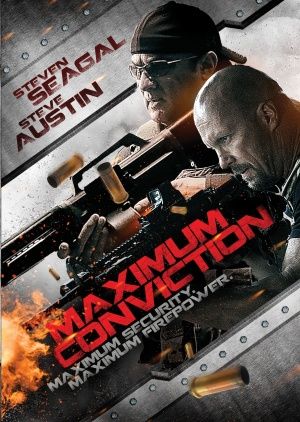 I saw this on Netflix Watch Instantly, and I obviously couldn't ignore it. The
Steven Seagal
factor alone makes it a must watch-- this will get us back to having his complete DTV catalog reviewed here at the DTVC. Throw in
Stone Cold Steve Austin
, and, good or bad, this was a must, so I got after it. Let's see how it went.
Maximum Conviction
has Seagal and Austin as mercs or something that are called in to "mothball" a military prison. Of course, as is usually the case with these things, something goes wrong, and that wrong involves a female prisoner who was brought in the night before that may or may not be Johnny Mnemonic-ing data for the CIA. Throw in
Michael Paré
as the baddie looking to get her and her Mnemonic-ed info, some jumpy cinematography, and a severed finger for faux-edge, and you have yourself a modern DTV schlock actioner.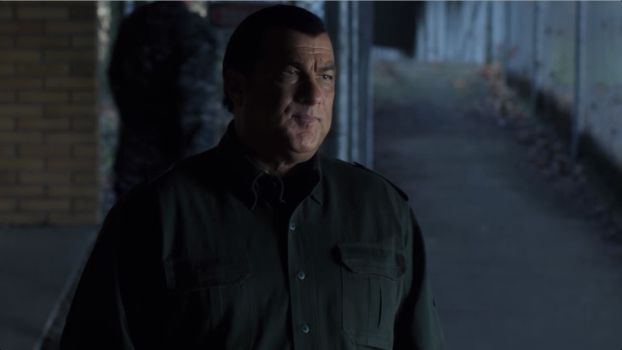 On Twitter while watching this, I opined that these films were just done better in the 80s and 90s. I know, we say that all the time, but it's true, isn't it? What is wrong with these modern DTV actioners then that they can't recapture what those were? Seriously, is anyone doubting that a 1992
PM Entertainment
flick based on a similar premise starring
Wings Hauser
and
Kathleen Kinmont
wouldn't have been amazing? Is it the jumpy cam? The fact that we have Seagal and Austin set up like pretty much omnipotent forces so there is zero tension or suspense? Or maybe that things happen so fast we can't focus on them for more than a half-a-second? Beyond all of that, whether this was made in 1992 or 2012, we still had a lack of action, particularly bad in Austin's case, because the man is just crying out for good fight scenes, and we know from his wrestling career that he can excel at them and make them entertaining. Guys walking around with guns raised does not an action film make, and in a prison setting, we could've had some really inspired ones. This is more missed opportunity than anything, which makes it all the more frustrating that it didn't work.
In the spirit of being solutions oriented as opposed to just saying something sucks for the sake of saying it sucks, I've decided to use the remaining paragraphs to come up with the different movie this could've been, and should've been. I'm talking a women in prison-style action film, in the
Die Hard
paradigm, with only Seagal and Austin as our good guys, going to save the girl with the Mnemonic-ed info in her. Let's start with Seagal in this, as the film's one resident Hall of Famer. What is the deal with that Louisiana accent Mr. Seagal? Where is the man we once knew who said "I"m gonna take you to the bank, Senator Trent-- the blood bank." We loved that man. There's something about this man that's kinda silly, right-- and I'll be honest, less friendly bloggers than me might be a little more harsh on him, and have been. Let's take this guy he was in this film-- because he wasn't that bad--, give him Seagal's old voice, and send him into the women's prison with Stone Cold Steve Austin and have them take out myriad stuntmen dressed like guards. To hell with all this backstory and use of military or police terms. I want
Under Siege
in a women's prison, how hard is that?
We have yet to see a Stone Cold Steve Austin film that gives us the best of what he brought to the WWE. The Rock had
The Rundown
, but with Austin, the part is either too serious, too earnest, or here, just not enough. Part of the problem was Austin and Seagal lead a team of mercs. No team, Austin and Seagal are enough; and you give me Austin mowing down guards, flirting with female prisoners, finding the beer in the kitchen, drinking it while taking out more guards. This is what we want. Where is this movie? I want some Stone Cold Stunners. One thing
Maximum Conviction
did do well was give Austin a little room to use his sense of humor. Yes! But we need more. Seriously, him fixing a trash compactor or studying a mined doorway is time that we don't have him kicking ass, taking names, and drinking beers, and that's bad.
Every women in prison film needs a great evil warden, and we could've had him in Paré. Instead he's like some US Marshal/head of the bad guys' team or something. Man, imagine him as the evil warden. He finds out one of the prisoners has Mnemonic-ed information-- maybe we introduce a secondary baddie that offers to pay Paré for her, and there's some kind of tension between baddies kind of thing. Of course he's also got to be running a forced prostitution ring among the inmates, so maybe this is where the tension is, because the woman is really hot and could make him a lot of money, so he doesn't want to give her up. Imagine him in some kind of like pseudo-Nazi uniform, it's just perfect. He was made to be the evil warden, and he could've been it here.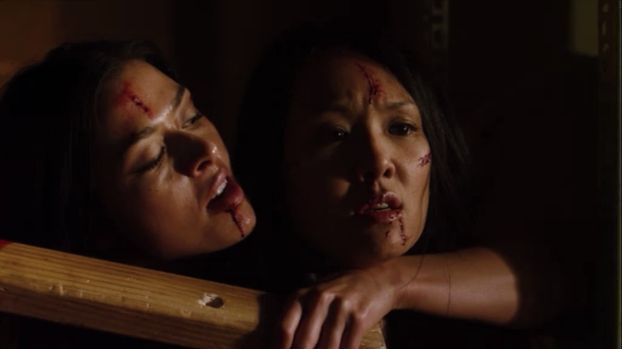 We had two great women too to play our heroine and female baddie. The baddie was played by Aliyah O'Brien, and she acquitted herself really well in this film in that role, but in a women in prison film, that character could've been so much more. Imagine somebody that wants the Mnemonic-ed information on the other woman plants her in the prison, and she fights her way out, earns the trust of the other woman, only to discover she's bad. And the woman with the Mnemonic-ed information was played by Steph Song, and she was fantastic for the woman who's thrust into the women's prison and isn't meant for that world-- the problem was, while her character was perfect for that part, that wasn't the movie her character was in. They even had a scene at the beginning that was like a partial flashback where we kind of see her in an exchange gone wrong, but it's so disjointed and carved up. This should've been a whole fleshed out scene. We always need to see the women in prison heroine in her life before these horrible events have brought her to hell on earth, and this scene would've been perfect for that.
Unfortunately, that's not what this movie was, it was a schlock actioner that didn't have enough good action and enough good use of it's talent. Too much of Seagal and Austin walking around with guns raised, and too little of them getting after it. Gun fights that were almost perfunctory in an environment that should've been more inspired. And all of that faux-edge that attempts to make it better than the 90s actioner, but instead makes it worse. I want my action movie back, and I don't think I'm alone in that.
For more info: http://www.imdb.com/title/tt2119474/