I saw this was on Netflix, and I was looking to get more of
Christian Slater's
DTV flicks up here anyway, so I decided to go with it. I also liked the idea of doing a flick with Donald Sutherland and Timothy Spall in it. Oh yeah, and it's directed by DTV action great
Isaac Florentine
. How could I not review this?
Assassin's Bullet
has Christian Slater as a former FBI agent who is now working in Sofia, Bulgaria for the US government's ESL program there. At the same time, there's a vigilante assassin killing Muslim baddies in the capital city, and after a time US ambassador Donald Sutherland has Slater take the case. As things unfold, he's finding strange connections between the assassin and a belly dancer he met at a local club, and a female patient his psychiatrist friend Timothy Spall has. Will he be able to crack the case?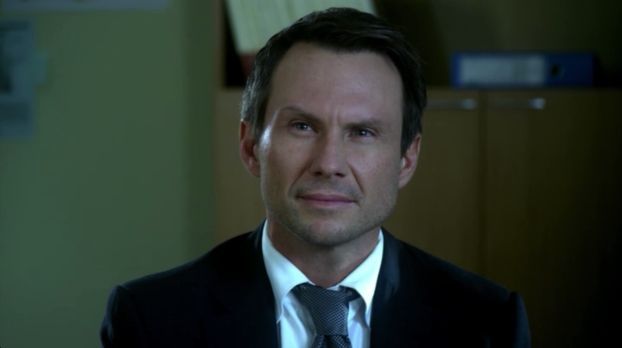 I don't know what to do with this one. It had some great Florentine-esque action, but this wasn't an action film per se, and a lot of the scenes were action-less; yet, at the same time, Florentine still managed to infuse some levels of action into them. I enjoyed Slater, Sutherland, Spall, and Elika Portnoy, who was the female lead. The ultimate issue that fells many films like this, and which felled this one for me, is that it had too many people were involved in the writing (in this case three), which meant things were all over the place, perhaps worst of all at the end, where we really don't even get any resolution, the classic lazy denouement. I think it had a lot of things it wanted to do, and just didn't know how to do it all in 90 minutes, which unfortunately means the totality of the film suffers.
As I said above, I did enjoy Slater though. His character seemed to be as much all over the place as other aspects of the film, but at its core it made sense as a former FBI agent dealing with the death of his wife four years before. He seemed like a genuinely nice guy, which helped. I remember one scene where he determined where the assassin killed someone from, out on some bank across the river from where they were, and as he was walking past a couple local detectives, he patted one on the arm, out of some sort of camaraderie that I didn't know he had with them; but he's just that kind of a nice guy. It's been 25 years since
Heathers
came out, and it's cool to see Slater still getting after it that many years later, whether it's DTV or Big Hollywood.
I remember when we reviewed
Recoil
, writer Johnny Sullivan (Twitter @johnnyblackout) mentioned that it was directed by Terry Miles, who to that point had worked in more dramatic pictures. It worked out really well then, to have a big action writer like Sullivan matched up with a dramatic director like Miles, because the two could add things the other didn't offer, creating a more complete movie. We had a measure of that here, with Isaac Florentine as an action director adding action to scenes that were purely dramatic. One in particular involved the belly dancer seducing Slater. There was a lot of quick edits, loud clapping, even sharp movements in what is an otherwise slow, rhythmic kind of a scene. He also injected his kind of action into the action scenes, one born of great Hong Kong films, which I really liked to see. I'd rather see him do more action oriented films in the future, but it was cool to see him do something like this too.
It was fun to finally get a Donald Sutherland film on here, another actor I grew up watching. He's not in this entirely much, but when he's there, he's Sutherland, and he's great. I was also excited to get a Timothy Spall film up, because, as far as I can tell, I haven't done one of his yet either. I thought I had, but looking at his imdb page, I guess not. He was equally Spall the way Sutherland was Sutherland, which makes both cool to see in this film. Elika Portnoy played the female lead. There is some mystery behind her character, so the best I can give you is "female lead", and tell you she was good too. Also, it's her story that was turned into the screenplay. I wonder how much of her original idea made it into the final project, if all of it.
Finally, we know I often discuss the attire of the actors in these films, especially when I see an abhorrent fanny pack on the hero. This isn't anything so egregious, but it is noteworthy. Slater's scarf here is very hipster meme-ish, no? Like maybe the "Hipster Barista Meme"? "Why did the Hipster wear the scarf in the summer? He was cold before it was cool." I'm not good enough at the Internet to do these things, but wouldn't it be great to have a Christian Slater Hipster Meme? "Won't talk about
Heathers
. Too many GIFs of it on Tumblr." "Favorite movie he did:
Kuff
, because no one else likes it."
And with that let's call this one good. It wasn't totally horrible, but it didn't quite do it enough for me. Some solid Florentine action, but not enough; and while the story wasn't bad, it also wasn't consistent-- something consistent with having multiple writers--, which ultimately felled it. Too bad, because we also had some good performances from Slater et. al. As of this posting, you can still get this on Instant. Might be the best way to check this out.
For more info:
http://www.imdb.com/title/tt1780983/