This is one I've been looking to do for a long time, and now that it's on Netflix Instant, it was a no-brainer. It's always good to make our way through more of
Cuba Gooding Jr.'s
DTV oeuvre, and he seems to be getting better with his stay at the DTV Hotel, even rubbing shoulders with long time residents like
Dolph Lundgren
. Let's see how this one turned out. Also, our friends at
The Video Vacuum
and
Explosive Action
have looked at this one too, so you can go there to check those out.
The Hit List
has Gooding as a government hit man suffering from a terminal illness he got from his contact with depleted uranium. He decides to go out with a bang, starting with the murder of a popular right wing TV pundit. He then bumps into Cole Hauser at a bar, right after Hauser gets passed over for a promotion at his job because a rival stole his idea, and he catches his wife in bed with his best friend. After a few pops, Gooding suggests he make a list of five people he wants dead, and Hauser, thinking this a joke, obliges. Problem is, Gooding wasn't kidding, and now Hauser has to stop him before he kills all the people on the list.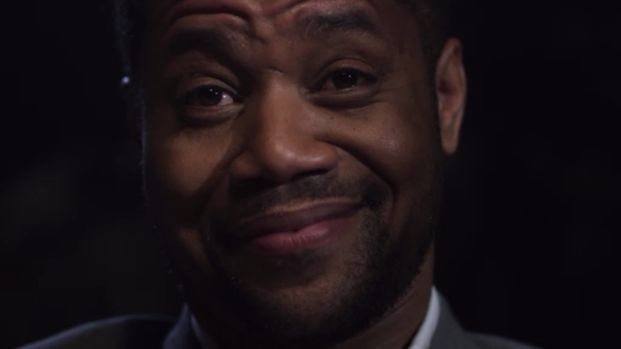 This is a tough one. On the one hand, you had this great Hitchcockian
Strangers on a Train
dynamic, which was made all the better with Gooding's amazing, chilling performance. On the other, we had this bad action element that, at best came off silly, and at worst-- especially at the end-- completely derailed the film. This needed to be reeled in, stripped down, and instead of silly bad action, focused on the performances of Gooding, Hauser, and Jonathan LaPaglia, who played the police detective. Now I realize in saying that that I usually applaud bad action, and this is exactly the kind of thing PM Entertainment would've done with a movie like this, probably with
Wings Hauser
in Gooding's role, and probably with tons of bad, unabashed action goodness. I think what would've made the
PM Entertainment
one better though, is it would've hinted at the Hitchcockian thriller aspect, but gone right for the everything-but-the-kitchen-sink action aspect. This movie went more for the Hitchcockian aspect, and devolved into the bad action, which for me is why it ultimately doesn't work. But it's a close call.
And it's a close call primarily on the strength of Cuba Gooding Jr. This is your Oscar winner right here. I think too that, because of how he was typecast in Hollywood, this is the kind of role he wouldn't have gotten in a big budget picture, but that he's allowed to do here in the world of DTV-- which is probably why he does DTV flicks. The other thing is that this is one of the few DTV flicks that had enough meat on it that he could really take this role and flex his acting muscle-- though even then the bad action devolution hurt him too. The key is, he knows how to make crazy scary, not silly, and the result is something downright chilling. This is easily his best DTV performance.
I couldn't help thinking that Cole Hauser's father would've been great in Gooding's role. How many psychos has Wings played? And he's always great as one too, isn't he? I had no idea that Cole is as young as he is. He's only like four years older than me. I think his part was hurt even more by the bad action than Gooding's. I would've preferred a real suspense thriller ratcheting up of the tension in his life due to Gooding killing everyone, as opposed to this silly bad action construct where everything devolves out of control. It essentially lets Hauser's character off the hook, which I think was an easy way out.
Let's look at the devolution, because I'm not sure the film makers knew what they were doing here. First off, 18-20 police officers are killed off. How are Hauser and his wife's characters' lives more important than theirs? Just because they're the stars? It got a little ridiculous. Second, the news report after the denouement calls the massacre a "hostage situation", again acting like the only bad thing that happened was the trouble Hauser and his wife went through. 20 innocent police officers were massacred, that's the story. 24 hours of death and destruction carried out by Gooding's character, not Hauser and his hit list. And when we think about the way mass shootings are covered, it would be called the Tragedy in Spokane, and sporting events would commemorate it and honor the victims with patches on their shirts, along with concerts held to raise money for the victim's families and rebuilding the police station. I'm not poking fun at how we deal with tragedy, I'm making the point that this film devolved to such a degree, that what happened to our main characters became secondary by a wide margin.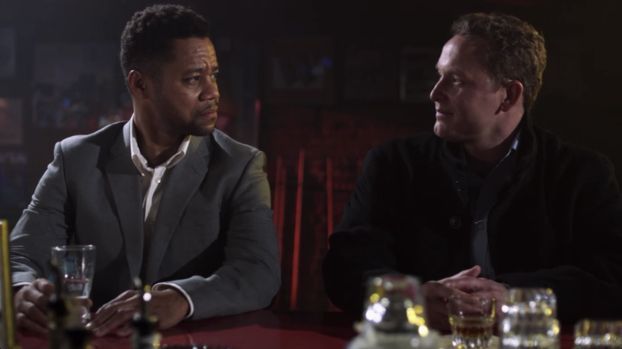 There are two other actors I want to mention in this before I wrap this up. First, Jonathan LaPaglia, brother Anthony, played the detective investigating the case. In a Hitchcockian thriller, he would've been a great character, piecing together the evidence, a real Film Noirish type hero. Here, because things moved so fast, he's really solving everything right away, and never gets to be what he should've been, despite the fact that before the bad action aspect takes over, he really was that detective we wanted. The second is Ginny Weirick, who played Hauser's wife. I thought she looked familiar, and found out she was in the
George Takei
flick
Ninja Cheerleaders
, as one of the cheerleaders. Even her character starts out great, and then as the film goes on the writing lets her down, especially through a plot twist that I felt removed a lot of the nuance from her character.
All right, enough of this, let's wrap things up. Cuba Gooding Jr. is great here, and the film starts out in a really solid way. For me, the bad action element was enough to derail it, but might not be for some. I think the availability on Netflix Instant, combined with a nice 90-minute running time, make it worth a look just to see how good Gooding can be, and what a true bonus it is for us that Hollywood can't give him the roles he wants, so he's forced to do DTV movies.
For more info:
http://www.imdb.com/title/tt1575694/