Kevin at
MTI Video
approached me about screening and reviewing some of their movies, many of which are Direct to Video. I was definitely up for it, and he wanted me to start with this film. It looked like a great horror comedy, and some of my all time favorite movies, like
Bad Taste
and
The Evil Dead
, are horror comedies, so I was excited to check this one out. Let's see how it did.
Attack of the Herbals
is about a Nazi experiment to make super soldiers by putting a special serum in an herbal tea. They abandoned the project when they couldn't control their subjects, and dumped a crate full of the stuff into the sea, where 70 years later it landed on the coast of Scotland. Enter Jackson MacGregor, who's kind of a stuck-up jerk, and who's forced to return to the small Scottish lobstering town of his grandparents after his wife leaves him for another woman. Things aren't well in the town, and he's not helping, which is bad, because his grandparents own the local post office, and a money-hungry land developer is trying to make them sell it because they're losing money. That's when his buddy Russell comes to him with some herbal tea he found washed up on the coast. This can't be a good idea.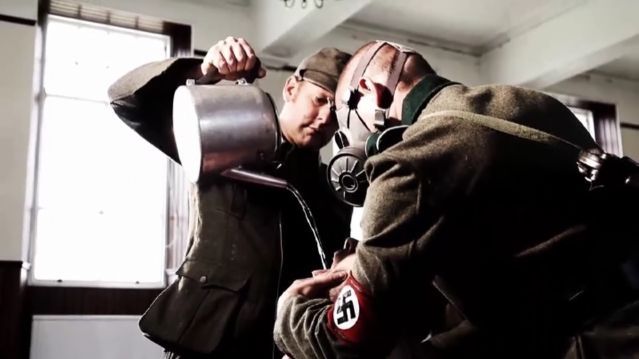 Man, I wanted so bad to like this movie. It felt like a very earnest low-budget film, and it also felt like it was influenced by a lot of the older horror-comedy film makers I love. The first five minutes in the old Nazi compound were fantastic, and I had great expectations. Then the movie proceeds to grind to a halt for the next hour or so. Ugh, it was such a disappointment! I kept thinking something was going to happen, and all we got was Jackson MacGregor's pretentious scowl. Here and there there was a moment of humor, but no horror. By the time we get to the horror, on some levels it's too late, and on others, it was needed to prop up so much that wasn't happening for the hour before it, that without it being the greatest horror comedy of all time, it was doomed to fall short. I looked at director David Ryan Keith's imdb bio, and this is his first feature length film, so I think that's where the problem lies here, going from a short to 90 minutes, and trying to fill that added time. Unfortunately it didn't work for me here.
One thing I did enjoy was the great cinematography, which was also Keith, and on that score this didn't feel like a no-budget film. The problem was, with that long stretch of nothing really happening, that cinematography was wasted on things like Russell and MacGregor carrying on a banal conversation. We needed that cinematography making its money on some sweet kills, some rising tension, and some comedic horror punchlines. That's the thing, from a technical standpoint a movie can be great, but the story is everything, and in either a comedy or a horror film, the story needs to play out like a musical, with a kill or comedic bit happening every fifteen minutes or so.
One of the weird things about that hour where nothing much was happening, was that we had a lot of plot exposition that didn't really add anything to the plot. For instance, MacGregor and Jenny's relationship was never explored, just hinted at, then suddenly they're thrown together at the end. We also don't know exactly why MacGregor is such a douche. I'm not sure these things would've been so bad though if we'd had some kills sprinkled throughout, but because we didn't, this dialog needed carry the film. You'd have to be an Oscar winning script writer like Woody Allen if you hoped to pull that off. Why put that on yourself, when you can just kill some people.
I should point out as an American, that there is a rule regarding various native speaking English language accents that allows more leeway for this kind of talking over action approach to movie making. Scottish ranks high on that list, probably after English/Welsh and Australian/New Zealand, meaning a five-minute stretch in American or Canadian English that has nothing going on in it, can be a ten or fifteen minute stretch in Scottish English. And I definitely started to feel it at the 20 to 25-minute mark that the film was losing me, as the novelty wore off. That's the thing, with us Americans, you can get away with so much more with your Scottish accents and we'll still love it, and you still lost me.
I want to finish with how this movie is being marketed. I keep hearing "zombie" film, and while these people go insane, they aren't exactly zombies. I feel like people are trying to cash in on the zombie craze, and they're sucking in everything that could possibly fit, so something like this is mislabeled. Hey, if this gets a no-budget movie like this into more hands, especially hands like mine from across the pond, more power to you. You gotta do everything you can.
And that makes it all the harder that I can't recommend this. It's not available at RedBox or Netflix, but you can buy it from Amazon. There's potential here, and it had its moments, but overall I'm staring at an hour with no horror and only a few comedic bits, which just isn't enough to carry a film like this for me.
For more info:
http://www.imdb.com/title/tt1948521/