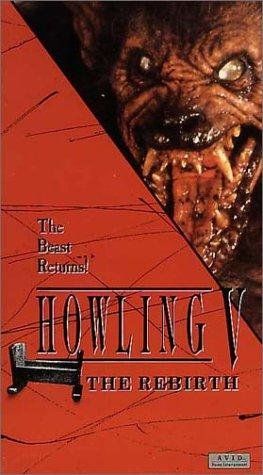 I went through my archives and found that it's been over four years since I last reviewed a
Howling
flick, that one being the one that preceded this one,
Howling IV
. We've also done
Howling III
and the amazing
Howling II
if you'd like to see what we thought of those ones too. Anyway, this one was added on Instant recently, so I figured, why not make our way through some more of the series.
Howling V
takes place in Budapest, where a group of Americans and Brits are taken to a castle out in the country that's been locked up for five hundred years. They're the first to see it since then, the only problem is they may not make it home alive to tell their friends and family about it, as someone or something is bumping them off one by one. Who could be doing this? Why? And will they find out in time?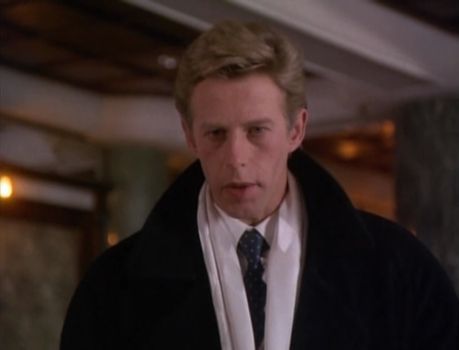 Let's try to understand this: we're talking about a werewolf flick as a who-dun-it mystery movie? Which guest is the werewolf? Col. Mustard Seed? I'm not kidding, and as you can imagine, in the framework of a late 80s low-budget horror flick, it's as boring as all get out. We don't even really get a good look at the werewolf. Occasionally he takes someone out like a monster in a Three Stooges episode, or he bursts through a wall or a snow bank like the Kool-Aid man-- and if you're wondering, I did shout out "Oh Yeah!" each time he did that--, but for a werewolf film it's pretty scant. Maybe with a big crew of veteran riffers you could tackle this on a bad movie night, especially with the Instant availability, but otherwise I'd skip it.
I understand that the werewolf film is tough to shake up, tough to find new ways to attack, but the problem with the way they went about this was that they didn't set it up right away as a murder mystery. Why not cut to the chase and tell us the moment everyone gets into the castle what you're doing? "One of you is a werewolf, and we're going to figure out who it is and kill him or her." Boom, now we're rolling. It wasn't just that this was a werewolf murder mystery, but the execution of the murder mystery was off. Perhaps with better execution we might have had something new, something better than "what am I going to do when the full moon comes? Someone help me!" Of course we always have
Howling II
for a clinic on how to make the werewolf flick.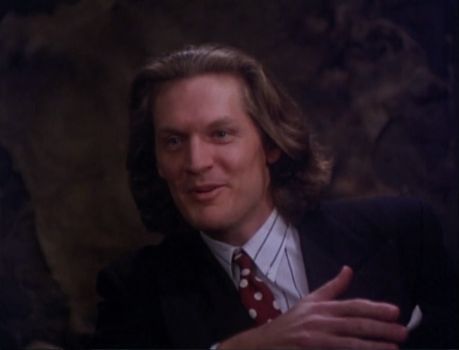 This guy above us had some potential as a real heel character, and he just seemed really awesome, but he, like everyone else, was never fully developed. Still, he worked as just being cool, and sometimes in these bad DTV horror flicks, just being cool is enough. We don't have enough of that kind of guy in modern films do we? The hair, the dark suit, the power tie, the smooth, sophisticated, condescending voice. He's in it for himself, can be a jerk, but we have to admit if he offered for us to join him for a beer, we'd be flattered and stoked. Here's to you this guy, you were one of the good ones.
The guy whose pic I posted first is Phillip Davis, and I recognize him from a Woody Allen film,
Cassandra's Dream
. He's been in plenty of other stuff too, but that's what I knew. In that one he didn't have anywhere near as big a part as he did here, but I imagine he's more likely to put the Allen flick on his CV than
Howling V
. I will say, I enjoyed
Cassandra's Dream
, but I would've enjoyed it much more had it been a werewolf film. As far as I know, out of all of Woody Allen's flicks, he's yet to go werewolf. That's too bad, but maybe on his next one he will. "I... I... I just don't know why I'm so hairy all of a sudden... my God, next I'll have fleas... this is horrible..."
I'm thinking as far as the being born lottery goes, 1489 Budapest had to be a tough one. I mean, I'm sure there are plenty of people not enjoying 2013, and maybe some who live in Budapest too, but on a bell curve, 1489 Budapest is probably huddled around a "man, this sucks" mean. Maybe Budapest 1389 would've been worse? Or maybe when the Ottomans took it over in the early 16th century that would've been worse (
Wikipedia
)? Christ, considering that they made this movie there in 1989, maybe that was the worst time. "
Howling V
being made here was a bigger tragedy than the Ottoman invasion!"
Okay, this is on Instant, and maybe for a werewolf film that you and your buddies can make fun of this is a decent pick, but I certainly wouldn't attack it alone, and I wouldn't attack it with amateur riffers. It's boring, which is a death knell for any film, but especially bad for a late 80s low-budget horror flick.
For more info:
http://www.imdb.com/title/tt0097534/