Recently
Albert Pyun
sent me a link to screen his new film
Road to Hell
on YouTube. The film is pretty much finished, and looking to be released by Lions Gate in the first quarter of 2014, so this screener was for us reviewers and whatnot to take a look at it for him to see if there were any glaring issues. I asked him if he wanted me to write a review of it now, and he did, so here we are. Let's see how it went.
Road to Hell
is a sequel to
Streets of Fire
, with DTVC favorite
Michael Paré
reprising his role as Tom Cody. He's headed to see his long lost love Ellen in Edge City, and finds himself on an isolated desert road. This road he's on is Purgatory, and the Archangel Gabriel (played by Joei Fulco) is trying to save Cody's soul before the Devil can take it. On the way, he encounters two spree killers: Caitlin and Ashley, dangerous women with their own demons. Will he survive this meeting? And if he does, will he find the redemption he seeks in Edge City?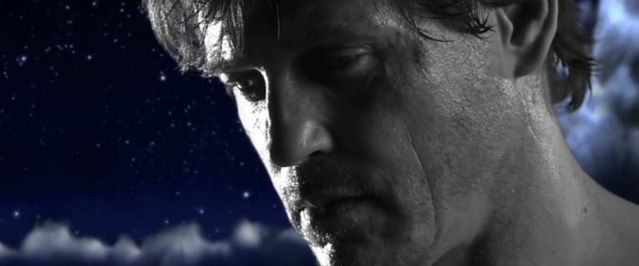 I really liked this movie. One of Pyun's best in my opinion, especially among his newer films. It's bold and innovative, and his penchant for taking chances pays off here as well as I've ever seen it. The film looks really nice, and he captures the liminal space aspect we want from a film taking place in purgatory. Cynthia Curnan's story fits Albert's directing style organically, as does the score featuring longtime Pyun composer Anthony Riparetti and songs performed by The Roxy Gunn Project (with lead singer Roxy Gunn playing Cody's daughter). And then there was Paré, who got a film worthy of one of his most iconic characters, and he nailed it completely. It's like he never lost touch with that character after all these years, yet he still moved him forward to make him into the character Cynthia wrote for him. On top of Paré, I really liked Joei Fulco as Gabriel, and Claire Kramer as Caitlin, plus Courtney Peldon as Ashley and Pyun mainstay Deborah Van Valkenburgh reprising her role as Cody's sister. It's a little gory, so if you have a weak stomach you may want to be careful, but if you're looking for something different, and bloody,
Road to Hell
delivers.
We've done almost all of Pyun's films here at the DTVC, and I'm not about to try to figure out where this one stands with ones like
Brainsmasher
or
Nemesis
, or really any others, because this one is so different. I mean, I could recognize elements from films like
Radioactive Dreams
or
Vicious Lips
, and maybe the bloody, violent, dark nature of
Road to Hell
is what he ultimately wanted
Cyborg
to be; but really, what's there is Pyun's unique vision and desire to try new things and take risks, which is something you can see in a lot of his films. And like those films, it doesn't always work-- like I thought his attempt to explore Ellen Dream's (Roxy Gunn) backstory in an interview with a local radio host didn't come off as natural, even though I liked that it had a rock n' roll feel like the rest of the film-- but more of his risks and instincts paid off here than didn't, and we were left with something that I found to be very entertaining, and a distinctly Pyun film experience.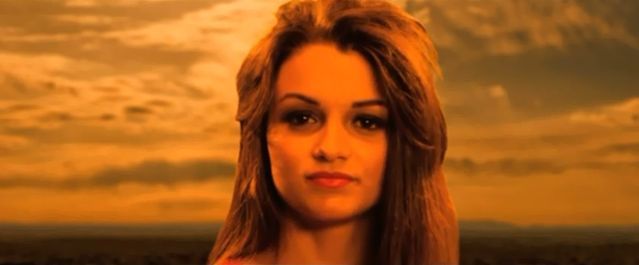 When I told my girlfriend I was reviewing a film with Michael Paré in it, she told me that growing up she had a pin-up of him from her
Teen Beat
on her wall, maybe from
Eddie and the Cruisers
. For the most part here at the DTVC, we've either done his DTV stuff from the 90s where he had lead parts, or his recent DTV work where he's often either the baddie or has a small cameo. To see him here though, even as the lead in a picture that is very different from the usual action flick, was really great, and I think brought back some of that 80s heartthrob magic. Between Pyun's direction, and Jim Hagopian and Michael Su's cinematography, they really leaned on Paré's face, and his more mature features that he has now lent themselves really well in crafting that Film Noir vibe Pyun was going for, but without him being the lead that he is, it wouldn't have come off, and he has that same leading man charisma that he had back then. So while it's great to see him in anything, and those cameos and roles as baddies are fun, we need more films like this with him in the lead, and hopefully we'll get them.
In the lead up to this film, Pyun was telling us on his Facebook page about this new actress Joei Fulco he found and cast in this film and the upcoming
Cyborg Nemesis
. I know from having seen a lot of his films that he has a great instinct for young talent, especially young women, and isn't afraid to lean on them in key scenes, so I was curious to see what he was talking about with Fulco. I didn't have long to wait, because she starts the film off introducing us to the action, and he wasn't exaggerating about her talent. This was a tough role he put on her, having to give us the backstory in a monologue at the beginning of the film, when all we want is some action to draw us in, she's doing it with just her voice and her face; but she did it, she read it almost like she was having a conversation with us, and it all completely worked. If she doesn't pull that off, not only does Pyun risk us not being engaged with his film right from the start, but also the redemptive quality of Paré's Cody is totally lost on us. Instead we're rooting for Cody because of Fulco's Gabriel, which sets the stage for the rest of the film to work.
I mentioned above that Pyun drew a lot from Film Noir, and another genre he drew from that we've seen him go to before is the 50s and 60s dangerous women exploitation film. I've seen other film makers try to emulate this kind of Russ Meyer film too, and miss completely. I think because Pyun has always gone deeper than just the sex aspect, and makes his women in these films fully rounded characters, which makes it work much better; and seeing that aspect in the characters of Caitlin and Ashley is a great example. They aren't just wild women who take their clothes off, make-out, and kill, they have motivations for their actions, and as such when they interact with Cody things are more tense and less predictable. It's touches like that in Pyun's films that I often enjoy no matter what, but when they work really well like they did here, it's so much better.
Fans of
Streets of Fire
will like the music, and many songs from the original are here. The Roxy Gunn Project does some, with Roxy Gunn playing Ellen's daughter and performing them as the soundtrack to Cody's adventure, adding to the tone of Cody's redemptive quest. They definitely had that 80s feel that the original film had, not to mention the outfits of the band performing at the end of the film. It's interesting when you think of films Pyun did like
Radioactive Dreams
and
Vicious Lips
which were from that time and had some of the elements of
Streets of Fire
, to then feel like here I'm seeing him bring elements from those films into this was really cool. Unfortunately, the late Dan Hartman's "I Can Dream About You" didn't make an appearance. I guess you can't have everything.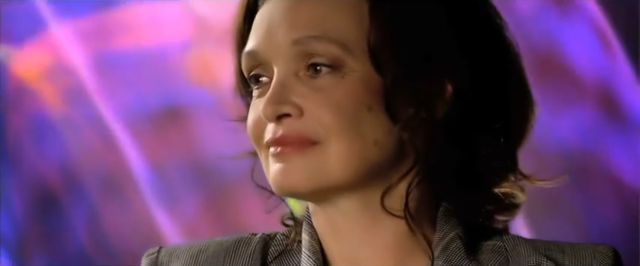 No review of an Albert Pyun film would be complete without playing our favorite game: Name the Pyun Mainstay. We'll start with the obvious one, Deborah Van Valkenburgh, who wasn't in this so much for being a Pyun mainstay as she was reprising her role from
Streets of Fire
, but she's still a mainstay and needs to be included. She has a few scenes where she's interviewed by a police interrogator about her brother, plus a flashback scene, then comes in at the end to interact with Cody. I think fans of the first film will enjoy seeing her here. Speaking of the police interrogator, he's voiced by none other than
Norbert Weisser
. We don't see him on-screen, just hear his voice, but it's him all right, and this makes 16 films of his that he's done with Pyun that we've reviewed here. Finally,
Scott Paulin
also does some voice work, playing a man who drives Paré into Edge City. Like Weisser, we never see him on screen. Also, his character name is Brick Bardo, keeping up Pyun's tradition of having a character with that name in his films.
As I said above, it looks like this will be out in the first quarter of next year. For updates on it you can follow Albert Pyun on Twitter @albertpyunfilms and like him on Facebook at
Albert Pyun Movies
. The movie is very unique, but I think long time Pyun and Paré fans should definitely check it out, and really anyone looking for a different and compelling film experience. I love it when film makers take chances, and Pyun always does that; but he also has a wealth of skill and experience as a director, and all of that comes together here and really works.
For more info:
http://www.imdb.com/title/tt1253859/