When I mentioned the DTVC to my girlfriend, she suggested I check this one out. I was instantly intrigued by the idea of doing a Julia Stiles flick, plus it has DTVC favorite
Michael Parks
as the detective. I recognized a couple other names too, in particular Patrick Muldoon. Often that's all I need anyway to get something on the blog, but it didn't hurt that she was requesting it-- yes, I guess that's the key to getting me to review your request, you have to be my girlfriend. Sorry she beat you to it.
Wicked
is about a family living in a gated community in California. The oldest daughter, Julia Stiles, doesn't get along with the mother, and has a thing for the father. This works out for her when the mother is murdered. While detective Michael Parks is looking for the culprit, Stiles is busy filling her dearly departed mother's shoes, with the hopes of becoming her father's new wife. This isn't exactly working out for either the father or her younger sister, and when he brings a new wife home, tensions rise. What will Stiles do to get the family life back that she wants?
This is definitely a fun one in the vein of the Lifetime Original. I mean, don't get me wrong, it's bad, whether it's the wannabe Hitchcockian direction that feels more TV movie thriller, or the story that devolves into something unrecognizable by the end, or just the sheer silliness of seeing Julia Stiles as a young girl trying to be her mom; but it's fun too. Also, Stiles brings another element to the proceedings, because she is so good. She turns the silly craziness of her character into an almost chilling deviousness, often just with the look on her face, so one can see in this film that she was going somewhere. The rest of the cast, a mix of greats like Michael Parks and soap/Lifetime mainstays like Muldoon and William R. Moses, who played the dad, make this a great trash time waster, and sometimes that's all you need from a movie like this.
Julia Stiles is definitely the driving force of this film, and you can tell that, even then, she was a cut above everyone else other than maybe Parks. I don't know if this is one she puts on the top of her CV, especially when you look at her imdb bio and see that a year later
10 Things I Hate About You
blew up, followed by
Save the Last Dance
a couple years after that. She's sort of fallen out of big Hollywood lead parts now, I think because they didn't know what to do with her once she couldn't play teens anymore; but to see her in a DTV Lifetime flick before she became big is a lot of fun. The novelty is definitely worth it.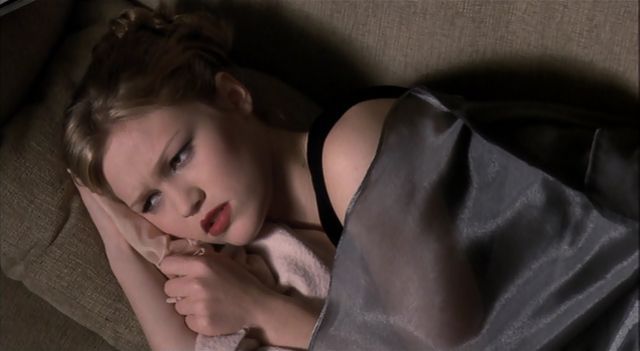 One of the failures of the writing in this film was the way they utilized Michael Parks's detective. He was as good as you'd expect, and he comes across early on as that gumshoe who's going to figure this thing out just when the culprits think they're going to get away with it. This never really happened though, and in fact, he acts against character at the end, giving the film an unresolved quality that felt like a cop out. The thing that makes these Noir-ish suspense yarns is the detective, and when you have a guy like Parks, why not lean on him? Also, when you have an agent in your story like the detective, it's like you have an easy element who can resolve the story for you, and to not use that agent properly gives the film an inorganic quality that makes the whole thing not work. Too bad, but still, for fans of Michael Parks, he's a lot of fun.
Among the other stars, the one that we've seen on here before is Patrick Muldoon, who you may remember getting his ass kicked by
Richard Norton
in
Rage and Honor II
. He plays the derelict neighbor that's shagging the wife before she's offed, making him Parks's prime suspect. One of my favorites was William R. Moses, who played the dad, and who is a Lifetime Movie mainstay and does tons of TV work too. It was so weird hearing him swear, and I wonder if he was excited to be able to do that too, like "fuck TV man!" The mom was played by Chelsea Field, who played Teela in
Masters of the Universe
, but will be better known to most of you as the Western Airlines flight attendant whom
Schwarzenegger
tells "don't disturb my friend, he's dead tired" in
Commando
. Nothing as cool as that for her here, though she was a great character and it was too bad she was killed off so soon. Finally, the younger sister was played by Vanessa Zima, who I remembered from
Ulee's Gold
. Her last name is great too, reminding me of that alcoholic drink with the same name from the 90s. Our freshman science teacher asked us if we'd tried it before, and we were like "dude, we're 14!" Surprise surprise, he was fired at the end of the year for giving kids in another class non-alcoholic champagne, which I guess still has alcohol in it.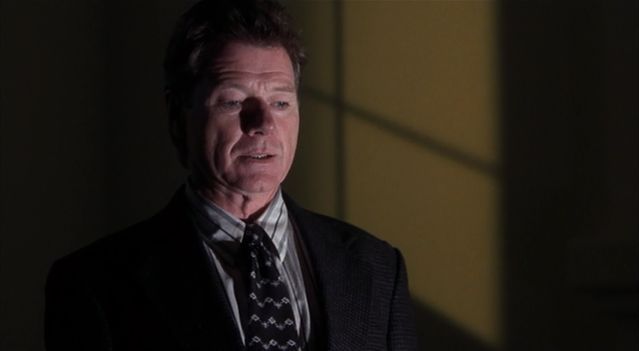 Part of the tension of this film is supposed to come with us, the audience, seeing Stiles as a young girl making moves on her father. Now, the father thing was definitely an issue, but the age wasn't, because she and I are roughly the same age. I mean, her outfits and whatnot are exactly what girls in my school wore, so I couldn't help transporting myself back to 1998 with them, and by doing that, making myself 19 again. Where the film did make its money in this respect though came in her interactions with Patrick Muldoon, those definitely made me feel uncomfortable. It's one of the odd things about movies though, the audience perception has a lot to do with how it comes off, and me not being able to divorce the fact that Stiles is my age from who her character was affected how I perceived the film.
Okay, let's wrap this up. As far as I know, this is only available on used DVD or VHS. I know I got it used on DVD, and it was really cheap. I'm not sure you should go out of your way to track it down, but if you see it in a bargain bin for a buck or two, it's worth it. As far as my girlfriend's knack for picking DTVC films: she's one for one right now, so we'll see if she retires one for one, or makes some future requests.
For more info:
http://www.imdb.com/title/tt0120088/