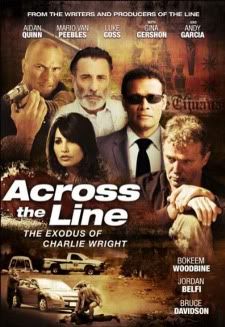 I put this in my queue, first and foremost, because it lists DTVC Hall of Famer
Gary Daniels
in its cast, a cast which is very star-studded, including
Mario Van Peebles
, Bokeem Woodbine, Corbin Bernsen, Andy Garcia, Gena Gershon, and Aiden Quinn. I had a feeling Daniels wouldn't be in it much, but I figured I'd give it a look anyway.
Across the Line
has Aiden Quinn as very successful investment broker whose enterprise has been revealed to be a Ponzi scheme, ripping off investors to the tune of $11 billion give or take. Before FBI agent Van Peebles can get a warrant, Quinn escapes, meaning he could be anywhere. Turns out anywhere is Tijuana, where a lot of people want him and his money. Andy Garcia runs a crime family on the border that is into some scary characters in Mexico City for some big cash, and he sees Quinn as his gift from God. Back in LA, a couple retired Russian mob bosses that Quinn ripped off for $100 million want their pound of flesh, and they hire Luke Goss to hire Gary Daniels's mercenary team to get him. As all of this is going on, Quinn is looking to make amends for a major regret in his past, which is the reason he's in TJ to begin with.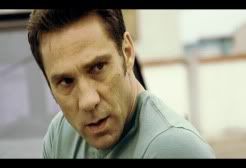 This looked like it was going to be a pretty decent film. It was moving along pretty well with few dead spots, and I actually cared enough about Quinn's character to see what happened. But then it just ends with nothing really happening, and I'm like "what's the point?" I mean, you gather all this talent, give them pretty solid characters, and that's it, the movie just kind of gives us "as you were". Seldom do I go in for the whole temporal refund deal-- you know, that's 90 minutes of my life I'll never get back-- but I'm feeling it here. Why waste my time?
Daniels had a rather small part, as leader of a three-man mercenary team that included him and Bokeem Woodbine. I'll get into later how confused I was that he wasn't playing Luke Goss's character, or something a little better. Of the three films Daniels did this year, this one,
The Expendables
, and
Hunt to Kill
, he only had a small supporting part in each of them. Is this a disturbing trend in Daniels's career? Is he foregoing smaller budget actioners that cast him in the lead, for these smaller roles in slightly bigger movies where he gets to rub shoulders with bigger names? It's a tad disconcerting to say the least, though if he's doing it to make a better name for himself so he can get back to those leading roles, only on a level with guys like
Dolph
and
Seagal
, it could be a great move. I guess it's a reality check that a guy that we dig so much isn't as big a deal to everyone else. Hopefully he will be.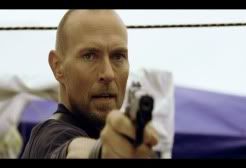 Can someone explain this to me? I'm talking about this guy, Luke Goss. Does he make any sense to you? Does he make any sense as somehow above or better than Daniels to you? What, he's bald? Is that it? He looks like a grown up Ben Seaver. Just because you're selling him to me as cooler or better than Daniels or Bokeem Woodbine, doesn't mean I have to buy it. According to imdb, he was in a boy band in the UK called Bros, which sold out Wembley Stadium. I guess they also played at MSG here in the States. That's hot. He should've been Mario Van Peeble's FBI partner, and Daniels should've been given a bigger part, representing his own mercenary team to the Russian mobsters.
At first blush, the idea of casting Andy Garcia as a sophisticated Mexican mob boss sounds good, right? It doesn't work though. Garcia is too good for a part like that, he's too good for the cheesy, poorly written philosophy that these characters spout out, the dime-store novel existentialism, it's all somehow beneath him. The other thing is, he's very American, and didn't work as a native Mexican. In reality, he would've been perfect for Aiden Quinn's part. One side note about Andy Garcia: I loved his work in
The Godfather III
, a movie that I otherwise thought was a total disappointment.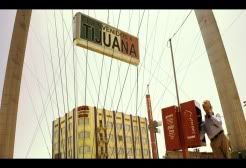 One of my regrets in life was, on a visit with a friend to San Diego to see his mother, I didn't make it across the border to Tijuana, and this film was a constant reminder of that regret. It's funny, growing up in Maine, four hours or so from Montreal, I've never been to Canada either. I know, that's crazy. My only foray outside the country was to England and Scotland in 1997-- a trip I remember very little of, spending most of the time either drunk or hungover-- I was 18. I actually was going to go to Montreal two years ago, while in Burlington, VT to see some friends, but we didn't make it because there was a huge snowstorm.
Way more information about me than you probably needed, so let's wrap this up. It wasn't a bad movie to begin with, but at the end I was left with this "what's the point?" feeling, and that's never a good thing. Also, there isn't much Gary Daniels here, which seems to be a trend with his new work. Overall, a lot of great talent chewing up scenery, but that's all they're doing.
For more info:
http://www.imdb.com/title/tt1663193/