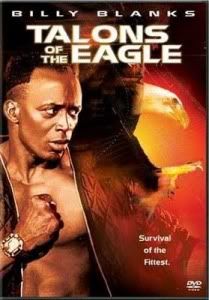 This is one I've been looking to do for a long time, and was planning to do it before I went on hiatus, but when I came back, it was lost in the shuffle. Then in relatively quick succession, both Ty at
Comeuppance Reviews
and Karl at
Fist of the B-List
reviewed it (links are to their posts), and reminded me that I had neglected it for too long. It was time to make it happen.
Talons of the Eagle
has DTVC favorite
Billy Blanks
as a New York DEA Agent who is sent to Toronto to nip the drug supply chain in the bud, along with
Jalal Merhi
. Both guys are what we in the biz call "mavericks" or "loose cannons", so they get along great. They have to learn some Eagle Talon style Kung Fu though, before they can infiltrate the evil
James Hong's
gang through his tournament. After a few montages they're set to go, and they impress Hong enough that he lets them in. There are two problems though: first, Hong's righthand man,
Matthias Hues
is suspicious of them, and second, the chick who took over for Suzanne Somers on
Three's Company
is an agent that was sent in prior to our heroes, and they don't know if she's "crossed over".
This definitely cooks. Billy Blanks is the standout, but Merhi is solid, and Hues and Hong make great baddies. Plus you have some other excellent performances rounding out the cast, including Priscilla Barnes, Eric Lee, and Qingfu Pan. There were some weak points, like in the tournament, our heroes take way too many hits from their opponents to make us believe they learned anything from all those montages. I mean, Merhi had a lot of trouble with the "Pepperidge Farms Remembers" guy, and Blanks was less than convincing against an Iron Sheik wannabe. There's also as many laughs as there are great fights and action, foremost among them, Merhi in his tighty blackies, or the fact that the only thing to drink in Toronto was Canada Dry. A great combination of silly and hot makes for a winner in my book.
Billy Blanks is a star, but unlike the two he did with
Roddy Piper
,
Tough and Deadly
and
Back in Action
, in this he plays second fiddle to Merhi, which is a little off-putting. He does get the end fight with Hues, though, so in that sense he was used well. There's just so much electricity in his performances, it's really too bad he didn't do more work. I'm not sure if that's because the early 90s weren't ready for an African American DTV action lead, or if he didn't want as much work, or maybe a combination of both, but seeing him here just makes me want more. I should also point out that this was a rare pre-
Rush Hour
pairing of two heroes that weren't Caucasian. This film was very much ahead of its time.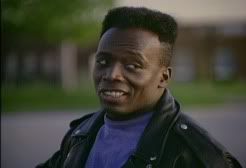 This will be the eighth of fifteen acting credits for Jalal Merhi here at the DTVC. It feels like he had a bigger impact on the DTV industry, but when you factor in the large amount of overlap between his acting credits and his director, producer, and writer credits, 15 is about it. He's kind of in that David Bradley territory, only he does more than just act. Maybe he's a Lebanese cross between Orson Welles and David Bradley, only instead of the fanny pack, he has the tighty blackies. Don't know what he was going for there, but I spared you a pic of it on the image page. Mr. Merhi, if you ever decide to make any more movies and cast yourself in them, I'd go boxers over briefs.
Does anyone remember how the whole replacing Suzanne Somers on
Three's Company
went down? She had some contract dispute, and so for a season, instead of being with the rest of the cast, she would go into a box and shoot scenes to make it look like she was communicating with them over the phone from some far-off place. I was too young to remember the whole thing when it originally aired, but do remember when it was on Nick-at-Nite, and thought how odd it was. Almost as weird as when Gabe Kaplan had issues with
Welcome Back Kotter
, and they had his wife teach the Sweathogs. Anyway, Priscilla Barnes, Somers's eventual replacement, plays Merhi's love interest/undercover agent, so that's why I brought all that up.
Had to snag another McDonald's shot. This comes in some New York file footage at the beginning of the film. I wonder if that McDonald's is still open. I've realized that perhaps with all my McDonald's talk I'm giving the wrong impression of my eating habits. Don't get me wrong, I love McDonald's, but I also love Doritos and chocolate (not together, of course), but I don't eat them all the time. I wonder if I lived on the West Coast if that would be a different story though, with In-and-Out burger and Del Taco. Or Chic-Fil-A, which we don't have up here either, but I get when I go down south. Temperance would be much more difficult to practice then.
Talons of the Eagle
is available on Netflix, making it an easy get for anyone looking to make it happen. This is a well-rounded film that offers solid fights and low-budget silliness in a great package that's hard to not like. Definitely worth it.
For more info:
http://www.imdb.com/title/tt0105530/