I knew I wanted to look at some more
Jeff Wincott
movies, and I was trying to think of something to do after
Martial Law II
, and I saw
Mission of Justice
over at
Straight-to-DVD-Heaven
, a great site run by Lee Nicholson from Middlesbrough in the UK (if you remember, that's where
The Tournament
, starring
Ving Rhames
, took place). As an aside, a few years back, when I was living in Portland, ME, our cable man was from Middlesbrough. He saw me in my Arsenal jersey and was like "whoa, you watch the EPL? I'm from Middlesbrough" and I'm thinking "my cable man is from Middlesbrough?"
Mission of Justice
was originally conceived as a sequel to
Martial Law II
, until
Cynthia Rothrock
pulled out and they went with
Karen Sheperd
instead. She and Wincott play beat cops, when a guy who they arrested for beating his girlfriend is released by their shit-heel sergeant because the guy was a good snitch, and the snitch proceeds to go home and beat said girlfriend to death. Wincott quits the force, and joins up with shady politician Brigitte Nielsen's Mission of Justice cult/vigilante group. He does this because he suspects they had something to do with his ex-boxing champ buddy's murder. Now he's killing two birds with one stone, by bringing down his friend's killer, and sticking it to his asshole former superior.
Wincott does it again. Great, great stuff here. In one scene, he's being initiated into Nielsen's Mission of Justice, and he has to survive this gauntlet of 20 guys wielding batons. He takes the batons they give him, and throws them into the middle, turning away like he wants nothing to do with it.
Matthias Hues
and
James Lew
, Nielsen's main henchmen, look on in disdain, thinking, "we knew this dude was a total tool." Then he charges back to the gauntlet, does a few flips into the middle, picks up his sticks, and delivers a major hurting on everyone. I don't know who came up with that, but that person is near the top of my all time awesome book. And the film just gets better from there, culminating in a too sweet knock down, drag 'em out final brawl between Wincott and Hues. Not as good as it's intended predecessor,
Martial II
, but still pretty great.
Wincott is often lost in the shuffle here at the DTVC, in part because he's not in the Hall of Fame, and so his films drop some in priority. I know that shouldn't be the case, because I can't remember the last Wincott film that wasn't awesome, can you? The next question is, if he has so many wins like this, why is he not in the Hall of Fame? Well, we just have to get more of his films up, and it will happen in time. His DTV filmography is somewhat diluted by a lot of TV roles and bit parts in feature films, so he might not have enough movies to get in too. We'll see what happens. In the meantime, enjoy how sweet he is in this one.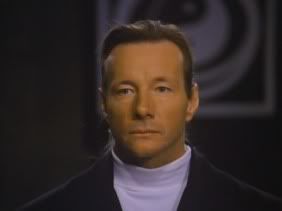 I was surprised to find out this will only be the seventh Matthias Hues we've done on here. Maybe it's because he's so large that I thought we'd done more. He's excellent in this as Nielsen's brother/hatchetman, especially in that end fight with Wincott. It's one of those ones too where it's being sold to us from the beginning, from the first time we learn that Hues is in the movie, we know what we're getting at the end, and
Mission of Justice
doesn't fail to deliver. I wonder, though, with Hues playing a baddie all the time, does he ever wonder how many of these dudes he can actually take in a fight? A guy with his size and speed probably has no question-- maybe only
Dolph Lundgren
would have that same unique combination, and in
I Come in Peace
, Hues was playing a super-strong alien, so they never had a man-to-man style fight.
Karen Sheperd is solid in her part as Wincott's partner, but it's not a huge role, so in that sense it's something of a disappointment. I wonder if the role was always supposed to be small, and that's why Rothrock turned it down. She gets a few good fights against some dudes, but it's in the final one with Nielsen's number one female fighter that she really gets after it. Great stuff, just too bad there wasn't more of it.
Finally, Brigitte Nielsen played the head baddie, the classic corrupt politician, only this time it wasn't a white male in the part. In the
Circle of Death
post, I mentioned how
Bai Ling
said her part, also as the main baddie, would have been an old white man character, and how forward thinking it was that she was cast in that role instead. Same thing here with Nielsen, only she's been a baddie before, in some much bigger films, like
Rocky IV
and
Beverly Hills Cop II
. One thing I noticed in this, that I'd never noticed before with her, is how skinny her legs are-- at least in 1992. Wow, they'd rival Bai Ling's.
All right, before I get way off track, let's wrap this up. Not the level of
Martial II
, but definitely up there. Wincott brings it, Sheperd is good when she's there, and Hues and Nielsen as baddies were great. As far as I can tell, here in the States, the movie is only available on VHS, but if you're in the Region 2 zone, you can get it on DVD. If you come across it, I'd go for it. Also, if you haven't already, go check out Straight-to-DVD-Heaven.
For more info:
http://www.imdb.com/title/tt0104888/