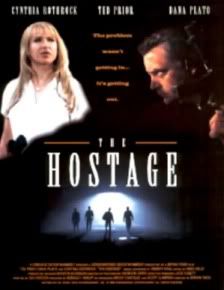 Who knows when this first came on my radar. Probably as a
Cynthia Rothrock
flick. But then I see that it also has Ted Prior-- yeah, that Ted Prior, Danton from
Deadly Prey
-- and I'm all in. Now, I can't find confirmation of this, but
The Hostage
is also supposed to be an AIP flick. Ted Prior is the only connection I can find between this film and the famed production/distribution company though.
The Hostage
is about a gang of high-end thieves who plan to break into a really rich businessman's house, hack into his computer, and download all his money. Ted Prior plays a down-on-his-luck former special forces dude who signs on with this crew so he can make some cash that he and his daughter can live off of. Things go wrong, though, and the guys are holed up in the mansion, holding the rich dude hostage, while the feds have them under siege outside, led by agent Cynthia Rothrock. Will the thieves get away with the cash?
I don't know if you can tell from the pictures, but this is pretty hard core, as in the film stock they shot on was the same video quality of most porn films. How in the hell did Rothrock get roped into this one? What, was she in her hotel room near where they were planning to make the film, when a producer visits and says "Hey, we got some bad news. The film reels and cameras didn't make it out from LA. Yeah, it looks like we'll be shooting on video. I know I know, we're not happy about it either, but, what can we do. The other guys said you'd be pissed, but I said no way, Cynthia's a true professional..." I don't really know after that whether this was a good or bad movie, because, shot as it was, I couldn't take it seriously. Yes, script-wise it was pretty un-proofread, and after Rothrock, the acting wasn't the greatest; but it was fun for what it was, real bottom of the barrel stuff.
I have to imagine, for someone like Rothrock, she loves that people like me are big fans, but there are some drawbacks, like when I have a movie blog that spotlights her films, and I find something like this. She was great in it though, she just didn't have a big part, and never did any martial arts. I'd have loved to see her and Ted Prior go at it. She spends the entire film leading the police siege of the mansion, though she does pick up a gun and shoot some guys near the end. One great scene I liked came after she walks away from some of the local cops, and one of them remarks that she's a total bitch, and this other guy says "hey morons, you're only saying that because she's a woman. If it was a guy, you'd be like 'Yes sir' and all excited to get after it." The people who made
Death Race 2
could learn a lot about their own misogyny from
The Hostage
.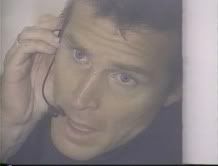 Ted Prior's back. I know, you probably never thought we'd see him again. He's aged a bit, and now looks like a cross between David Bradley and Rick Hill, which is a good combination to have. He has a little more action than Rothrock, but this is nowhere near the level of awesomeness that
Deadly Prey
was, it's more just the novelty that the guy from that was in this.
This beefy guy below was one of the highlights of the film for me. He was the leader of the gang, and he had this great voice and very doughy demeanor that was all pretty funny. It's guys like this that make a movie like this worth watching-- almost.
Dana Plato had a small role as Prior's sister in-law. She died a year after this came out. In her early scenes, I couldn't really tell it was her, because the film was poorly lit, but at then end, when she comes back, I could see her better, and you could tell that she wasn't well. She had three more films released after
The Hostage
, including a soft core porn film called
Different Strokes
.
I don't know how you'd find this outside maybe the torrent route, and I don't know if you want to find it unless you're a Rothrock completist, or the idea of her and Prior in a film intrigues you. As a note: they never share any screen time together.
For more info:
http://www.imdb.com/title/tt0256082/