It's been almost a year since our last
Miles O'Keeffe
post, which is simply unacceptable. In fact, his meager 12 tags is among the lowest for DTVC inaugural Hall of Famers-- in fact, only
Klaus Kinski
is lower, and he's in more for embodying the spirit of what it means to be a great DTV actor than he is for his DTV filmography. This is an abomination. If someone were to ask me how much Keeffe is on my site, I'd only be able to tell them "feet O'Keeffe."
Phantom Raiders
has Miles as Python Lang (yep, Python is his first name), a highly trained special forces dude called in by the government to take out a rogue Green Beret colonel that's training Commies in Vietnam. Python gets some old special forces vets he served with in 'Nam, gives them some ninja style training, and takes them and the colonel's son-- another special forces dude that wants to take his dad down-- back into 'Nam to stop this dude from training the Commies. Can he do it?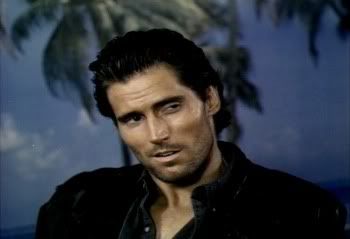 This is a lot of fun. Is it spectacular or something you should go out of your way for-- especially if you're more a casual fan and not a collector? Probably not, but you could do a lot worse. It's a lot of excitement by repetition, a lot of guys running into space, spraying the area in gunfire, and Filipino stuntmen shimmying or looking like they slipped on some wet grass, followed by a grenade tossed into the middle of a group of them, and they all fall over. Towards the end, things get more into classic 'Namploitation fare, with huts exploding all over the place. I think this one is more about the fun of Miles O'Keeffe, the fun of the low production values, and the mindless fun of a good shoot-'em-up. I like it for a good bad movie night with like minded friends.
Where have ye been Miles O'Keeffe? Or perhaps, Miles could be asking me that same question, considering he's always out there, I just need to bring in more of his films. Other than the fact that we lose him for a period near the end when his buddies are off storming the castle, one could fairly accurately describe this movie as having "Miles O'Keeffe". I should point out, I've seen in a few places where this description of how much Keeffe is in a movie is ascribed to someone other than MST3K. Don't let anyone tell you otherwise, the joke "how much Keeffe is in this movie?" "Miles O'Keeffe" originated in the
Cave Dwellers
episode of MST3K-- the movie moment when I was first introduced to the awesomeness that is Miles O'Keeffe. And it is my New Year's Resolution here at the DTVC to make sure we don't take him for granted anymore.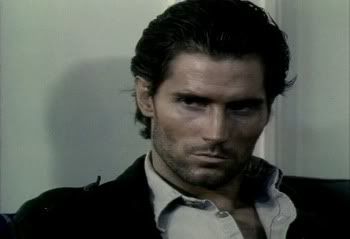 The trailer for this gives the impression that Miles is a ninja, which isn't entirely accurate. He uses Ninjitsu as an element of his training, and he and the guys toss throwing stars-- some of which have explosives, which are great for blowing up huts. Then we see him running around with the GI Joe ninja mask on, which makes him seem more ninja-ish, but it's more like he's got the mask mixed in with a military uniform. It's okay, even without the full-blown ninja aspect, this is still ninja enough to be fun.
The late Mike Monty plays the colonel, and while you'll probably recognize him, according to imdb, a lot of the films he was in he wasn't credited for-- including one we would've seen him in,
Strike Commando
. What a good deal that seems like though, huh? Move over to Italy in the late 60s, make some soft-core porn and exploitation flicks for like 15 years, then make some more in the Philippines in the 80s, before moving back to Italy to retire. I think too often we focus on the quality of the movie someone is making, and act as if that's gotta be the worst thing in the world-- and maybe for some actors it is, but you gotta think for a Mike Monty
Phantom Raiders
and
Strike Commando
were the ticket to the good life. Here's to you Mike Monty, a real doer.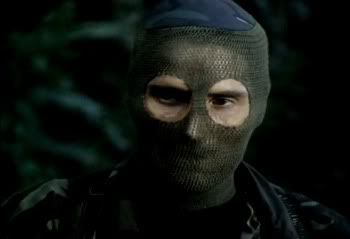 One last point about Miles. A few films of his ago, I realized that I'd been misspelling his name, calling him "Miles O'Keefe", which is the way he's credited in some of his films (including this one). Anyway, I went to at least fix it in the tags, but forgot to take out the old erroneous tag. It shows what can happen if I don't post enough Miles O'Keeffe flicks, I end up neglecting his tag, and then we end up with two, and people wanting to see what Miles I've done, end up confused. Again, I'm sorry, not just for the lack of Miles, but the whole tag debacle too.
This is available used and pretty cheap on DVD here in the States and abroad under a few distributors-- the most recent I believe Cine Excel, before going out of print again. I'm not sure you need it unless you're a collector, but if you see it in your travels and it's not more than a few bucks (you can get it for $3 including shipping from Amazon here in the States), I'd definitely pull the trigger. You could do a lot worse than this one.
For more info:
http://www.imdb.com/title/tt0844331/