We're staring to exhaust our supply of
Gary Daniels
films. There are a few others available, and I plan on hitting them in the near future, but after that, it's either waiting for the pile of flicks he's done after 2009 to be released here in the States, or search around and see if some of the more obscure older ones pop up. But we got this one, so we might as well take advantage of it.
Spoiler
takes place in the future, where criminals that try to escape from prison are so named, and when caught again, sent into deep freeze for inordinate amounts of time. Daniels is one of these Spoilers, and after he's caught escaping, he's given 26 years. Then he escapes again, and is given a bunch more. And then he escapes again, and is captured again. When he escapes this time, will he let them take him in alive?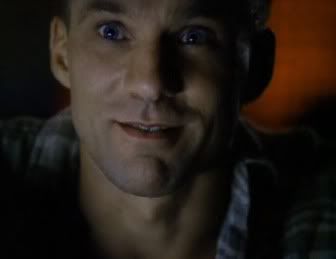 If this sounds like a Groundhog's Day scenario in a movie, it felt like it too. The first 40 minutes or so is just the film spinning its wheels. Really, none of it gets us anywhere other than back to where we started. I want to say "who thinks that's a good idea?", but I'm not so sure the people who made this movie cared. All they seemed to care about was this idea of Daniels not aging and seeing his daughter when she's old and dying, and basing a sci-fi actioner around it. Not that this has a lot of action. First off, Daniels doesn't sport his sweet martial arts. Total waste. Why again did you cast Daniels then? And they had all this other talent that they used each for either one scene or a small part:
Bryan Genesse
,
Meg Foster
,
Jeffrey Combs
, (I think)
Timothy Bottoms
, and (I think) James Booth. This should've been
The Fugitive
set in the future, with Daniels using his wits to stay escaped-- not get captured and escape over and over. An idea and a film sauteed in wrong sauce.
The thing is, we've seen from films like
Rage
, that Daniels can do
The Fugitive
paradigm and do it well. And we had some really great supporting characters in this that could have filled that out and made it so much cooler. The film starts with Genesse and Daniels in dust-up, but it's really just them hitting each other and falling over. Hell no! You've got two great martial artists, and you can't have them choreograph something awesome for us? Then keep Genesse and have him appear in future scenes-- or maybe have him team up with Jeffrey Combs, who was himself a great baddie, but unfortunately only comes in at the very end. What? He should've been the Tommy lee Jones to Daniels's Harrison Ford. This was not a vehicle where Daniels was allowed to shine, and it suffered for that.
Let's get back to the Jeffrey Combs thing, because when he pops in in the last 15 minutes or so, I'm wondering "where have you been all my film?" He was the ultimate baddie, but he had too little time to flex his baddie muscles. The whole Groundhog's Day theme of this film, where Daniels keeps getting frozen and waking up decades later, meant that a guy as great as Combs couldn't appear for more than one small section, otherwise he'd bee too old later. That's why you scrap a silly premise like that. Also, it's probably time I got more Combs on this site, huh?
As I said above, this entire film was based around this idea of a father staying the same age and seeing his daughter when she's really old and on her death bed. Sounds cool in theory, but in practice, it killed everything that could've been good about the movie. I think sometimes these film makers get married to an idea, and can't see that it's sauteed in wrong sauce. When that happens, you get the best from actors like Gary Daniels left on the shelf, and potentially film anchoring performances from great actors like Meg Foster and Jeffrey Combs wasted on tiny parts.
Finally, I really liked the images of the futuristic cities in this. Again, because much of the film is Daniels getting frozen and trying to escape prison, we don't see those enough either. Ugh, it just makes me see how awesome a sci-fi futuristic
Fugitive
would have been with what they had to work with, and how much it was all wasted.
I can't do this anymore I need to put this review to bed. You want to watch a movie where Gary Daniels doesn't fight, by all means, but it wasn't for me. You want to watch a movie where the first 40 minutes goes nowhere, by all means, but that wasn't for me either. You want to watch a movie where a great Jeffrey Combs baddie gets barely 15 minutes due to a silly plot premise? By all mean, but it upsets me too much to talk about it. I believe this is out of print, but you can get it new or used on DVD from Amazon, but I wouldn't bother.
For more info:
http://www.imdb.com/title/tt0120187/