I've always had the long term goal of reviewing all of the Toxic Avenger flicks here at the DTVC, but when Netflix let me know they were dumping them all before the New Year, that long term goal became an immediate one. Turns out I didn't need to rush: all three of the sequels are on Hulu.
Toxic Avenger II
takes place five years after
The Toxic Avenger
. Tromaville is now completely safe and free from crime, which upsets the evil Apocalypse Corporation, who wants to convert the town into a toxic waste dump. Problem is, they can't possibly fulfill their evil ends with Toxie in town. So they get him to go to Japan on a search for his father, and in his absence, they begin their evil take over. Will Toxie figure out their scheme in time to save Tromaville?
Unlike the first one, which was a true classic, this one started out slowly, and really doesn't find its stride until the action moves to Japan. It had more zany slapstick type stuff, with silly sound effects and
Airplane!
-eque sight gags, things that I don't exactly associate with
Troma
, but more with Troma imitators; but once we see Toxie interacting with the Japanese people, that kind of stuff works better and is more entertaining. I wouldn't put this as one of Troma's best, but it's still pretty sweet.
The other thing though is I think the film was more classic Troma when the scene shifted to Japan. It was like Troma invades Japan, Godzilla style (they even joke about that), and it had everything you could imagine in combining the two. You had people sliced up by sushi chefs, naked women, sumo wrestling, Kabuki dancers, and Toxie meeting up with some random dancers on the street dressed like Greasers. This is the part of the film where it makes its money.
One guy we know that's a money maker is DTVC favorite,
Michael Jai White
, who has a small role as one of Apocalypse's goons. This is actually his first credited role, though he's credited sans "Jai". One thing about his role in this one and part 3, is that he gets to flex both his comedy and his martial arts skills, which we don't see that often-- probably best seen in
Black Dynamite
. Even though it's only a small part, any Michael Jai White is good.
The Apocalypse Inc. chairman is played by Troma mainstay Rick Collins. In the (scant) trivia section of his imdb page, he's listed as being one of only two people that appeared in all four Toxic Avenger movies. I thought the other one was Mr. Joe Fleishaker, who has very small parts in 2 and 3, then a bigger part as Lardass in part 4, but apparently he wasn't in part 1. Now I'm stumped. Maybe the archive footage of Melvin counts?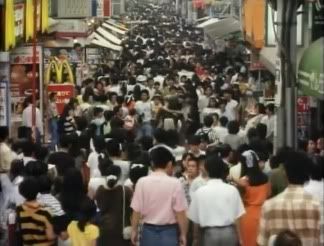 Finally, what Toxic Avenger would be complete without some McDonald's sightings and commentary. Not only did we see more vintage Quarter Pounder Styrofoam containers, but there was also a shot of a Tokyo McDonald's. Then there was the name of Toxie's dad: Big Mac. I think in this one there was a much more concerted effort to depict McDonald's as a major corporate entity that is ultimately a toxic influence on our society. As a big McDonald's guy, I'm probably a prime example of why they're right.
You can either check this out on Hulu, or scoop it at the Troma website if you want to add it to your collection. No matter what, if you haven't seen the first one yet, do that first, then take this one in. Like most sequels, it's a step down from the original, but still good enough.
For more info:
http://www.imdb.com/title/tt0098503/