I was trying to think when I first saw this listed on imdb. I want to say, almost as long as the DTVC has existed, this has been listed in various forms of development with rumored cast members added and dropped and whatnot. Then we were lucky enough to have the film's director, DTVC Hall of Famer
Albert Pyun
, come to us for feedback on things like the introduction, and keeping us up-to-date on its status. Well, now it's finally here, on the shelves, released from Lion's Gate. Let's see how it did.
Tales of an Ancient Empire
is the long awaited sequel to
The Sword and the Sorcerer
. It follows the heroine Princess Tanis as she searches for her half-siblings, including the rogue
Kevin Sorbo
; and her father, an even bigger rogue and better fighter,
Michael Paré
. She needs them to defeat the evil vampiress Xia, who has taken over her kingdom, Abelar. Will they prevail?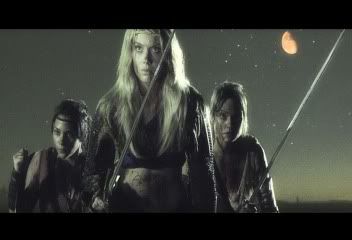 This was a very interesting flick that unfortunately had a very unfulfilling ending. It started a tad slow, with the first 40 minutes or so jumping in and out of flashback mode, but I think it overcame that and became something that was a cool take on the modern sword and sorcery flick, using some cool cinematic techniques, genre mixing, and giving it a more macabre edge; but that ending was, I don't know, not there. It was like a Cliff's Notes version of an ending, with a few still shots, some drawings, and a narrator telling us what happened. We watch the sword and sorcery adventure flick for the end battle, to see our hero overcome the villain, and without that it makes everything else lose its meaning. Also, despite what the cover says, this was a tale centered on the princess, played by Melissa Ordway, and to have Sorbo be the one to slay the villain (or rather, to be told it was Sorbo by the narrator) betrayed that. Even if we know roughly what's going to happen, if we'd only had something, just a little battle, I would've felt better about this, because otherwise it was pretty good.
Before I get any further in, I want to discuss the cover, because, if you've been rockin' with the DTVC for some time, you know my feelings on misleading covers, and this is one. What makes this one different, though, is that Pyun himself on his Facebook page came out against the cover because it was misleading and not the way he wanted to sell his film. I'm not saying there's a Sorbo bait and switch, but he's more the supporting character to Melissa Ordway's hero, and the other guy (Matthew Wellig) is barely in the film for two scenes, while the cover makes it look like he and Sorbo are embarking on this film-length quest together. Pyun said Lion's Gate had the say on the cover, but what I don't get is, why wouldn't they want Ordway on it with Sorbo? She's very attractive, and I imagine she'd sell more copies than Wellig, especially in the demographic that sword and sorcery caters to. You already have enough beefcake in Sorbo, why not add some beauty too, and at the same time not be so obviously misleading the consumer.
Melissa Ordway takes her place in line among the long list of Pyun female protagonists. This is the one thing that I think will frustrate people misled by the cover the most, that I, having seen over thirty of Albert's films, was very comfortable with. I've always liked how he works in very testosterone heavy genres, like action and sci-fi, and instead of sticking with the conventions, he's bucked them by casting women in the lead roles, and not making them women playing men, or women as mere objects for men to ogle, but real women as real heroines. Again, it wouldn't have been too hard to put her on the cover with Sorbo, and by not doing it, it does both Pyun and Ordway a disservice. Also, a previous Pyun protagonist, Victoria Maurette, co-stars. You may remember her from
Bulletface
and
Left for Dead
-- the latter I unfortunately haven't seen yet. It was cool to see her working with Pyun on another project, and she was as good here as she was in
Bulletface
, so hopefully this won't be the last of his films we see her in.
One thing that I thought was really cool about this movie was the pulp comic book feel it had. The imagery, between the actual drawings and the live action scenes, was great. A lot of the shots had the feel of a comic book frame, but in a way that retained their cinematic qualities. There were also some settings that felt like westerns, Japanese samurai films, or Hong Kong cinema. These are the things that I come to an Albert Pyun film for, to see things done that I've never seen, knowing that he's going to take risks and try something new and not play it safe. He could've just made another
Hercules
episode, and I think a lot of people would've been happy, but he wouldn't have, and I like and respect that. Another thing worth pointing out, the script was written by Cynthia Curnan, and the music done by Tony Riparetti, two people who have worked closely with Pyun on projects in the past. There was a symbiosis between director, music, and story because of that that enhanced the film. This wasn't just a script that was thrust on Pyun to direct, and the music wasn't just laid down as an afterthought. When you have that symbiosis, it makes the movie a little more genuine.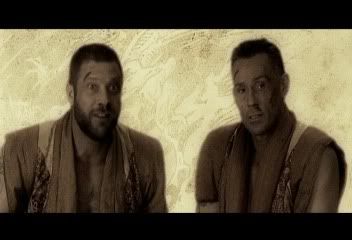 Okay, I know what you've all been waiting for: "tell me about everyone else in this film!" I've already mentioned Sorbo, who plays the co-hero or slightly supporting hero to Melissa Ordway. He's great in that Lee Horsley role as the brave rogue. Paré plays his father, and he's even more heroic and more of a rogue. He appears at the very beginning and the very end. The other DTVC Hall of Famer in this is
Olivier Gruner
, and he has a small part alongside
Sasha Mitchell
. Yes, that's right, I said Sasha Mitchell. When was the last time we saw him, huh? He's buffer than he was, so you may not recognize him. He's not listed on imdb as being in the film, but both he and Gruner are listed in the sequel,
Red Moon
. Then we have Ralf Moeller with a small part as one of the palace guards, Sarah Ann Shultz as one of Sorbo's sisters, Whitney Able as Xia, and Jennifer Siebel Newsome as the Queen of Abelar. Finally, our Pyun mainstays. Beyond Mitchell and Maurette, we had
Norbert Weisser
at the beginning as Xusia, Xia's dad, and Scott Paulin in a small role as Tou-Bou Bardo, a play on Pyun's classic character name, Brick Bardo. (Also, we had Morgan Weisser, Norbert's son, meaning we have the children of Pyun mainstays in Pyun films now!) Oh yeah, Lee Horsley has a one scene cameo reprising his role from the first film, which was fun to see.
The ending is what makes this one so hard, because it left me with a "that's it?" feeling that was hard to reconcile with the rest of the film that I enjoyed. One thing that's good about this one as opposed to Pyun's other recent efforts, is that you can get it via Netflix and Red Box, so you can try it out prior to buying it (I did buy it-- no regrets though!) to see if it works for you. As a sequel to
Sword
and as a sword and sorcery flick that tries new things, it's really good, the ending just didn't work for me.
For more info:
http://www.imdb.com/title/tt1136688/