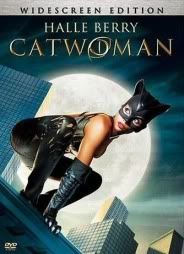 We're kicking off the DTVC's Wild Card post look at comic book movies with
Catwoman
, the 2004 Halle Berry dud. I had actually never seen this prior to watching it for the review, but from what I'd heard I figured I was in for a bad time. Catwoman is a unique character in the world of comic books, because there really isn't an arch villain as famous that's a woman. It would seem like there's enough material to mine there, so I was curious to see how it went wrong.
Catwoman
has Berry not as Selina Kyle, but someone else who works making ads and whatnot for a big cosmetics company run by
Sharon Stone's
husband, played by the French dude from
The
Matrix
. Anyway, Berry finds out their next big thing, an anti-aging cream, has horrible side effects, starting with headaches and dizziness, to eventually making the user's face disintegrate if she stops using it. They don't like that Berry knows this, so they kill her, but an Egyptian Mau cat that's been following her brings her back to life, with the powers of a cat. Now she has a new lease on life, but first she has a score to settle with her old employers, and has to settle it without her new boyfriend who's also a police detective, played by Benjamin Bratt, catching her.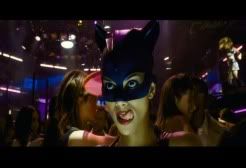 It would be too easy to just write this off as a sack of asscrack, because it pretty much was. The thing is, as I was watching it, I saw glimpses of potentially good stuff that was just never fully realized, mostly because it was overshadowed by the bad stuff. I could point to specific scenes that were ridiculous, like Berry with her new powers playing basketball with Bratt, where both looked extremely awkward dribbling and shooting. Then there was Catwoman in her outfit awkwardly cutting a rug in some dance club that's situated on a dock amid a bunch of shipping containers. Just the CG images of Berry in her Catwoman outfit running around like a cat were enough to make me laugh. It was just all bad.
To me it was the initial idea that was sautéed in wrong sauce: her becoming a literal catwoman. House cats by their very nature are hilarious, that's why whenever previous on-screen versions of Catwoman would act like a cat, it was done in a tongue-in-cheek manner. Even Michelle Pfeiffer's, which was the most catlike and supernatural, only acted like a cat as a joke or to demonstrate her insanity. I get that this is supposed to be a unique interpretation of Catwoman, using the power of an Egyptian goddess to make a sort of super woman, but a CGI Berry leaping around like a cat, or hissing at dogs in all seriousness, as opposed to as a joke, was something that I just couldn't take seriously, and undermined the film as a whole.
There was also an identity crisis that previous Catwomen didn't have. It was like she was Wonder Woman dressing like Catwoman and acting like a cat. The biggest example of this was the outfit. All the previous Catwomen wore a one-piece suit, as opposed to what's pretty much lingerie with boots and a cape that the usual super heroine wears. What the one-piece skin-tight suit does is create the silhouette of nudity, and nudity is often a sign of submission from a woman to a man, or allowing someone a part of her that she doesn't usually give. At the same time, while she gives this illusion, she also is completely covered, keeping men at arm's length and allowing her to use them for her means. She uses her femininity and perceived weakness against men. On the other hand, Berry's Catwoman is in leather pants and a bra, which is also definitely hot, but doesn't do the same thing that the one-piece suit does. Berry extolled the virtues of this suit on the 30-minute featurette that comes with the DVD, saying how great it was that it showed off her muscles and what not. Yes, if you're Wonder Woman it's great to show off your muscles, but not Catwoman. Catwoman's number one weapon is her faux vulnerability. She doesn't want anyone seeing her muscles at all.
Empire.com
had this as number 15 in their top 50 worst films of all time, but one of the reasons they gave for it I thought was actually one of the film's positives. They said the face cream concept was too weird. Really? You don't have a problem with a Joker who gives people Bloody Smiles, but a face cream that never actually does make a woman's face disintegrate because Catwoman stops it from going to market is an issue for you? For me, the Faustian bargain
Sharon Stone
signs by using the face cream to preserve her looks is just the kind of women's empowerment statement they wanted to make, especially when juxtaposed with her equally aged husband dating a young model. Of course, the statement had two major deficiencies: one, there wasn't an alternative woman to
Sharon Stone's
villain to hold up as an image of a woman that was still relevant, despite her advanced age; and second, because the writers didn't have a solid idea of what they wanted to do with Catwoman herself, it was hard for any major themes or messages to materialize.
On a different note,
Catwoman
had a few great people in it that would be recognizable to readers of the DTVC. I already mentioned the French guy from
The
Matrix.
Then there's Byron Mann, who came up earlier this week in
A Dangerous Man
. Dolph fans may remember Chris Heyerdahl, who played a noisy neighbor in
Catwoman
, as the guy Dolph beat and then handcuffed to a dirty toilet in
Silent Trigger
. No spiders tattooed on his chest here. My personal favorite was Peter Wingfield, Methos from
Highlander: The Series
. I don't know how that dude doesn't end up in everything, he's just so awesome, and of course he was barely used here. Should we have expected anything more from a film that was so, as I said above, sautéed in wrong sauce?
I guess since we're talking about bad comic book movies, a recommendation probably isn't something anyone is looking for, so I'll skip that and go with some final thoughts. This movie was wrong from its conception, and it was wrong in two major areas. First, making Catwoman a literal catwoman was just too silly, and when you're sillier than the 60s incarnations, you have a big problem; and second, they didn't make Catwoman bad enough. Yes, as a villain, she might at times be an anti-hero, but she's no Wonder Woman or Batgirl, and this film was afraid to make her bad enough. From there it was just a mess of awkward scenes, bad dialog, and potentially poignant messages that were loss in the morass of the rest of the film.
For more info: http://www.imdb.com/title/tt0327554/