Last week I reviewed an
Albert Pyun
film called
Urban Menace
with
Snoop Dogg
and some other rappers in it. It didn't turn out well, in fact, it was so bad, I couldn't fathom that Albert Pyun actually directed it. This was bad news, and I knew I had to rectify the situation as soon as possible, because Albert Pyun has been good to us here at the DTVC-- he's the only Hall of Famer to ever comment on a post. Anyway, as luck would have it, I came across a copy of
Radioactive Dreams
on VHS.
Radioactive Dreams
takes place on April 1, 2010 (my 31st birthday), 14 years after the nuclear holocaust.
Michael Dudikoff
and Cougar from
Top Gun
grew up in a bomb shelter, abandoned by their fathers, and have finally tunneled their way out to the post-nuclear surface. Their only concept of the world is through mystery novels written by dudes like Phillip Marlowe (hence their names, Phillip and Marlowe). Anyway, at the same time, there is one nuclear bomb left, and whoever gets control of it will gain control of the world, and a woman carrying the keys to unlock them drops said keys in Duds and Coug's car while she's trying to make off with Duds' gun. Now the two make their way to Edge City, where everyone wants the keys, and their naïve Hardy Boys weltanschauung is put to the test.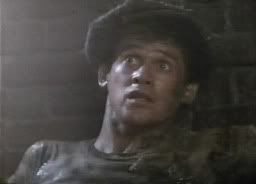 Before I get into the film, I need to discuss something else. How is it possible that someone could direct this in 1985, and then make something like
Urban Menace
fifteen years later. This is more than just Kevin Smith making
Jersey Girl
, or Scorsese making
Kundun
-- at least those two movies looked like they were made by someone who had made a movie before.
Urban Menace
looked like a film student's final project, and
Radioactive Dreams
looked like a real movie done by someone who knows how to make films. Even more mind boggling is the fact that Albert Pyun had however many films under his belt between
Radioactive Dreams
and
Urban Menace
, many of which also looked like they were directed by someone who had directed a movie before.
Urban Menace
just makes no sense.
All right, enough of that, let's celebrate a good film, instead of dwell on a bad one, and
Radioactive Dreams
was good. It's just such a cool concept: take the Hardy Boys, and stick them in a world where the greasers, hippies, punks, disco dorks, mutants and sadists all rule. Then make it as 80s post-apocalyptic future as possible, right down to the amazing Pat Benetar knock-off soundtrack. This is the kind of film that I got into this for. All the things I gave
Waterworld
a hard time for,
Radioactive Dreams
followed through on. Dudikoff and Cougar weren't asses like Kevin Costner's character. As opposed to being a dumb movie that people tried to convince me was fun, this was a fun movie that was a silly spoofed on things like
Mad Max 2,
which really worked. The only drawback, of course, is that this isn't available on DVD. Wow.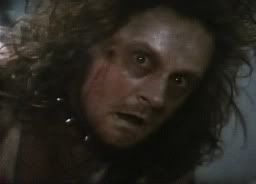 And that brings up another point, because on top of being directed by a DTVC Hall of Famer, it also stars DTVC Hall of Famer Michael Dudikoff, and like a lot of his filmography, it's either on DVD but out of print, or only available on VHS. Dudikoff is that level of DTV action star that he should have every film of his reviewed, like
Dolph
,
Seagal
, and
Van Damme
, and I'm going to try and make that happen, but it's a huge impediment that I can't just pop on Netflix and load up my queue.
Radioactive Dreams
isn't really Dudikoff as the American Ninja type hero, and hearing him scream or talk in a high pitched voice might be hard for some, but it worked for me because the rest of the movie worked. This wasn't like
Midnight Ride
, where it annoyed me that he allowed himself to get beaten up by
Mark Hamill
so much.
Among the other stars, like Cougar from
Top Gun
and George Kennedy, there was a staple of Pyun films,
Norbert Weisser
. He actually has the distinction of being the one person who has starred in more Albert Pyun films (15) than
Vincent Klyn
(12). What's interesting is, of the six previous films of his (
Weisser's
) I've reviewed, one them,
Android
, actually wasn't an Albert Pyun film. Anyway,
Radioactive Dreams
marks the first film together for these two long time collaborators, which I think is pretty cool. I don't know if maybe you can see, as Norbert Weisser's on screen torturing Cougar for the nuclear bomb keys, that twinkle in his eye that made Albert Pyun see something special in him-- you can almost hear the Six Pence None the Richer playing in the background...
Ohhh Kiss me...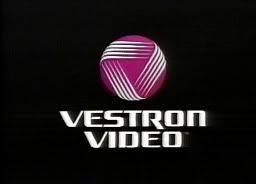 This was a Vestron Video, and anyone who watched a lot of movies in the 80s knows that logo (or one of their other ones). They disappeared a long time ago, but I think for a lot of us they were a big part of what the 80s video age was all about, and it's one of the things I'm trying to capture here with this blog. Yes, I like to do newer films on DVD, but there's also a lot to be said for those old movie nights, especially as a kid with a bunch of friends on a sleep over, when we went to the video store and picked out the grossest looking horror film, or most bad ass looking action film, and ate a lot of junk food and lived it up. This was before Blockbuster and DVDs and Netflix and On Demand, when video stores were locally owned and carried just as many old barely known bad movies as they did new releases of the big budget ones, and often we settled for the barely known ones because the one or two copies of the new one were out. I can't believe I'm only going to be 31 on April 1st, and I'm already reminiscing about the good ol' days of the 1980s, but that's kind of what's happened. I can't just go to my local video store and rent
Radioactive Dreams
anymore, which is too bad. (For more on Vestron Video, check out
Cinema du Meep's
great post.)
You can get a torrent of this, but really, it's better to get it on VHS, which may not be easy. I guess the best way to describe it is a guilty pleasure, but I'm not so sure anyone should feel guilty enjoying themselves with this. It's just a good time from the 80s, and as a bonus, features two DTVC Hall of Famers. Definitely a good film to redeem Albert Pyun with after the horrible
Urban Menace
.
For more info: http://www.imdb.com/title/tt0091818/