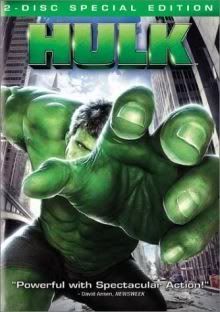 In my post on
Superman IV: The Quest for Peace
, one of my readers, Heolstor, wondered why everybody was so down on Ang Lee's
Hulk
. Last week on the
Catwoman
post, another debate ensued about what to make of the 2003 film. I realized then that it had been a while since I'd seen it, and so maybe it wasn't as bad as I originally thought.
Hulk
has Eric Bana as a dude who inherited some altered gene from his scientist dad (eventually played by Nick Nolte), then becomes a scientist, is bombarded with gamma rays, but with the altered gene, survives-- only to find out when he gets angry he becomes the Hulk. Now his ex-girlfriend/research partner's (Jennifer Connelly) dad (Sam Elliott), a four-star general, wants Bana so he can make super soldiers, while Nolte wants him so he can make himself stronger. It's just a big old mess.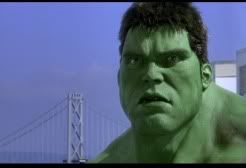 Any questions as to how I was going to receive this film now after some time away from it were quickly answered when I saw the CGI Hulk in action on the DVD's menu screen, and I laughed out loud. He looked like that fat, beady-eyed, obnoxious guy at every frat house in college whose whole raison d'etre was simply being big. You know the type: gets drunk, breaks things, then brags about the stuff he broke the next day. It's one thing to have him look cartoonish, but to also have him look like a tool made it impossible to like. And considering the film wasn't all that beholden to special effects, why even have him be a CG Hulk? The one from the old TV show worked fine for me, and when you consider stage make-up for movies has gotten so much better in that time, it would've been a better choice.
I watched a little of it with Ang Lee's commentary, and it was apparent that he tried here, and that he had the best intentions to make a quality film-- maybe not
Brokeback Mountain
-- but something better than what we got. One thing he said though that showed how wrong he was about this one was something to the effect that his CG Hulk could show more emotion than an actor. The old
Avatar
apologist syndrome. First of all, Lou Ferrigno was a great Hulk, and he brought his own personal demons he had been fighting with to the role, emotions that none of us would've had had they gone with a fake Hulk. Second, are you going to tell me Heath Ledger should've been replaced with a CG cowboy in
Brokeback
? Finally, the Hulk is right behind Superman, Batman, and Spiderman as far as popularity and status as an icon in our culture, and a big part of that is from the TV show. If you're going to give it a reboot, you need to improve on it, and going from a real person to a CG tool is a step in the wrong direction.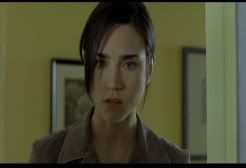 A step in the right direction, of course, was mega babe Jennifer Connelly as Betty Ross. Not only is she hot, but she was believable as a genius scientist. I was trying to think, and you may have to go back to Michelle Pfeiffer's Catwoman in
Batman Returns
to find as attractive a woman in a comic book film. My sense is that one probably only has one shot with an actress like that to get it right, and when this one missed, she wasn't available for the 2008 reboot, which left us with Liv Tyler, who wasn't believable as scientist at all. That's too bad.
Another thing Ang Lee tried was a cinematic technique that attempted to replicate comic book panels. I'm kind of a minimalist when it comes to films, so it didn't really work for me. People have also suggested that this was supposed to be deeper or somehow existential or something. I'm not sure I saw that either. For me it was two hours and 14 minutes of I don't know what. The old TV show had six seasons and however many TV movies to explore all of these issues. It's just hard to both give the whole backstory, then try and tell a new story too; but I can think of a lot of success stories, so that's not an excuse.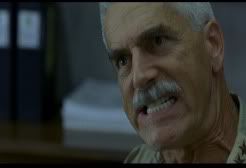 When I used to watch the old show, one of the big things for me was making sure the heel or bad guys were dislikable (I made that word up) enough to make me want Bruce Banner to turn into the Hulk and trash them. Ang Lee definitely hit the mark on the head there by casting Josh Lucas from
Sweet Home Alabama
in that heel role. Who would you want more than a Romantic Comedy lead to get fake thrown around by the Hulk? But then he followed that up by casting Sam Elliott as Connelly's dad. Not so good there. No matter what comes out of his mouth, all I hear is "Beef: it's what's for diner", or "Coors: The Banquet Beer" (what the hell does that even mean, anyway?); and most of all, I expect Connelly to find him lying on a bar with a note stuck in him with a knife that reads "It was Tails", put there by Nick Nolte.
So six or seven years later, my thoughts on this movie haven't changed, and in fact, after seeing the old show again and Lee's amazing
Brokeback Mountain
, I'm even harder on it than I was before. We'll see tomorrow how I feel about the 2008 one, but at least for right now, I'll stick with the old TV show on RTV, or Netflix Watch Instantly.
For more info: http://www.imdb.com/title/tt0286716/