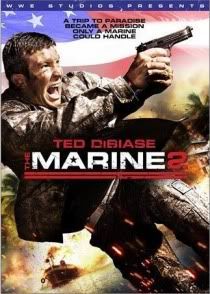 I have been trying to get my hands on this since it was released back in December. All that time it's been relegated in my Netflix queue to the dreaded Long Wait. I'm not sure what the difference is between Long Wait and Very Long Wait, but based on what Long Wait is, I'm afraid to see it. Also, after finally seeing this, I can't imagine who would keep it for so long. I made sure it went out in mail as soon as it could.
The Marine 2
stars WWE wrestler Ted DiBiase (son of the Million Dollar Man) as a Marine on leave joining his wife as she hosts a party at a hotel in some Third World South Pacific Island nation. They're celebrating how good it is to be rich and white and stuff, when a group of armed natives that want their beaches back take over the party. After a mercenary team is unsuccessful in rescuing them, it's up to our doughy hero to save the day.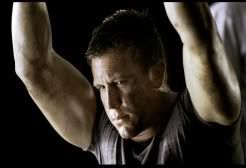 If Rule #1 to action films is don't let the plot get in the way, and Rule #2 is don't get political with it, Rule #3 is definitely make your hero likable. The whole point of the action film is to root for the hero, and if we don't like him, all bets are off. Mr. DiBiase may be a big time wrestling star, but here it just looks like they took a frat guy five years after he graduated, pulled him from his cubicle as he was adjusting his fantasy football team, and stuck him in an action movie. I'm not saying in real life he's a doughy toolbag, I'm saying his character came off as a doughy toolbag here. If the WWE wants to set him up to be the next John Cena, they have a long ways to go, which is pretty bad if you ask me.
Part and parcel with Rule #3 is Rule #4: make your bad guys bad enough that we don't root for them instead. Evil corporations that want to steal land from poor, native, south of the Equator nations are always great baddies. We want our hero to side with the native population and throw these evil old white men out. Unfortunately, it doesn't work the other way around. Rooting for our hero to make the world safe for White Corporate Imperialism probably only works at Blackwater-- I'm sorry, Xe-- corporate functions. Throw in a really cool baddie, and you have a full fledged Destro Effect (which refers to the phenomenon associated with me growing up, watching
GI Joe
, and thinking COBRA was way cooler). By casting Temuera Morrison, the dude who played one of the two coolest characters in the new
Star Wars
, Jango Fett (the other was Mace Windu), it just made the whole thing complete. Okay, let me get this straight, I'm pulling for a doughy toolbag to protect White Corporate Imperialist interests against Jango Fett and his native guerrilla force fighting for the right of their own children to fish on their own beaches in peace? Are you kidding me?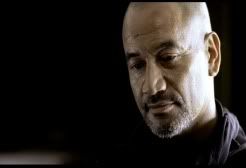 There was much more of this film that was sauteéd in wrong sauce. In a couple of the shoot outs, instead of going with some nice upbeat music, they went the chant route. Ooh, really, you want to do that? Rule #5, don't take yourself too seriously, and you just did right there. The first half hour had almost no action after the opening scene. Rule #1 right there, you let the plot get in the way. About an hour into the movie they had one hand-to-hand fight scene, and it wasn't even that great, but you could tell from the change in music that they were totally patting themselves on the back for it. Same with the awkward long one-take scene where our doughy hero fights the freedom fighters invading his wife's party. It looked great in
JCVD
because there it was spoofing action films. Here it was clunky-- certainly not a time to pat oneself on the back. Last but certainly not least, there's a foot chase where the director tries the Kathryn Bigelow method of following behind with the camera, and all we got was blurry footage. Just because
Point Break
was goofy, doesn't mean Kathryn Bigelow isn't a great director, as her nomination for best director this year demonstrates, and you gotta have big chops if you want to imitate her, which this director didn't have.
The Marine 2
was just an all around mess.
You can tell a lot about a movie based on how well or not well they use their character actors, and I've always distrusted a film that tries to use Michael Rooker as a good guy. It can be done-- he wasn't bad in
Back to Back
, where he was actually the lead hero there-- I'm just saying I don't trust it, and I was right not to in this one. He wasn't given anything to make his character, the quirky aging American ex-pat who helps our hero out, affable. What would've been better would have been for him play the bad guy, and Jango Fett be the local with the know-how. At least would've made the film less White Corporate Imperialist.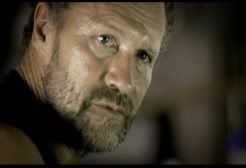 All right, I've killed this one enough (maybe not, but I'm running out of room!), and the last thing I want to be labeled as is a Negative Norman, because in reality I'm a solutions oriented kind of cat. Here's how I would've fixed this film. To start with, the wife is not a rich person's party planner, she works for an NGO trying to make the native population's lives better. Our doughy hero visits her there on his leave, and we're introduced to Jango Fett as a local with a military past. The problem is the native's beach, where they live and all make their livelihoods, is under attack by the corporate big wig and his mercenaries, led by the always bad Michael Rooker. At first, our hero doesn't want any part of this dispute, but his wife implores him to help,and he does, along with Jango Fett. Maybe it's a little
Seven Samurai
, but it's better to be good and derivative, than bad and unwatchable.
Anyway, you know what I'm about to say, but I'll make it official anyway: don't waste your time. I noticed in my
Behind Enemy Lines: Columbia
review I said that wrestlers and action films were a perfect marriage, and the first thing the WWE did was make me eat my words, which is too bad. A lot of what worked in that movie was discarded in this one, and I have no idea why. Hopefully their next action film will discard everything about
The Marine 2
.
For more info: http://www.imdb.com/title/tt1266027/