I DVRed this a long time ago when it aired on EncoreAcrtion. I figured
Lorenzo Lamas
,
Lance Henriksen
, how bad can it be, right? I mean, really, how bad...?
Rapid Exchange
had
Lamas
as a thief who does a heist with his buddy for
Lance Henriksen
, only to have guys dressed like SWAT steal what they were sent in to steal from them. Anyway, to try and get some money,
Henriksen
gets them in on a big score: to steal a bunch of cash that's been marked to be destroyed because it's too old. It's a crazy plan that sounds like a pretty awesome idea-- if you're braindead! As the cash is on a plane en route to its destination, they shoot a massive harpoon like thing into the plane from another plane while both are in flight, shoot across a rope attached to the harpoon, again while the planes are in flight, land on the money plane, stick the cash in bags, send them back to the first plane, again, while the planes are in flight, and go back over themselves, again, while the planes are in flight. As you can imagine, all of this ridiculousness would've gone perfectly except someone had to pull the ol' double cross.
Wow, this snoozefest managed to not only be shot and released as a movie, but be one that starred
Lance Henriksen
and
Lorenzo Lamas
. The Heist film is always the toughest to pull of well, because unlike the straight up actioner, there's a greater need to lean on the plot. Tension has to be created organically, not with explosions, fights, and car chases. It works well if you're Hitchcock or Kurosawa. When you're making a DTV movie it's a different story. The thing they were probably going for most was the off-beat Tarentino type vibe, and that didn't work either. The very beginning was decent, and it all just went down hill.
One element that was pretty sweet, though, was DTVC Hall of Famer
Lorenzo Lamas
in various costumes. It was hilarious. Fake moustaches and wigs are great on him. They should make movies with him where every scene he has a different funny costume on. One thing I just realized is he'd make a great Batman. I'm serious. Tone down the darkness of the previous ones, go with more a syndicated action show approach as opposed to big budget blockbuster. Think
Hercules
meets
Renegade
meets
Batman
.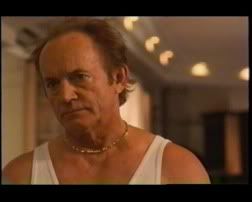 And who would play the Joker?
Lance Henriksen
of course. Or maybe he'd make a great Louis the Lilac. Or Two-Face. There are so many great Batman villains, and
Lance Henriksen
is a great DTV villain. Of course, in
Rapid Exchange
he plays a sorta kinda good guy. Like he's bad because he steals things, but he's good because he wouldn't double cross
Lorenzo Lamas
, at least we don't think... One of our new followers, Sutekh, made the comment that he couldn't say no to
Lance Henriksen
flicks, but I think here, even if you get a kick out of
Henriksen
, you may want to take a flier.
I kind of want to keep talking about this syndicated Batman series I just came up with. So
Lamas
is Batman. Too much of a stretch? It would just be so hilarious though, in a way completely different from Adam West. In that vein, maybe
Kevin Sorbo
would make a better Batman. Now we're cooking. If
Sorbo's
Batman, Michael Hurst as Robin may be a bit iffy, even if he's a great
Sorbo
sidekick. What about Hurst as The Riddler? I'm still torn about
Henriksen
as either the Joker or Two-Face.
William Shatner
would make a great Two-Face, based on his work as an attorney on
Boston Legal
. Okay, so
Henriksen
as Joker by default.
John Rhys-Davies
as the Penguin? Maybe Lucy Lawless as Catwoman? To really solidify the FanBoy aspect, you could have either
Painkiller Jane
or the new Starbuck as Batgirl.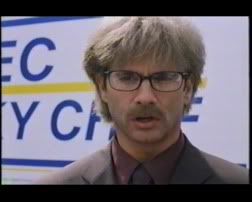 This is getting good.
Bruce Payne
as Mr. Freeze?
James Hong
as Alfred? Whoa, a big thought just hit me: what about
Bruce Campbell
as Batman? Would that be too much, or just plain awesome? I'm trying to think of a good Commissioner Gordon...
Burt Reynolds
... maybe? I know a lot of people liked
The Dark Knight
, but Gary Oldman is too serious of an actor to play what is usually a silly role in Commissioner Gordon.
Burt Reynolds
, on the other hand, can do silly perfectly, with zero irony. Ooh, or what about
Gary Busey
as Commissioner Gordon? That would be hot. I still kind of like
Lorenzo Lamas
as Batman, even if
Kevin Sorbo
and
Bruce Campbell
would be much better. What if all these roles were done on a rotating basis, with no one tied down for more than an episode or two? Then you could have all three as Batman at one time or another.
All right, my daydream time is up. If you hadn't guessed,
Rapid Exchange
is pretty awful. You may see
Lance Henriksen
and
Lorenzo Lamas
and think, "this is promising." Well, it ain't. Stay away. Your brain and your sanity will thank you for it.
For more info:http://www.imdb.com/title/tt0363931/