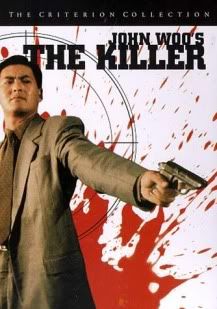 I'm skipping around a little in our DTVC Wild Card look at Hong Kong cinema, going from Bruce Lee's films of the early 70s, to two John Woo greats of the late 80s early 90s, first
The Killer
, and then
Hard Boiled
. I did this because I didn't want to take too long in discussing Woo. For me, by going from
Bruce Lee
to John Woo, we maximize the energy early, and get us off to a great rolling start.
The Killer
has Chow Yun-Fat as an assassin who almost blinds a woman caught in the crossfire while he's carrying out a job. This makes him feel guilty, and he wants to earn enough money for a cornea transplant so she can recover her sight. Unfortunately, in carrying out his last job for that money, he's seen, and the Triad boss that hired him wants him dead. At the same time, Danny Lee plays a police inspector on his trail, whose intuition is telling him that, though Chow may be a killer, he's not without honor and is redeemable.
Here's a question: what do you get when you mix Seijun Suzuki's
Branded to Kill
, Charlie Chaplin's
City Lights
, and some of the best action scenes you've ever seen? You get
The Killer
, and it feels so good. It starts off with an amazing action scene, where you get Woo's trademark gun fights, where he makes gun play as beautiful as the best Hong Kong hand-to-hand martial arts battle. The end is an even better shoot out inside a Catholic church. And in between we're treated to a classic Yin and Yang story about a cop and killer, two sides of the same coin, with similar virtues and codes of honor. Think indie art house flick mixed with awesome action movie-- and it all works.
The biggest difference between
The Killer
and the Bruce Lee films we covered earlier, is that those were not necessarily high quality films, and instead became great due to Lee's presence.
The Killer
is a director driven action/drama that could be conceivably considered one of the top 50 films of the decade. Yes, Chow Yun-Fat and Danny Lee turned in great performances, as did many others in the film; but all of
The Killer
's greatness comes in Woo's vision. Anyone can make a Yin and Yang movie about a hired assassin and the cop chasing him, but Woo does it in a way that's extremely elegant and clean-- which is astounding considering we're talking about a movie that showcases myriad scenes of violence and destruction. (As it turns out, if Tsui Hark had his way, we would've gotten a drastically different film, so we're very lucky.)
Chow Yun-Fat and Danny Lee have amazing chemistry, and Woo is able to utilize this, even when the two aren't sharing screen time. I'm not just talking about the more obvious scenes where Woo edits the film so the two look like they're doing the same things either. From the moment Danny Lee is introduced as the other side of the coin, the two are tied together, and Woo makes us feel that, even when one is on screen for a long stretch of time without the other.
There's this term that gets thrown around a lot when talking about dramas: Shakespearean. As someone who loves and reads Shakespeare rather frequently, I'm pretty familiar with his works, at least familiar enough to say that when people refer to a movie's tragic ending as Shakespearean, they often don't know what they're talking about.
Ran
was Shakespearean.
The Killer
definitely was not. I think what it is is people often don't have the capacity to put into words what they're seeing on the screen-- I know I often don't-- or what they're reading in Shakespeare's plays either, so they look at what they see for anything similar-- in this case a tragic ending-- and say "it's Shakespearean." A tragedy does not Shakespearean make.
Finally, a quick note on the transfer. The DVD cover image above is from the out of print Criterion Collection version, which I haven't seen yet. (If you're wondering, it can run upwards to $90 used.) I watched the Dragon Dynasty version, which was still pretty great, and I see now they have a Blu-Ray version as well. I have a feeling, because the Criterion version came out in 1998, that Dragon Dynasty version is actually better because it's so recent, so if you're spending $90 (or more) on the Criterion one, you're doing it just as a collector's item-- which isn't a bad thing either.
I tried my best not to give too much away in the sixth paragraph for those who haven't seen this yet. It is one of my all time favorite films, and reviewing it for the DTVC was one of my own selfish reasons for wanting to do Hong Kong films here. You can get the Dragon Dynasty version of Netflix, and I'm sure it's available to buy anywhere as well.
For more info:
http://www.imdb.com/title/tt0097202/