I'll be honest, I'm not sure how I ended up with this film. I mean, I know how I got it, it came from Netflix; and obviously, in order to get a film from Netflix, I have to put it in my queue, which I did. I think, because it was a new release, I had it really close to the top of the queue, which is filled with movies that either aren't out yet, or have waits of various amounts of time attached to them. Anyway, I got the e-mail telling me to expect
Unrivaled
, and that was that-- until I pulled it out of the sleeve and saw "2 hr. 5 min." for the running time. What? Considering the horror shows Hector Echavarria's last few films have been on here, I was floored. I actually even considered sending it back without watching it. I mean, 2+ hours of a Hector Echavarria MMA film? Can I handle this?
Luckily
Unrivaled
had its runtime mislabeled, and it was only in the 100 minute range. It has Echavarria as a kind of MMA Rocky who's living life in the dumps, losing money to bookies he can't pay because he bets on himself in underground fights and loses, and the money he makes as a barback at a local strip club doesn't off-set his bad fighting. In a crazy turn of events, a major MMA organization is holding a reality show-style tournament where four unknown fighters compete for a shot at the champ, "Sugar" Rashad Evans. Echavarria's geeky friend signs him up without his permission, and the film looks like it's doing a good job working the
Rocky
paradigm angle. That's until a bookie that appeared in the beginning becomes a bigger figure, tries to fix fights and sends people out to run over Echavarria's geeky friend-- or something like that. And as if things couldn't get convoluted enough, the guy from
Da Vinci's Inquest
is really overdoing it in the Burgess Meredith role. Luckily enough loose ends fly together fast enough to get us to the inevitable
Rocky
ending.
I don't know where to go with this. Of the Echavarria films we've done, this is one of the better ones after
Confessions of a Pit Fighter
. I think it's that film that has kept me going back for the punishment I endure with each successive Echavarria effort, because I want what I got that first time. We were close here, but the film makers (Echevarria didn't direct this one, but he co-wrote it) couldn't trust that the
Rocky
paradigm was working well enough. They had to throw in fixed fights and muggings staged by the bookie that Echavarria's character was into for a bunch of cash. It took what was pretty good: Echavarria's character's shot at redemption and his chance to realize his true potential; and turned it into a big ol' mess that reminded me more of the Echavarria films that have irked me. Too bad, really.
The other reason I've been all about Echavarria's MMA movies: all the UFC stars he loads them with. This time he had Nate Marquardt, Keith Jardine, the aforementioned Evans, and UFC fan favorite Forrest Griffin (who I saw fight in
UFC 55
along with Andrei Arlovski). Because I'm low on cash and I don't really want to download the PPVs for free, I haven't been following the sport as much as I used to, so the allure of UFC fighters in a movie isn't as big as it might have been last year at this time.
Echavarria's female lead was played by Jordan Madley. The image of her above comes just before her love scene where she gets totally naked, and as I'm sure I've mentioned before, I often listen to the commentary as I capture images from the movies I review, just to gain a little insight. As always, the two guys we had here (not Echavarria though), talked about their film the way everyone else talks about
Contempt
, but the best came when they talked about Jordan's nude scene. Do they expect us to believe them that that nude scene was good for her character's development? We aren't ignoramuses. We know that a love scene would be perfectly fine without either actor getting naked, and that the only reason they had her get naked was to have her in the film naked-- which is fine, they just need to call a Spade a Spade, and not insult our intelligence.
The other thing they were so amped on was how great their fight scenes were. Did they see
Undisputed 2
? I'm not saying
Unrivaled
had awful fight scenes, and maybe they took as much work to produce as the people in the commentary said, but I'm not sure they should be polishing their brass button as much as they seemed to be. By all means, be proud of the work that was produced, but guys,
Unrivaled
wasn't the only martial arts movie ever made. There were plenty before it that had better fight scenes, and I'm sure there will be plenty after that will have better. In fact, this didn't even have the best fights of any Echavarria movie,
Confessions of a Pit Fighter
has that distinction.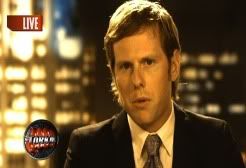 You might recognize this guy from those Verizon FiOS commercials. He pretty much plays the same character in this as he does in those, only here he's an annoying, snarky, announcer, as opposed to an annoying, snarky FiOS technician selling a service in a commercial. Does anyone understand this phenomenon? Snarky and annoying does not make me want a product-- in fact it makes me want it less. In our area, Comcast has counter ads where they use the guy from the USPS Postal Service commercials as the annoying FiOS guy, and he's actually less annoying than the guy he's making fun of.
This movie isn't good enough to recommend, and I actually think listening to the commentary made me like it less, which usually isn't the case, because more often the commentary explains why something was bad and gives me cause to let them off the hook, while in this case, the commentary about the nude scene and the fights made me less forgiving. The number one positive I took away from
Unrivaled
was that Hector Echavarria showed me why I liked him so much in
Confessions of a Pit Fighter
, so maybe that's enough.
For more info:
http://www.imdb.com/title/tt1426325/