I'm always conflicted at the DTVC on whether I'd rather write the blog from the stand point of a regularly occurring phenomenon, or as an archive of film reviews that someone can go to and look at each one independent of the others. For instance, when I found my buddy's VHS of
Heatseeker
, I thought it would be great to review on the same week I planned on reviewing
The One-Armed Swordsman
and
Master of the Flying Guillotine
, because it was so similar to those two. On the other hand, if someone just clicks on the
Albert Pyun
or
Gary Daniels
tags, or a link in a future blog to them or anyone else associated with this movie, that provenance of the original post won't mean as much. I guess what I try to do is write for both types of reader, the everyday and the future visitor.
Heatseeker
takes place in 2019-20, and is about corporations who specialize in cybernetic implants that enhance people's lives.
Norbert Weisser
is the evil CEO and head designer of one corporation, and he has completely outfitted Gary Daniels with state of the art equipment, and wants to show him off by having him fight against every other cybernetic implant corporation's best fighter. He also wants Keith Cooke, the world's best un-enhanced martial artist to compete, and when he refuses, Weisser kidnaps his woman and makes him. Can Cooke use the one quality humans have over machines, his heart, to prevail over the Tin Man Gary Daniels?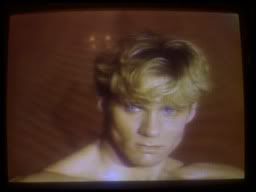 Some of the reviews of this film were pretty harsh, and though I wasn't a huge fan of it either, I think I see what Pyun was going for, and I was a fan of that. It looked like he wanted to take the Hong Kong cinema element of the handicapped fighter, the Zen concept of using a detriment to one's benefit, and put it in a futuristic setting. Instead of a one-armed boxer, Pyun's hero's one handicap is that he's a human fighting cyborgs, and the way he can use that handicap to his advantage is to be as human as possible. Again, I love the idea, it was the execution that was sautéed in wrong sauce. By having Cooke's character be forced into fighting, as opposed to fighting on his own to prove a point, we're forced to suffer through Cooke being knocked around for the first chunk of the film, so when he prevails at the end, it's much less believable. Imagine this: Cooke's lady forbids him to go, but he goes anyway, leaving her waiting at a hotel, just like the One-Armed Swordsman. Why not have him willingly fight, and no one else believe he has a chance because he's a human?
As you see I went with Gary Daniels' Max Headroom look. I've never understood the idea of making the lead actor's eyes a weird color. Remember when
Terminal Justice
did the same thing with Lorenzo Lamas. Anyway, Daniels was the baddie, but his martial arts were still pretty sweet. I would say, as far as DTVC Hall of Famers go, this was clearly Pyun's film, and Daniels was just along for the ride, as Keith Cooke was the hero, and it was more of a Pyun and Cooke film than a Pyun and Daniels film.
Firepower
will probably be our next Daniels film, whenever we get to it.
This film is a rarity in that it employs Keith Cooke, not as a part of the supporting cast, but as the main hero. Unfortunately, because he gets his ass kicked for a good chunk of the movie, he wasn't as good as he could've been, but I don't put that on him. Ever wonder what Mr. Cooke has been up to? Check this video out on
YouTube
.
One of the worst plot devices in movies is the play-by-play guy. Few things sound worse than an actor reading from a script, trying to mimic the spontaneity of real play-by-play accompanying a real sporting event. I see what Pyun was going for with it. The tournament was very
Master of the Flying Guillotine
and
Enter the Dragon
(Mr. Weisser, I think I'd like to leave your island), and the play-by-play, along with the TV screens and cyber martial artists, were supposed to follow that Cyber-Punk-fused-with-Hong-Kong-cinema paradigm. Again, cool idea, but just didn't translate well on the screen-- at least for me.
If you play the Albert Pyun drinking game, you know the key is looking for how many of his ubiquitous mainstays pop up in his various films. This time we had the aforementioned Weisser (who has the distinction of being his number one mainstay),
Tim Thomerson
, and Thom Mathews.
Vincent Klyn
must've been busy. The shot above, featuring two mainstays, would mean you'd have to drink double. One interesting thing to point out while we're on the subject of Norbert Weisser, and with last week's post on
Hard Boiled
, is that Weisser starred in
Schindler's List
, which just happens to be my number one film of the 90s.
I can't recommend a film based on effort or a cool idea that didn't quite come off. If you're looking for Hong Kong cinema fused with Cyber Punk, Albert Pyun actually has some great ones, like
Cyborg
and
Nemesis
; and then there's
Omega Doom
, which was a great Kurosawa fused with Cyber Punk flick. If what we're saying is one out of four didn't work, I'd say that isn't a bad ratio; and there were a lot of aspects of
Heatseeker
that did work, it was just the ones that didn't were enough to overshadow the ones that did. Also, this movie is only available on VHS. Figured I'd throw that out there.
For more info:
http://www.imdb.com/title/tt0113278/