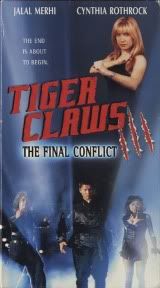 This is the third and final installment in the
Tiger Claws
saga-- and I use the term saga with all intended irony. We did
Tiger Claws
just to get part one out of the way so I could review
Tiger Claws II
, which featured blog favorite
Evan Lurie
. Now it was time to finish and do part three, and though I was in part reluctant because parts one and two weren't exactly awesome, the addition of
Loren Avedon
, who was great in
King of the Kickboxers
, made me more optimistic.
Tiger Claws III
takes place some time after part 2. In it,
Jalal Merhi
and
Cynthia Rothrock
are police partners-- and perhaps lovers as well-- and they're on the case of someone who broke into a warehouse storing priceless Chinese artifacts. Turns out Avedon was the potential thief, and he wanted to steal three ancient assassin's suits, which he really didn't need to steal anyway, because he was able to do with them what he wanted at a party for their unveiling: cast an ancient spell and bring ancient assassins who filled the outfits back to life in the present. These supernatural Chinese assassins are wreaking havoc all over New York, they've killed Rothrock, and Merhi has no idea what to do, so he seeks help in Avedon's former master (the great Carter Wong in his final role to date), a teacher in the art of Black Tiger. Merhi, having already taken the prerequisites in regular Tiger, was able to jump right in and take the advanced Black Tiger classes, and he used that power to combat the baddies.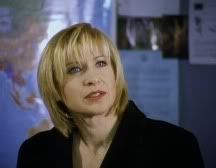 I guess, if you're going to go out, you might as well do it with a bang. Or rather, do it as ridiculously as possible. Supernatural ancient assassins brought back to life? Why not, just go for it. The thing is, that ridiculousness needs to pay off with solid action, and we didn't exactly get that. We had some great martial artists, and instead of them duking it out, we were treated to bad
Street Fighter II
rip-off effects with guys throwing blue balls of energy that looked like Ryu's Hadoken. That might not have been so bad, if we weren't tantalized by some great pockets of good fight scenes here and there. I guess the question is: does the silliness detract enough to make the film stupid, or make it fun?
This delivers a pretty solid Cynthia Rothrock bait-and-switch, as she dies early on. Considering she's the one Hall of Famer in the film, it was quite the disappointment. I'm debating which will be her next film we cover, either
No Retreat, No Surrender 2
or
Martial Law
(with the idea being that immediately after we'd review
Martial Law 2
, which I think is the better of the two). I'm getting better at getting my hands on her older catalog, and that will allow us to look at more of the movies she's known for. I'm pretty excited about that. Also, according to
imdb
, as of 2009 she and
Richard Norton
are shopping a new project around. Let's cross our fingers.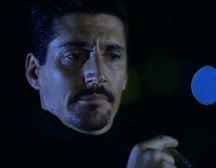 When last we saw Loren Avedon, he was tearing it up as the hero in
King of the Kickboxers
. Now he's playing a baddie in
Tiger Claws III
, and he did an even better job, in my opinion. It was almost like, with his goatee, he was Bizarro Avedon. What's great is, if you compare his bad guy to the one of
Billy Blanks
in
King of the Kickboxers
, you'll notice that he's much more like Jack Nicholson as the Joker in
Batman
, and he played it well. In fact, thinking about the late
Dennis Hopper
, you could almost say Avedon channelled that great actor as well. He hasn't made a film since the unreleased in this country
Circuit III
, which was produced in 2006. I'm not as familiar with his career as our friend Kenner at
Movies in the Attic
is, so maybe he can shed some light on why Avedon stopped working, and why he doesn't have that many credits in general.
I love
Street Fighter II
and all its sequels and whatnot. We used to play it for hours in high school. I went online to find out exactly how to spell Hadoken, and saw all kinds of screen shots and drawings people did. It brought it all back for me. I just want to go to the mall, buy a collection of all the games used for my PS2, and spend the next fives days living off Doritos and Mountain Dew. Man, those were the days.
At UMaine I majored in anthropology, and as you can imagine, at a certain level, the class sizes got pretty small, as very few people wanted to take a class on Peoples of the South Pacific Islands or Systems of Family and Kinship. The way the department managed to subsidize these upper level classes was through the enormous introductory classes, which a large percentage of students took at one time or other as a Gen Ed requirement. I was a TA for that class, and we had like 500 students in it. Anyway, in
Tiger Claws III
, Merhi takes a course in Black Tiger, and he's professor Carter Wong's only pupil. I have to assume the introductory Tiger courses must have many more students to allow for such personalized instruction. I think it was good, though, that Merhi, having the prerequisites from his early Tiger courses, decided to continue his studies. Maybe he'll apply for a minor in Tiger.
Somewhere this post to a left turn into Goofy-dom, so let's get it back on the main road and wrap it up. This had its moments, but overall was just too silly for words. You can get it on either DVD or VHS, but Netflix no longer carries it, so you'll have to dig if you want it. I'm not so sure you do. (Oh, and I tagged
Bolo Yeung
, but he's only in the film in a few flashback sequences from the first movie. Just wanted to let you know.)
For more info:
http://www.imdb.com/title/tt0197951/