As we continue our DTVC Wild Card look at Hong Kong cinema, we move into that limbo period people often talk about, after Bruce Lee's death, and before the emergence of Jackie Chan. One of the key figures, both before Bruce Lee, and after Jackie Chan, but also during this limbo period, was Yu Wang, writer, director, and star of this film,
Master of the Flying Guillotine
. A completely independent project, which was rare at the time, it definitely flies in the face of the notion that there was no Hong Kong cinema between Lee and Chan.
Master of the Flying Guillotine
was in part a sequel to
The One-Armed Boxer
, and a use of a Shaw Brothers weapon, the Flying Guillotine. The film takes place in early Ch'ing (Qing) Dynasty China, and the ruling Manchus want to wipe out any Ming dissension, so they send assassins trained in the use of the deadly Flying Guillotine out to kill anyone fomenting unrest. Two of these men are killed by the One-Armed Boxer (Yu Wang), so the Master of the Flying Guillotine, a blind man, goes to hunt him down and exact his revenge. He finds Yu at a major tournament, and he recruits all the foreign fighters to help him track down Yu. Now Yu must fight not only him, but them as well.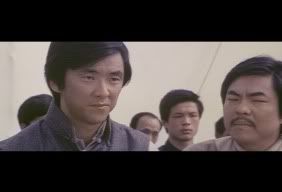 I actually watched this film with the commentary that came with it, which was done by two experts in the genre. They offered a lot of in sight and background that I didn't have. They also may have been a little geeky, as in one scene where the hot daughter of the master holding the tournament is writhing on the ground, her curves showing under her clothes as she does so, and all they can talk about is how amazing the Flying Guillotine looks in this film. (I'll give them the benefit of the doubt and say they were joking.) Though it had its silly moments, it also had tons of awesome ones. Yu Wang did a lot to put the genre on its ear here as well. There were no scenes of one guy taking on ten others, and the hero often had to use his brains more than his brawn to overcome his enemies. Going that route had some interesting effects, like the sadistic way in which he defeats the Thai boxer in a burning building.
The other thing to consider is the job Yu Wang does as a director here. Much of Hong Kong cinema at that time was about getting the films out fast and cheaply (the commentators likened it to the modern porn industry as far as a production model), and for that reason we tend to associate them with an overall poor quality. Again, there was some silliness in
Master of the Flying Guillotine
, but a lot of the scenes were really well shot, not just for Hong Kong cinema, but for all movies. You'd have fight scenes in very closed quarters, and we'd always have a sense of the space. Then he'd manage the same thing way out in the open. Great stuff.
Ever wonder where the idea for Dhalsim came from? It was funny listening to the commentary about this, because one of the guys kept talking about what a great effect it was, and the other one would try and talk him down from that ledge, but he wouldn't hear of it. Dude, I was totally on board when you talked about how inspired a lot of the scenes looked, but the Indian guy with the stretchy arms looked ridiculous. You can't win 'em all.
If you're not familiar with Yu Wang and what he did for Jackie Chan's career, you may have noticed Jackie has done some pretty bad films in the 80s and 90s, and wondered why in the hell he would do that. That's Yu Wang and the debt Chan owes him. Yu helped Chan get out of a contract by brokering a deal with the studios and the Triads that held sway. Without that Chan wouldn't have been able to break out like he did. Yu saw something in him, and now if he needs a favor, say an actor for one of his films, Jackie's there.
I'm not sure to what degree Kurosawa's movies have influenced Hong Kong cinema. I'd say probably not much considering the animosity between the Japanese and Chinese that's always been there, and the bad blood from World War II that still existed into the 60s and 70s. I only bring it up because that scene of the house on the cliff like that reminded me of
The Hidden Fortress
. I'm sure there are probably tons of old Hong Kong films that used similar screen shots. I should also quickly point out, this was technically a Taiwanese film, because Yu Wang wasn't aloud to make movies in Hong Kong after he split from the Shaw Brothers while still under contract.
The version of this film I got was the same one I have the cover image for at the top of the post. It's worth it to check out with the commentary as well, but at the very least, if you get that one, you know you're getting the whole film, not any kind of edited version.
For more info:
http://www.imdb.com/title/tt0072913/