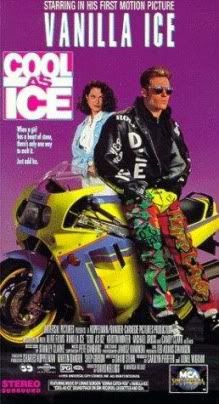 Like most kids my age, I ran from this movie as quick as I could when it came out. Vanilla Ice was well past his shelf life, even for a 12-year-old. I'd moved on to Grunge and Gangster Rap, and Vanilla Ice and Hammer and Poison and whoever else were old news. Of course, as I grew older and wiser, I at least realized that I never should've turned my back on Poison, but I also gained a better appreciation for films like
Cool as Ice
, and when VH-1 aired it in 2001, I taped it and my buddies and I had a ton of fun with it. Unfortunately, that tape disappeared-- and would you have really wanted me to capture images from a tape off of TV with a VH-1 logo in the bottom corner?-- but fortunately, Netflix added it to their Watch Instantly library, and now I'm passing the savings onto you.
Cool as Ice
stars Vanilla Ice as Johnny, a rapper with a traveling four-person troupe that are stuck in a small town after one of the troupe's sport bikes break down. In that small town, Johnny finds love in the form of Kathy-- whom he immediately dubs "Kat" and steals her organizer--, and these two form an opposites attract/no one gives them a chance/they're horrible for each other romance. At the same time, Kat's dad, Steven Keaton, is visited by two crooked cops he put away twenty years ago, after they saw him on TV with Kat, and thus his witness protection cover is blown. Can Johnny and Kat's love survive? Is she being selfish to care about Johnny when her family's lives are being threatened by these two angry cops?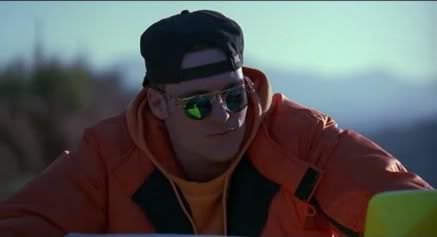 This is the kind of movie that, if it starred Cary Grant back in the 50s, would've been seen as him just making a paycheck, and 60 years later ends up as a novelty on TCM, and no one thinks twice about it. I'm not comparing Vanilla Ice to Cary Grant, what I'm saying is, if you're Cary Grant, you can afford to have a couple
Cool as Ice
movies in your filmography, but when you're Vanilla Ice, you're first movie can't be a crappy campy romance flick. Who was the target audience for this? The fact that it made a million at the box office is a miracle. But what it's become now is 90 minutes of bad movie fun. I think I have more fun with it every time I watch it. As an actual movie, the sets, the colors, the music video style direction, even the songs that aren't the "Thank you for lettin' me be myself" one are pretty good; but the bad romance and the way that's carried out is so silly, not to mention the fact that poor Vanilla Ice looks like a clown in his outfits and with his dialog. "Drop that zero and get with the hero." It's about as good as bad gets.
When I say "poor Vanilla Ice" I mean it, because this was obviously not who he was or how he wanted to be seen as a person, but he let other people show him the money and tell him what to do. When I listen to him rhyme, other than that "Thank you for lettin' me be myself" song, I can hear his talent. He was a solid rapper, he just used his skills to do this movie or "Ninja Rap", and that was where his career failed. It's a new world now, had he come out in today's entertainment industry, where Ice Cube does sitcoms, and Snoop Dogg does Pepsi commercials, Vanilla Ice's "Ninja Rap" and
Cool as Ice
-- and maybe even the doll-- would be seen as all part of the paper chase that all artists do. For some reason now it's not seen as selling out, but when Vanilla Ice and Hammer did it, it was. One thing I can say about
Cool as Ice
, I'd take it any day over
Are We There Yet?
-- which movie is the bigger sell out?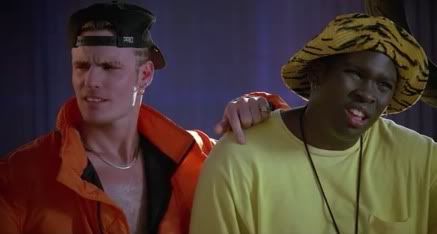 I do need to say that, for as much fun as this is, it has some really bad elements that might be hard for the average viewer to handle. The girl's younger brother isn't the worst as far as kids in movies go, but he's bad enough-- he definitely doesn't qualify as an exception to my kids in movies rule. There were a few other characters brought in for comic relief that also didn't work, and may try your patience. Vanilla Ice's dialog can be tough to handle too. It's not all "drop that zero and get with the hero', sometimes it's grating, almost sounding like half his face was shot up with Novocaine, or like he's a suburban white kid trying to act like he isn't. It's necessary to be clear going in that this isn't a good movie, and you need to be someone who has fun with bad movies to enjoy this.
I figured I'd use this spot here to do a little mop up work and look at a few other stars in the movie. We already mentioned Steven Keaton, aka Michael Gross. Not quite Dan Aykroyd in
Crossroads
. Kristin Minter played Kat, the role that has become infamous as the one Gwenyth Paltrow turned down, and then bragged about turning down after she became famous. (Paltrow also made a dumb comment about how Americans are uncouth compared to our English counterparts, which I'm sure the Soccer Hooligans and Rioting Chavs loved hearing-- good work out of you Gwenyth.) Unlike Paltrow, who turned down a chance at the spotlight in
Cool as Ice
, model Naomi Campbell unfortunately thought the film would be a great way to jumpstart her singing career. That's her on the film's theme song, imploring everyone to get loose. We also had character actor Jack McGee as one of the crooked cops, a great role for him. Finally, Hair Metal video vixen Bobbie Brown has a one-scene cameo as a groupie giving Vanilla Ice her number at the beginning of the film. You may remember she also had one scene in
Double Trouble
.
I want to finish with this scene because it is the most unintentionally funny one in the film for me-- and most of my friends too. As far as we can tell, he breaks a guy's nose with a fart. I'm kinda serious. He holds the guy with one arm, while reaching the other one behind him, and keeping it there a few seconds. Then he brings it forward in a fist, like he's holding something, then pops it open as if he's throwing something that was in his hand at the guy's nose, only the hand is empty. After, we find out that the guy has a broken nose. I don't know, you watch the movie, and you be the judge, but I think I'm right.
For the time being, this is available on Watch Instantly, so if you haven't seen this, I'd check it out there if you can. You can also get it on VHS or DVD, or do what I did and just tape it off of TV if it's on again, which I imagine it will be. I think this is one of the best as far as modern movies for a bad movie night, up there with other gems like
Battlefield Earth
and
Steel
.
For more info:
http://www.imdb.com/title/tt0101615/